Discovering the ASUS Zenfone 10: An In-Depth Look
Brace yourself for the latest powerhouse in the smartphone realm, the ASUS Zenfone 10. The brand's 2023 flagship device has arrived, packed with top-tier features and technology, wrapped up in a familiar yet refreshing design. Let's delve into the exciting world of this mighty device and uncover all its enchanting attributes.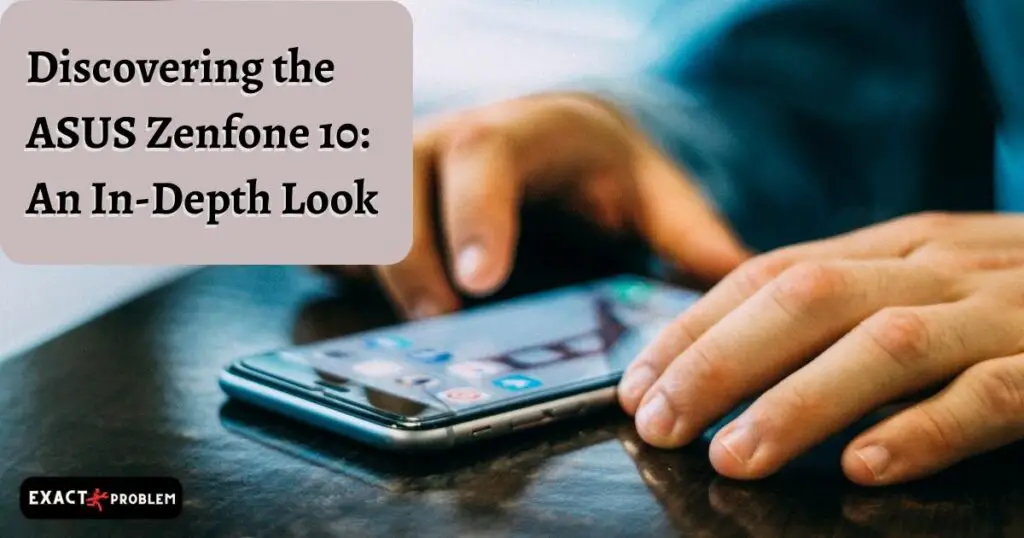 Also read: How to Fix SD Card Not Showing Up
ASUS Zenfone 10: Embodiment of Compact Power
Those in love with compact yet potent Android phones will find the ASUS Zenfone 10 absolutely enthralling. Drawing similarities to its predecessor, the Zenfone 9, ASUS maintains the handy dimensions while packing in an enhanced performance. With its smooth operation and robust features, this smartphone caters to every tech enthusiast's dream.
Stepping into the Global Market
Europeans have already had a taste of this magnificent phone as of June 29, 2023. However, ASUS fans outside Europe, including those in the United States, can rest assured that the Zenfone 10 is on its way. Precise release dates remain under wraps, but the global launch will undoubtedly happen this year.
A Glimpse at the Zenfone 10's Pricing
The Zenfone 10 boasts a competitive price tag that aligns it with the best in the market. In Europe, the starting price stands at €799, equivalent to around $876, for the model with 8GB RAM and 128GB storage. ASUS may replicate the initial pricing strategy in the U.S. market, potentially mirroring the Zenfone 9's launch price of $699.
Variety in Capacity, Same Excellence in Performance
ASUS delivers the Zenfone 10 in various combinations of RAM and storage. Apart from the basic 8GB/128GB model, there's an 8GB/256GB variant priced at approximately $931 and a high-performance version with 16GB RAM and 512GB storage at around $1,018. We anticipate U.S. prices to reflect a similar incremental pattern, maintaining the brand's commitment to affordability and value.
Vibrant Spectrum of Color Options
You're not short on choices when it comes to the color palette of the ASUS Zenfone 10. This brilliant device will grace the shelves in five striking colors: Midnight Black, Starry Blue, Aurora Green, Eclipse Red, and Comet White. While not every hue will reach every region, U.S. consumers will be spoilt for choice with all five colors.
Stepping Up in Software Commitment
ASUS shows a renewed dedication to its user base with a significant promise related to software updates. The Zenfone 10 will offer two Android upgrades and four years of security patches, setting a new standard for the company. Pre-loaded with Android 13, it's set to receive Android 14 in 2023 and Android 15 in 2024, extending security coverage till 2027.
Display and Power Performance
ASUS brings the best of both worlds with the Zenfone 10's 5.92-inch Super AMOLED display and a potent Snapdragon 8 Gen 2 processor. The phone's 120Hz refresh rate and 1100 nits peak brightness complement the processor to deliver a visually stunning and lag-free experience.
Camera Capabilities and Audio Performance
Embrace professional photography with the Zenfone 10's powerful camera setup. The rear features a 50MP wide and 13MP ultrawide lens, while a 32MP selfie camera captures every precious moment. Coupled with the stereo speakers, your media consumption experience will reach new heights.
Connectivity and Durability
The Zenfone 10 integrates next-generation connectivity options including Wi-Fi 7 Ready, Wi-Fi 6, Bluetooth 5.3, and NFC. A robust Gorilla Glass Victus fortifies the device, promising enhanced durability. With a side-mounted fingerprint reader, this phone offers quick and secure access to your digital world.
Conclusion
The ASUS Zenfone 10 epitomizes the ideal blend of design, performance, and price. Its vibrant colors, compact form, powerful processor, and advanced features make it a worthy contender in the 2023 smartphone market. With global availability imminent, the Zenfone 10 is set to conquer the world, one user at a time. Whether you're a dedicated ASUS fan or someone exploring new smartphone options, this device is sure to captivate your heart.
FAQs
When is the ASUS Zenfone 10 releasing in the US?
While a specific US release date is yet to be announced, ASUS has confirmed it will launch in 2023.
What are the color options for the ASUS Zenfone 10?
The ASUS Zenfone 10 comes in five colors: Midnight Black, Starry Blue, Aurora Green, Eclipse Red, and Comet White.
How long will ASUS support software updates for the Zenfone 10?
ASUS promises two Android upgrades and four years of security patches for the Zenfone 10.