Best way to archive outlook emails
Everybody has seen the "archive" option on their Outlook for the emails, but do you know what they do? In layman's terms, archive means preserving. Well, it is correct, and the function of "archive in outlook" is similar. Archiving means saving some important email in the archive folder. It is crucial in IT departments as you can save important messages depending on your preference. The main point of archiving is that you have given a specific location to store the special mails that you no longer need access to. So, what are the best way to archive outlook emails?
Why should we archive emails on Outlook?
To have an inbox that is easier to manage: For some people, mails are basically a to-do list so that they can easily look at their importance. Hence, it is easy to manage.
Always save important data: Nowadays, all critical and sensitive data is preferably sent over emails. By archiving them, these crucial emails are stored in a separate folder.
Easy access to all the important emails: Keeping data safe is not the only task; one must be able to access those confidential data when you are in a hurry.
Don't Miss:
Best way to archive outlook emails
We are providing the best way to enable/disable archive outlook emails:
What is Auto-archive, and how to enable it?
Auto archive basically manages the space in your inbox, and this is done by involuntarily shifting the mails to the archive folder.
Outlook's Auto Archive function established automatically back up Deleted mails, Sent Objects, and expired jobs and calendar details.
Go to Outlook on your system, and open it.
Choose the "File" at the top, and then pick Options.
Next is to select the "Advanced Option" on the left side.
Find Auto Archive and click the settings button.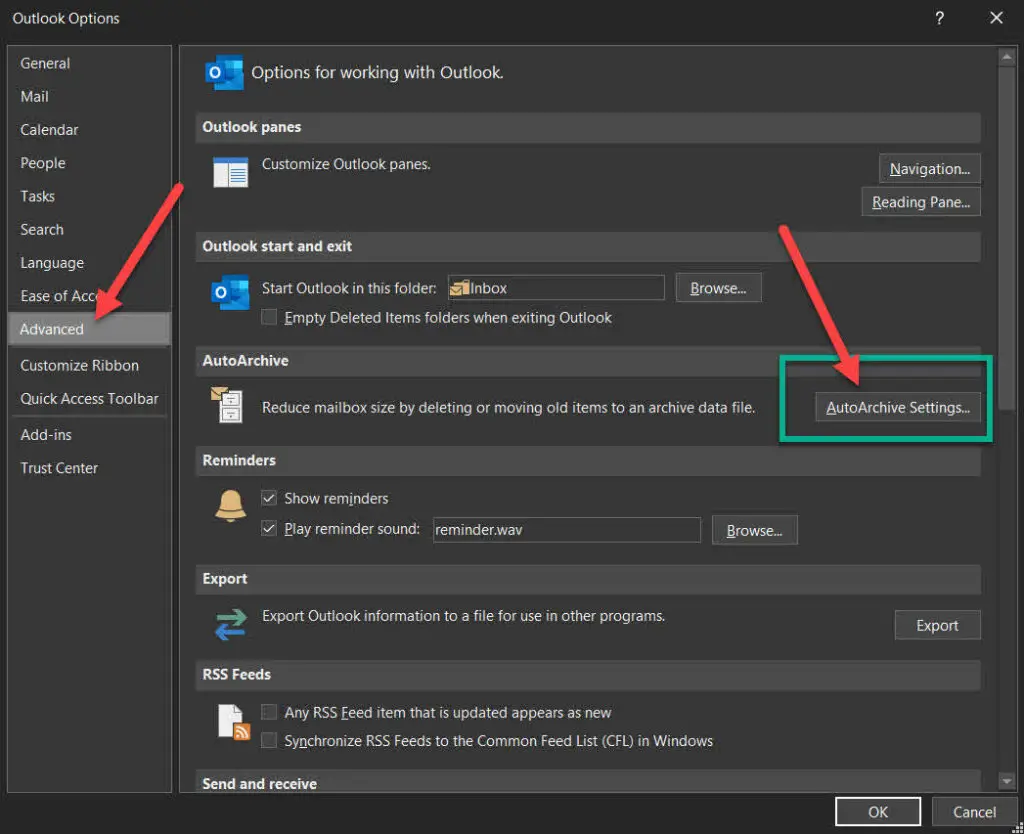 Check the box which says "Run Auto Archive every selected days" option at the top and stipulates how and when this should include run in your Outlook. There are many other options provided by the outlook, adapt according to your need.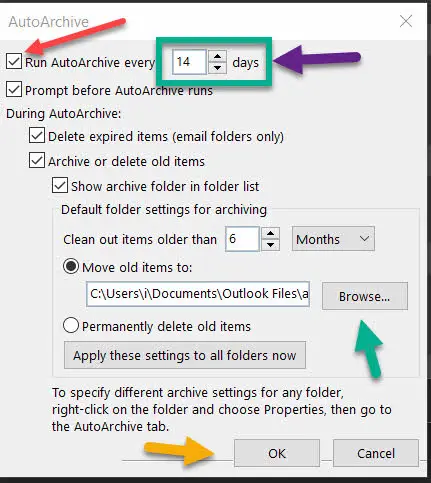 In the settings for archiving portion, select when any item that should be archived. Primarily, the user is defining the period of your Outlook content.
Tick on Browse and decide where you want to save your archive file.
Finally, archived by "OK" at the bottom and save.
Everything has pros and cons. The plus point of auto-archiving is that all the emails are saved in one folder, which can be accessed easily. But everything has a different side of the story. If all the emails are kept in a folder, the memory will fill up more quickly, and your Outlook will run slowly. So, one must also know how to disable this feature or manually select their important data and save it.
How to disable Auto Archive?
Click on Outlook and then go to the "File" option.
In the sidebar, select "Options." This launches in a new window.
Then go to the "Advanced" option, and under Auto Archive, click the "Auto Archive Settings."
Disable the "Run Auto Archive the limited days" option.
By doing this, you can disable the auto-archive option and manually archive confidential or essential emails in Outlook.
If you delete items, they are not archived but note that if you have saved your mails in the archive folder, they cannot be deleted by an Auto Archive as they can only be deleted manually.
Another critical point is that if you have more than one Outlook Profile in your system. Perform the above-mentioned archiving steps for any one of the accounts; changes will automatically be made in the rest of the accounts.
What is Manual Archive, and how to do it?
When you get hundreds of messages daily, you must deselect the auto-archive option as your memory will fill, and the Outlook will run slowly. So, the best choice for those people is to manually archive items in a specific folder if they wish to save those important emails.
The following steps tell how to manually archive emails:
Once open Outlook, next move to the "File" tab.
In the sidebar, select the "Tools" option.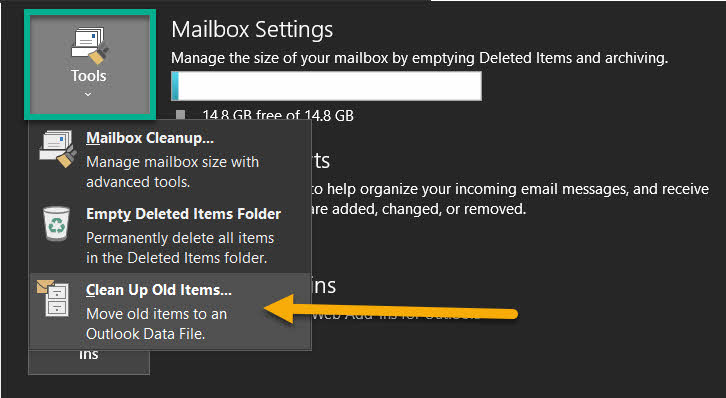 Tap on the "Clean-up-Tools" button and pick "Archive" from the list.
Prefer one of two possibilities: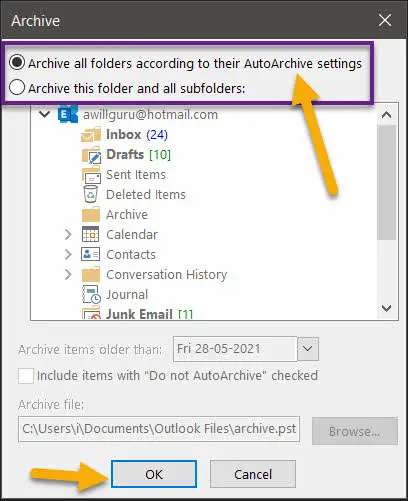 Archive all folders according to their AutoArchive Settings.
Archive this folder and all subfolders.
Insert a date close to "Archive items older than." Each Outlook detail that you have planned, transferred, or accepted before this time will be archived.
Outlook mostly saves PST files in the "Outlook Files" folder which comes in the "Documents" section. You can change the location by clicking on the "Browse" option.
By default, it goes to – C:\Users\YourUserName\Documents\Outlook Files\archive.pst
If you additionally need to add elements in the archive for which the option "No Auto Archive" is activated, set a tick on the box.
Finish the configuration by agreeing with "OK."
Archiving emails using the "archive button":
The archive button was available from Outlook 2016 onwards. You simply click "Archive" in the Quick-Step pane. Next, click on it by selecting the mail. it will archive your emails. If you have the latest version of Outlook, just Hover over the Archive button, and it will tell you the shortcut key.

How to view Archived emails in Outlook?
Simply Open Outlook in your system.
Select "File" at the top.
Click "Open & Export."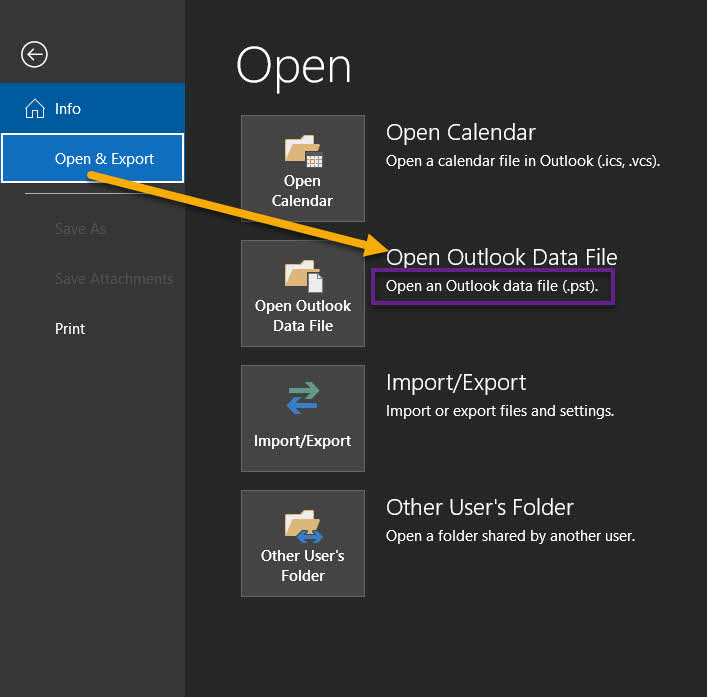 From the right window, choose Outlook Data File.
Navigate to the folder, click the file, and press "Open" at the bottom.
Your file will open with all your archived emails.
Can we use Outlook Archive for all other accounts on the same system?
As mentioned above, if you apply any change to a particular outlook email id, changes will be done for the other accounts also, but there are two cases when we cannot Archive emails.
Firstly, if you handle an Exchange Server email account and your organization accepts "Microsoft Exchange Server Online Archive," then you can't avail of this feature.
Secondly, if your network administrator has impaired the archive characteristic, then you also cannot archive the emails in this case too.
For any of the above cases, you have to speak to the higher authorities of your organization.
Conclusion
Archiving emails has always been an important thing for the people working in the IT industry. Arranging of emails in Outlook is not an easy task. But you cannot archive mails unless and until, your company allows you to do it.
Microsoft Exchange servers can disable the user's ability to archive emails as per the organization's mail retention policies as data is confidential for the organization. One should understand the company's policies and limits before they lose their crucial data. Consult the IT department of your esteemed organization that about how long you can save your archived data.
Critical emails that you archived may be eradicated from your mail server. Any person should make plans for backing up their Outlook Files folder to avoid losing data that is stored as archived items.
If a user has a lot of space without archiving data, then there is no need for archived data. As A Substitute, you may want to organize emails into folders simply.