Grand Theft auto error 0xc00007b
Grand theft auto 5 or GTA5 was launched in 2013 by Rockstar Games. It is the most performed and adored game in the world and owns the record for the speediest selling and producing $1 billion in the first week only. This game was launched on all different platforms with both first-person and third-person perspectives. For windows users, this game was launched in the year 2015, and even windows users loved it. But these days, users are facing an error in launching GTA5. This error is 0xc000007b which often causes trouble while launching by giving a message "The application was unable to launch correctly (0xc000007b). Press OK to close the application." If you witness Grand Theft auto error 0xc00007b, then do not worry, as it is not a bug. This error can be seen in both 32bit and 64bit windows processors. It can be solved easily.
Imagine waiting for hours to install this heavy game which takes around 90GB of data to download, and then getting an error message. It is so annoying, right? The error can be witnessed unexpectedly in GTA5 as it hardly creates an issue. If you are facing any issue like this one and are having trouble opening GTA5, then you arrived at the right article. 
Don't Miss: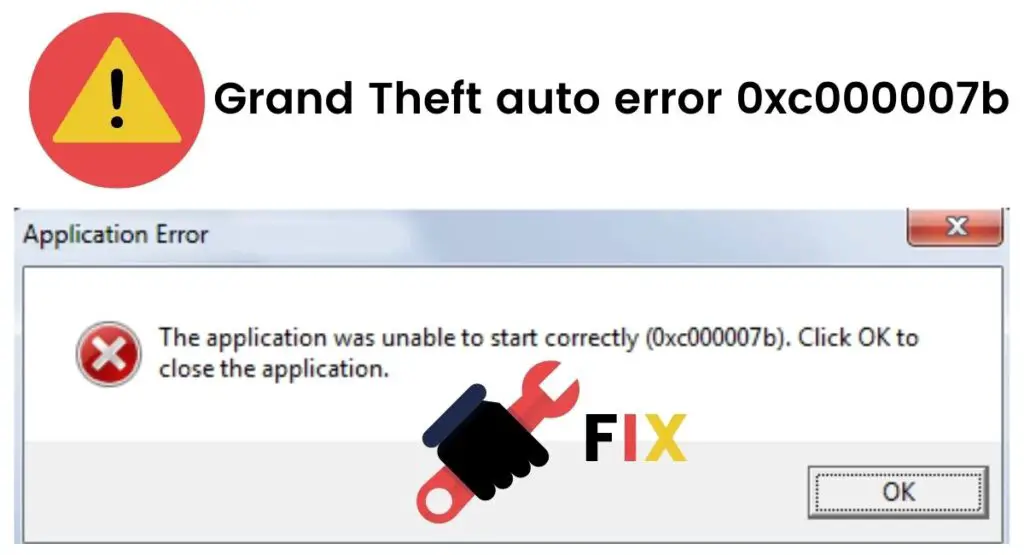 How to fix Grand Theft auto error 0xc00007b?
There are many ways in which you can fix this bug and that too permanently. To fix it, you have reached the right place. All you have to do is to follow the steps properly. So, without any further delay, let us talk about the steps:
Try to re-install the game(GTA5):  
This is the best and can be considered the ultimate solution to this error or issue. It is an easy method that is most effective to avoid this issue. Hopefully, when you re-install the game, some of the missing files might get downloaded again. This also helps in sorting the cache files and other necessary data that were corrupted. Go to the control panel and uninstall the file. Then wait for some time as it is a heavy game. After some time, restart your computer. Then install GTA5 again.
This time, try and install it from Rockstar Games Launcher, as it contains all the crucial files and folders. Once it is installed, try and run the game. 
If it still shows the same error, do not worry as there are other methods as well.
Run with administrator privileges:
Sometimes games can not use all the sources normally. So, you can provide all the administrator rights for it to use supplementary resources. 0xc000007b error can be solved by offering administrative rights. You can follow the procedure given below for providing the rights:
Go to the windows option, or from your keyword, press the Windows key. 
Go to the search option.
Type "GTA5" or search for the game.
Right-click by selecting the application.
Select the option that says, "Run as administrator."
After you have done all this, restart your PC.
After you have followed the above steps, then check if the error that you were facing is solved or not. If not, then do not panic; just follow the next step. Must watch this video:
Windows XP compatibility mode:
This feature was basically for applications available on Windows XP. But it still has the quality and potential of fixing the error on the news windows OS. Just follow the steps:
Select the application or game and right-click on it.
Go to properties.
You will see a box of "run in compatibility mode." Check that box. 
You will see Windows XP in the expansion list in properties. Select it immediately.
Once you have done that, click OK.
Restart your PC or system once you have performed the above steps. You can see your game will not show any error. If it is not resolved, you can follow the next step. 
Checking hard disk for errors:
Sometimes there is an error in the hard drives that causes so much misfortune for the users. So, you must check the errors on the hard disks, and for that, you must perform the following steps: 
Go to the respective drive, where you have installed the game on your PC.
Right-click and then click the Properties option.
Then on another dialog window and select tools. 
Select the check box "Error-checking." Click on the "check now" option.
It will automatically start and check for errors.
Once this process is completed and if your PC finds any bug, it will show the list of errors. It will automatically repair all the errors. After this process is complete, restart your system and open the game. Your error will be resolved. 
DIRECT X
You can install this software called DirectX. It can solve the issue that causes the error in GTA5 of "0xc000007b". But the user must make sure that he or she has downloaded the software's version, which is compatible with the game's current version. All you have to do is just to install it. After installing, restart your PC, and you can witness that your game is working normally. You can download it from here.
VISUAL C++ runtime package:
Visual C++ is used to support the graphics card so that it can cope up with processors and GTA5. The Visual C++ was launched by Microsoft. But sometimes they get corrupt, and this is the point when you can face this Grand Theft auto error 0xc00007b. You can fix this by installing Microsoft Visual C++ using the installer. You can download this from here. The user should check the proper version as per the system's configuration. After successfully installing it, restart the system, and this issue will be sorted. 
Conclusion
Your issues will surely be solved by following the steps one at a time. Grand Theft auto error 0xc00007b will be resolved efficiently. We hope that this article would have helped you solve your questions regarding the error.