How Has Artificial Intelligence Impacted Video Editing?
Artificial Intelligence changes many aspects of our lives as well as the video editing industry. People can create and edit videos without much time and effort and benefit from incredible results thanks to AI. AI technologies are more efficient as these video editing software learn from their mistakes and make better decisions. However, the whole editing cannot be based only on algorithms, as people manage the process. 
Read the article and find out more fascinating facts about AI video editing.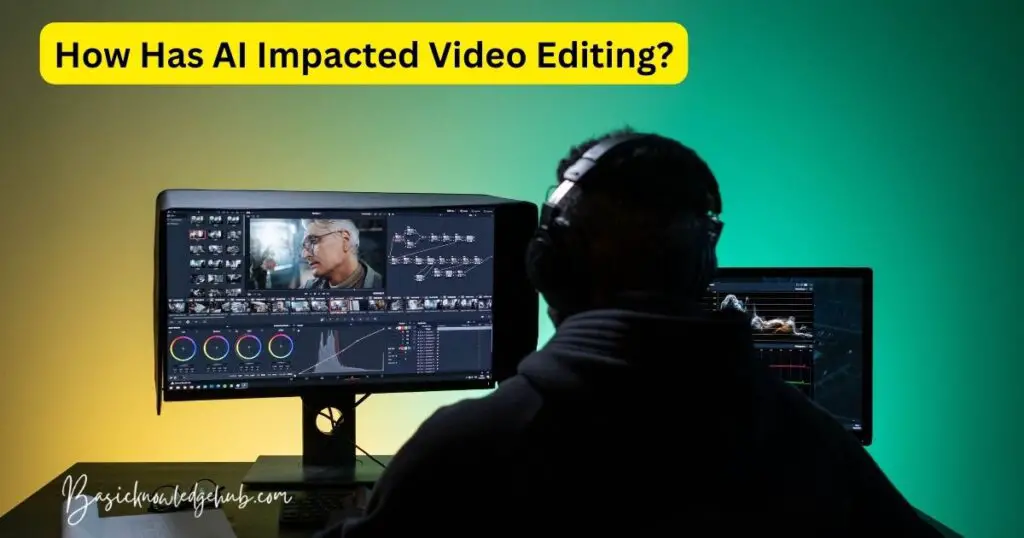 What Is AI Video Editing?
Artificial Intelligence in video editing gives brand-new opportunities for creating stunning content. It minimizes human intervention and performs many tasks automatically. AI-powered editing software allows users to adjust color, and aspect ratio, blend audio tracks, add audio to video, stabilize footage, seamless transitions, and more. You can program the machine to select the best footage for your video. Even beginners can easily master these editing tools. 
Benefits of AI Video Editing
There are a lot of advantages to integrating AI technologies into the video editing process. Here we speak not only about editing tools. Artificial Intelligence impacts video marketing and YouTube videos. AI algorithms sort content to target the audience with relevant content. Let's take a look at more pros of using AI in video editing.
Improved efficiency of video editing
Brand new editing features
The fast and easy editing process
Organized footage
The exciting video editing process
Diverse customization options
Cost-effective solution
A better visual experience
Downsides of artificial intelligence in video editing
Looking at all these advantages, it's hard to single out at least one con. But we analyzed the revolutionizing technology to find if the benefits outweigh the downsides of AI video editing. One of the biggest problems of AI video editing is its fast development and the use of advanced technologies for malicious intents. 
Deepfakes are one of the most widespread AI risks. These modified videos can feature someone not engaged in some activity, for example in a crime. But fortunately, people are learning to detect such unfair technological modifications. We can conclude that the benefits certainly outweigh the concerns.
Top AI Video Editing Software
Here we collected for you examples of popular AI-based editing programs. Today, these tools are more popular than ever, so you cannot miss the best programs for creating stunning videos. 
Movavi Video Editor
Movavi Video Editor is a powerful video editing program with a wide range of features. It's easy to use and creates high-quality content. This tool is quite cheap, but it doesn't give up professional software. 
DaVinci Resolve
DaVinci Resolve is an online video editor with a great set of features and an intuitive interface. You can easily master using this program and generate impressive content. It has high-quality audio processing and advanced color correction.
Adobe Premiere Rush
Adobe is an excellent video editing program with rich functionalities and a user-friendly interface. It allows users to automatically reframe the video and change the aspect ratio. Besides, the unlimited exports in 1080p are a great advantage in our social media world. 
The Future of AI-Powered Editing Tools 
AI technologies revolutionize video editing, and in the future, we will see more dramatic changes. Most of the editing processes can be automatized. The only thing people will have to do is to supervise video creation. There will be more AI-based editing tools, and users will be able to select the best programs for their projects. 
Artificial Intelligence will also shape the future of video editing with intuitive effects and transitions. The technology will perform not only manual but also creative tasks. We cannot fully predict what to expect from AI-driven video editing technologies as this industry is developing at an accelerating rate. 
Summary 
In conclusion, we can say that Artificial Intelligence Impacted Video Editing and given new possibilities to the video editing industry. There are plenty of advantages to using Artificial Intelligence in video editing, and the pros outweigh the cons. We can find many decent AI-powered tools in the market that can help us make video editing fast and efficient. In the near future, we should expect a mind-blowing development of AI video editing technologies.