How to Set Up a Second Monitor
One computer screen may work just fine. But having an extra one offers you more working room. This is not just an upgrade suitable for seasoned programmers or creative professionals. It allows just about anyone to multitask like a pro. For instance, it enables you to edit documents alongside each other and to spread out apps. As a result, you get to boost work efficiency and productivity.
But even with these work enhancements, not many of us can set up a second monitor easily and, most importantly, correctly. That is why in this article, we will guide you on how to.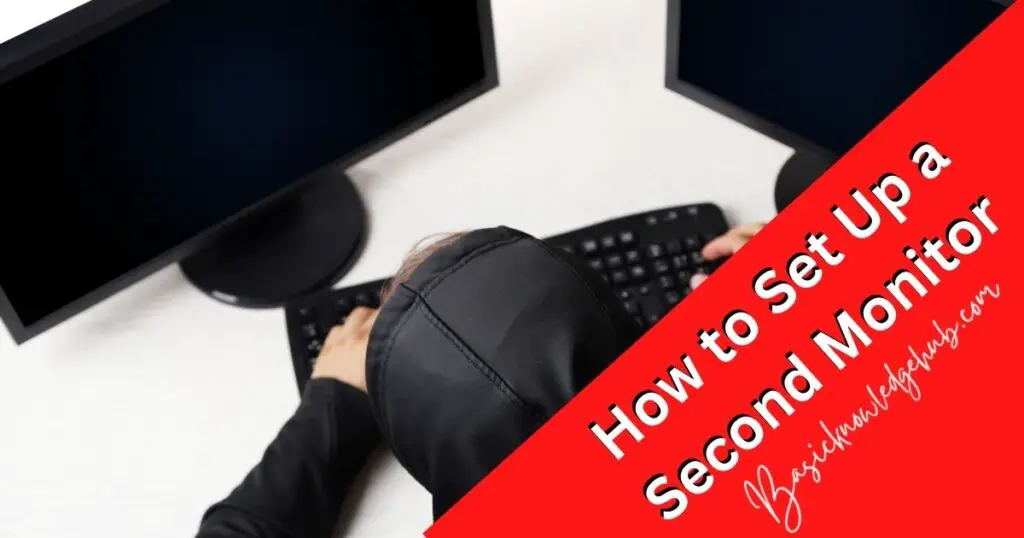 Ascertain that your Computer can Support another Monitor and Determine the Required Connection
Many computers have settings and a built-in ability to power another screen.
However, not all graphic cards can support multiple monitors simultaneously. You need to look at the video output connections to check whether your laptop or desktop can.
You need to find your laptop or desktop's HDMI, USB-C, or DisplayPort. If your computer is of an older version, you should be looking for a colored VGA socket or a white DVI. All these video output ports will allow you to connect your computer to the secondary screen with the proper/compatible cable.
In case the connections of your monitor and computer vary, you will need an adapter cable or unit, e.g., VGA to HDMI or USB-C to HDMI. You also need to be on the lookout for annoying errors like a second monitor detected but not displaying.
Simply plug your second monitor into a power outlet and proceed to connect the monitor's video cable to the available and compatible port on your PC.
Instruct Your Operating System on How to Manage Dual Displays
For Windows, start by right-clicking your Windows desktop and choose Screen Resolution or Display Settings for Windows 7&8 and 10/11, respectively. From there, specify the displays' arrangement you want from the dialog box that comes up. Turn on the pull-down menu tagged Multiple Displays feature to allow you to decide your multiple screens' setup and how they will work together.
If you select Extend these displays, Windows is automatically prompted to treat both displays as one display. This means that the new monitor displays results as per the primary monitor's extension.
Choosing your monitor order(right or left)is crucial, and you must let Windows know. To do this, drag the screen icons at the dialog box's top. If you get this wrong, you will have trouble scrolling your mouse. That's not all. The dual monitor wallpaper you choose will look bad if you don't get  this setting righit.
If your goal is to extend the primary monitor and use your secondary monitor as additional screen space, place the second monitor on the right side of your primary monitor. If you want to duplicate the primary monitor, the placement of the second monitor won't matter.
From here, you need to attach your computer to your second monitor. For adapter units, you will need to plug the cable into a power source or/and plug both cables into your adapter before connecting your monitor and computer.
Selecting the Primary Display
The option labeled Make this my main display determines the monitor that gets the Start button and Taskbar. If this option is unavailable, the already selected monitor is the main one. To be in charge of these settings, you can right-click the desktop and select the graphics control panel.
At this point, you can also toy around with other features like light features, High Dynamic Rate(HDR) resolutions, screen layout, and much more.
For macOS, navigate to the Apple menu, then select System Preferences, followed by Displays. To change the relative display positions, click on the Arrangement tab. This tab only appears after your second screen is connected. You can decide whether to use an Extended or Mirrored Mode from the Mirror Displays checkbox.
Now it is time to enjoy your second monitor. If you are working with the Extended mode, you are free to maximize and drag program windows on any of the screens.
Final Thoughts
There you have it. Adding a second monitor to your PC is simple. Not to mention how satisfying it is not to work with a confined laptop or desktop screen. Modern desktops and laptop PCs can run dual displays with a second monitor. You only need to follow this guide and effectively manage your displays.