Ways Business Intelligence Tools Can Increase Profit
Running a modern business requires up-to-date approaches. And among the most important needs, there is the necessity to get the latest information on business issues as well as to stay in touch with your business partners and banks. Luckily, nowadays businesses can use software that provides them with all the business intelligence they require. There are several ways you can drive your revenue using business intelligence. 
Creating Useful Business Data from Simple Facts 
Every business needs impossible planning without collecting and analyzing different everyday information. The assortment of goods available on the shelves, customers' preferences, and different logistics data should be evaluated and used in the best possible way to make your business more successful. It sounds almost impossible to take into account and analyze all those factors without using special software. And that is where business intelligence can get very handy. Kimberly-Clark was among the first businesses which successfully introduced such a tool into practice.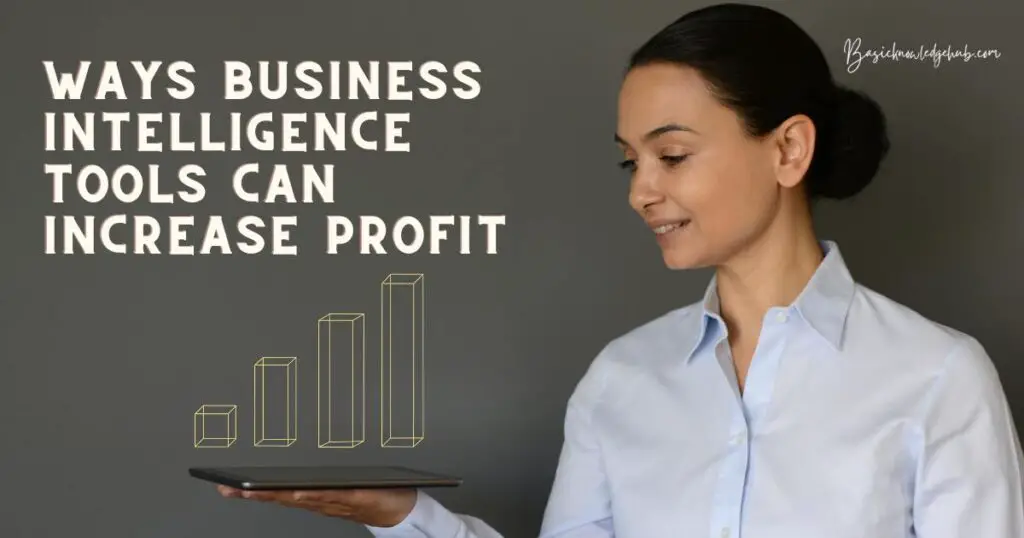 Information about manufacturing peculiarities, statistics about sales at different stores, and data about logistics opportunities were analyzed with the help of business intelligence tools to ensure the growth of sales. It was achieved by Kimberly-Clark due to the usage of the gained data in business practice. The firm managed to ensure the delivery of their goods to the stores in necessary quantities in the best possible way. The possibility to analyze various data from different sources and offer a solution based on that analysis opened new business opportunities to increase profit.  
 Use your Data with Better Comfort
Working with the collected data can be rather problematic especially if you need to use information from several spreadsheets. In this case, you will need to choose the best tool for data visualization and so possibly consider Looker or Power BI features. You can easily find a professional analysis of them on the Internet. Data visualization with the help of a dashboard gets very handy if you are tired of looking through numerous spreadsheets. With the help of data visualization, you can see different parameters and so you can compare them quickly concentrating on the actual analytical work rather than the technical (when you search your spreadsheets looking for the data you need to compare). Thus, a business intellectual dashboard makes a great tool for analyzing different parameters necessary for planning and running a successful business.
Ways Actual Information Can Help to Create Profit
Collecting and analyzing actual information with the help of business intelligence software helps to create possibilities to gain future profit. For example, Blackstone, a company that manages assets, has tracked rental rates and tenant demand using business intelligence tools. Thus the company managed to make one of its major purchases- River North Point ( worth $ 378 million at that time) has happened to become a great investment.
Another example of successful business intelligence software usage was demonstrated by Continental Airlines. The analysis of the real-time business-related data helped the company to get more than $ 500 million in the growth of its revenue. The company tracked minute-by-minute all aspects of its work This way they managed to net nearly $10 million by changing fares with better reasoning. They also tracked the number of flights some customers purchased and thus figured out the most valuable clients. Later, after the 9/11 attack, Continental helped those most valuable customers with accommodation as they got stranded. This way, the company showed its devotion to its clients and thus got their loyalty.  
Benefits Offered by the Cloud
A tremendous amount of businesses worldwide use the cloud both to run their activity and to store their business-related data. Forbes reported the growth of the companies from 29% to 43% after the adoption of cloud BI. It's no wonder they choose this option. Using a cloud is less expensive than keeping the whole IT hardware office and facing the necessity to upgrade it regularly. There is a wide range of firms in the market offering services that will suit all your demands. If you use a cloud, you can reach your data from any place around the globe where an Internet connection is available. If you need some data on a business trip you shouldn't worry about losing your sensitive information some way after it has been taken from your office computer on the trip. Security issues are the first ones companies consider when choosing between using cloud services and creating their data centers. And most companies vote for the first option as cloud service providers use a few servers to ensure stable work in case of one of the servers breakage. Besides, companies that provide cloud services usually employ real IT gurus to ensure their clients' secure usage of the cloud. Reliability, affordable price, and the possibility to reach the cloud from anywhere make it the best solution for your business.
Collaboration Options
BI software enables you not only to store your data in the cloud but also to collaborate with your colleagues easily. For example, you can comment on the work your team members have done or ask them questions from your computer which increases the productivity of the team. Special BI software can also collect all the information you need from several sources like emails, reports, or spreadsheets. This way you save a lot of time and effort which makes your work more productive. Many features of software providing collaboration are based on social media platforms which makes using this software fun. 
Conclusion
Using more progressive ways of running your business makes it more profitable and gives you numerous advantages. One of those progressive ways is the usage of business intelligence software. This tool can provide you with comfortable usage and accessibility of your business data. This can be achieved by using cloud storage and other cloud services. Visualization and collaboration options will make the analytical work of your team more productive. Besides the possibility to collect and analyze various data provided by BI allows you to get more revenue at present and in the future. Progress can't be stopped. So, study various options and services available nowadays and open a new page in your business development.