How To Secure Your Windows Login with MFA?
In this world security is the main issue weather it is home security or it is internet. In this article we are going to deal with windows security with MFA. Using multi-factor authentication (MFA) a non techy person can easily secure his PC.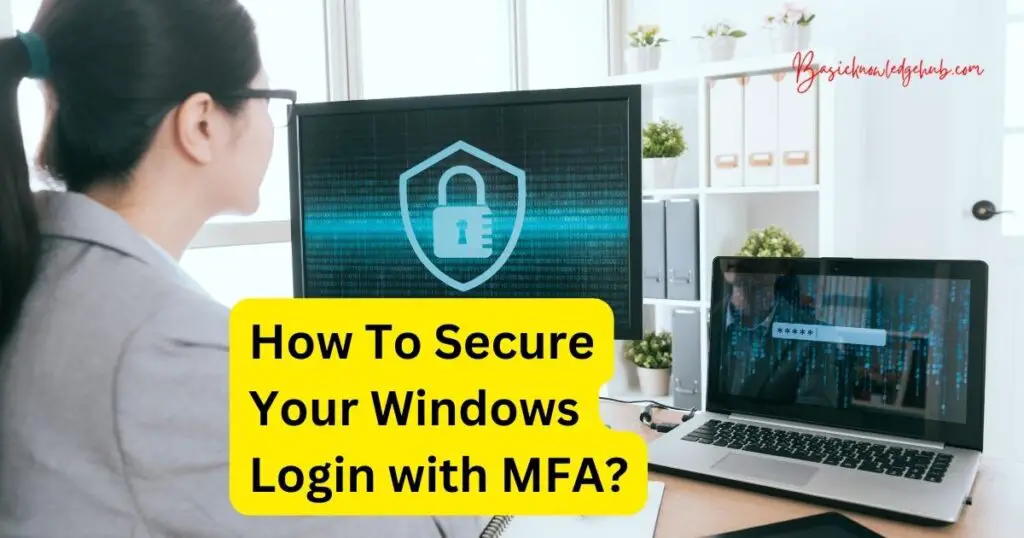 What is a Multi Factor Authentication login for Windows
A multi-factor authentication (MFA) has become a widely used application for many businesses. An MFA application provides a second layer of security and protection for the data and information which is uploaded online by employees of a certain organization. 
As the world has started to become more remote-based, many companies have started to offer online or hybrid work options to their employees. This remote working system has increased the amount of data online since uploading and storing them online makes it easier for employees to access their work from wherever they are. 
The importance of integrating an MFA service in businesses
As mentioned above, the amount of data stored online is increasing daily. Some companies are even storing confidential data belonging to their partners, competitors, and even customers in cloud spaces, which increases the risk of these data being leaked to the public. The problem with this situation is that if the data becomes public, an organization will lose its reputation in the market, and customers and partners will stop cooperating with them since they could not keep their promise of keeping the data confidential. 
Thus, an MFA for Windows login must be installed on all company devices and online cloud storage to decrease the risk of losing confidential data and a brand's reputation in the market. This application can ensure managers of an organization that whoever is accessing their data is someone within their organization; hence, their data will be in safe hands and secure from cyber hackers. 
Steps to secure your windows login with MFA
1- Make sure you have the company's admin MFA account and password
When installing an MFA application on Windows devices, the first step managers need to pay attention to is choosing the most practical application for their organization. Numerous types of MFA applications are offered for organizations, making the decision-making process difficult for managers. However, these managers need to test out some of the most attractive applications and, afterward, make their decision. 
After the installation process is completed, companies must create an MFA admin account, which will act as the domain that connects all Windows accounts. The MFA admin account must contain a company ID or an organization's application programming interface (API) to ensure that it protects a certain organization. 
The role of an MFA admin account is really important since it is the only method to allow access to employees to data and gain control over who can access certain information.
2- The user should authenticate themselves using either of the methods provided (fingerprint, SMS, email, code, face ID, etc.)
After creating an organization admin account, managers must install a Windows multi-factor authentication application on every company device and connect it to company accounts.
Afterward, managers and employees will have to choose a method of MFA login. There are numerous ways that MFA applications provide users to log in to their accounts. Some of the most popular methods are fingerprint scans,  one-time codes sent to an email or as an SMS, face scan, etc. 
3- Sign in and secure the security of the Windows is working properly
The last step is to ensure that the Windows login of multi-factor authentication is working properly on each device and account; employees need to sign in and ensure that a substitute way of logging in is asked when they insert a username and password. 
After ensuring that a second authentication code is working on an account, managers need to constantly check and make sure that each device is still connected to the MFA admin account.
Conclusion
Only having a single username and password does not provide the needed protection level for confidential data online; thus, it is important to secure data with other levels of protection. One of the ways is installing an MFA application on electronic devices, which requests extra information from those who are trying to get access. The MFA allows them to access and use the data stored online only after verifying that they are a part of the organization. 
In a nutshell, as remote and hybrid work has become a trend, many companies and organizations are considering installing a multi-factor authentication (MFA) application on their Windows devices and connecting it to their cloud storage to protect the data from hackers and cyber attacks.