Why is one of my airpods not working
It's a common scenario: you're ready to dive into your favorite tunes, only to discover that one of your AirPods isn't working. This hiccup can be particularly frustrating, especially when you're on the go and relying on your AirPods for entertainment or communication. The reasons behind this issue can be as varied as the individuals who face it.
In this deep-dive article, we're going to explore the possible reasons for this problem and provide you with step-by-step solutions to get both AirPods back in action. Whether it's a simple glitch or a more complex hardware issue, we've got you covered.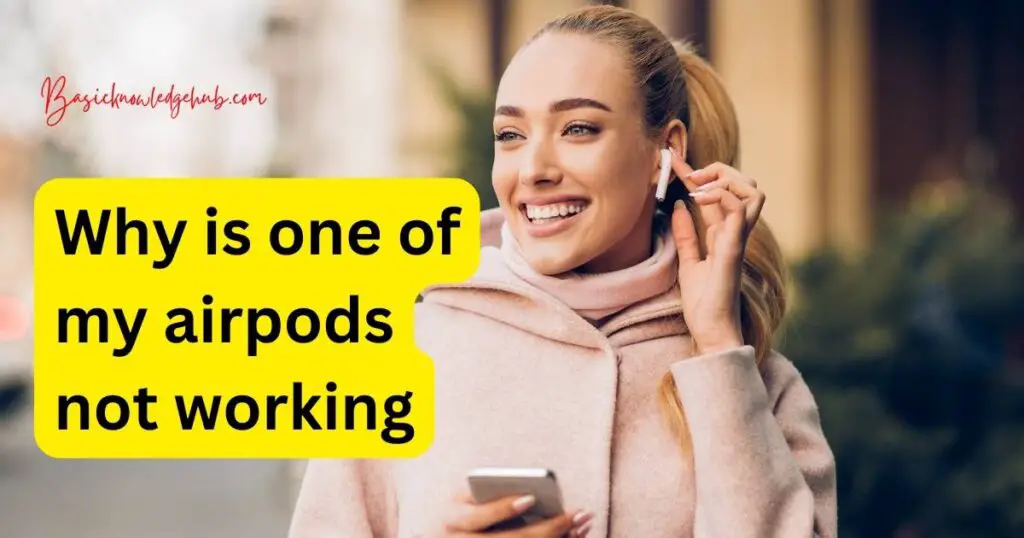 Common Culprits Behind AirPod Dysfunction
Before we leap into troubleshooting, it's crucial to identify the possible reasons why one AirPod might not be performing as expected. Battery discrepancies between the two AirPods can often lead to one dying faster than the other. Connectivity issues are another frequent cause, potentially stemming from software glitches or physical obstacles interfering with the Bluetooth signal. Furthermore, dirt or earwax build-up can obstruct the AirPod's speaker grill, leading to muffled or non-existent sound. Firmware problems can also result in one AirPod failing to work due to outdated or corrupt software.
Don't miss: Ccmsetup failed with error code 0x80004005
How to Fix One AirPod Not Working?
Fix 1: Checking and Balancing AirPod Battery Life
When you encounter an issue with one of your AirPods not working, the first aspect you should scrutinize is the battery life. Uneven battery levels between your AirPods can lead to one stopping sooner than the other. Here's how to thoroughly inspect and address battery-related concerns:
Place Your AirPods in Their Charging Case: Insert both AirPods into their case and close the lid. Give them a moment to ensure they make contact with the charging points.
Check the Charge Status: Open the lid near your connected iOS device. The charge status should appear on your device, displaying the battery life for both AirPods and the case. If one AirPod shows a significantly lower battery percentage, it's a clue to the root of the problem.
Ensure Proper Charging: If you notice one AirPod isn't charging well, check the charging ports and contacts for any dirt or debris. Use a soft, dry, lint-free cloth to gently clean the contacts. Additionally, inspect the charging cable and adapter for any signs of damage.
Charge Your AirPods Fully: With both AirPods in the case and the lid open, plug the case into a power source using a Lightning to USB cable, or place it on a Qi-compatible charging mat if you have the wireless charging case. Wait until both AirPods are fully charged, indicated by a green light on the charging case.
Monitor the Charging Process: Keeping an eye on how your AirPods charge can provide insights into any discrepancies. If one AirPod consistently charges slower or fails to reach full charge, it may suggest a battery or charging port issue.
Testing After Charging: Once fully charged, use your AirPods as normal and see if the issue has been resolved. If both AirPods now work correctly, it could have been a simple case of unbalanced charging.
Repeat Charging if Necessary: If the problem persists, try the charging process again. It might have been an isolated incident that a second charging cycle can correct.
By following these detailed steps, you ensure that any issues arising from battery discrepancies are thoroughly addressed. Consistently maintaining balanced charging habits will prolong the life of your AirPods and prevent future instances of one AirPod not working due to battery life issues.
Fix 2: Ensuring Robust Bluetooth Connectivity
Connectivity is another crucial factor that can cause one AirPod to stop working. Your AirPods rely on a stable Bluetooth connection to function correctly. Interruptions or weaknesses in this connection can result in one AirPod losing communication with your device. Let's walk through how to strengthen your Bluetooth connection and resolve this issue:
Disconnect and Reconnect Your AirPods: Navigate to the Bluetooth settings on your device. Find your AirPods in the list and tap the "i" icon next to them. Select "Forget This Device" and confirm the action. Then, place both AirPods back into the charging case and close the lid. After a few seconds, reopen the lid and hold the setup button on the case until the status light flashes white. Reconnect your AirPods by placing them near your device and following the on-screen prompts.
Turn Bluetooth Off and On: Sometimes a simple reset of the Bluetooth on your device can remedy connection issues. Swipe into your device's control center and tap the Bluetooth icon to turn it off, wait for a few seconds, then turn it back on.
Check for Physical Interferences: Ensure there are no physical obstacles between your AirPods and the connected device. Walls, furniture, and other electronic devices can sometimes disrupt the Bluetooth signal.
Restart Your Device: Restarting the device that's connected to your AirPods can also reset any temporary connectivity issues. Power off your device completely, wait a minute, and then turn it back on.
Check for External Interference: Other wireless devices can interfere with Bluetooth connections. Try to minimize the number of active Bluetooth devices in the area to see if this improves the connection.
By re-establishing a strong Bluetooth connection, you often can get both AirPods working properly again.
Fix 3: Cleaning Your AirPods Thoroughly
A common issue that might not be immediately obvious is blockage from dirt or earwax. This can prevent your AirPods from functioning correctly or result in significantly reduced sound. Cleaning your AirPods should be done with great care:
Gather the Right Tools: You'll need a soft, dry, lint-free cloth, a soft-bristled brush (like a new toothbrush), and cotton swabs. Do not use water or any liquids that can potentially damage the electronics.
Wipe the Exterior: Gently wipe the body of your AirPods with the lint-free cloth. This removes any surface dust or oils that may have accumulated.
Clean the Microphone and Speaker Meshes: Using the soft-bristled brush, carefully clean the meshes. This is where earwax and dirt are most likely to accumulate. Brush away from the mesh to avoid pushing dirt further in.
Address the Charging Contacts: The charging contacts inside the case can also gather dust. Gently brush them clean or use a dry cotton swab to remove any debris.
Check for Improvements: After cleaning, place your AirPods back in their case for a few minutes then test them out. If the AirPod that wasn't working is now functioning, buildup was likely the issue.
A clean pair of AirPods not only ensures better performance but also maintains good hygiene. Be mindful not to insert anything into the earbuds that could push debris deeper or damage the internal components. Regular cleaning can prevent many issues related to sound quality and performance, including the troubling scenario where one AirPod doesn't work.
Fix 4: Resetting Your AirPods to Factory Settings
Sometimes, your AirPods might need a fresh start to resolve more persistent issues. A factory reset can be particularly effective if one of your AirPods is not working. Here's how to reset your AirPods, which can restore both to full functionality:
Place Your AirPods in Their Case: Ensure both AirPods are in the charging case and close the lid. Wait for about 30 seconds before proceeding to the next step.
Open the Charging Case Lid: With the lid open, locate the setup button on the back of the case.
Reset Your AirPods: Press and hold the setup button for at least 15 seconds until the status light flashes amber and then white, indicating that your AirPods have been reset.
Reconnect to Your Device: After the reset, place your AirPods close to your device and follow the on-screen steps to reconnect them.
Test Both AirPods: Once reconnected, test both AirPods to see if they are working properly.
A factory reset will clear all the settings for your AirPods, which can eliminate lingering connectivity or battery-related problems that could cause one AirPod to malfunction.
Fix 5: Updating Your AirPods Firmware
Occasionally, one AirPod might not work due to outdated firmware. Firmware updates are essential as they often contain fixes and improvements for your AirPods. Ensuring your AirPods are updated to the latest firmware version is a key troubleshooting step:
Check Current Firmware Version: Connect your AirPods to your iOS device, go to the Settings app, select 'Bluetooth,' and tap the "i" next to your AirPods. Here, you can see the current firmware version.
Connect to a Power Source: While the firmware typically updates automatically, you can encourage an update by connecting your AirPods to a power source and then placing them close to your iOS device.
Ensure Wi-Fi Connectivity: Make sure your iOS device is connected to Wi-Fi. The firmware update will need an internet connection to download and install.
Wait for Automatic Update: Leave your AirPods near your device and give them time to update. This can take from a few minutes to an hour. You cannot force an update, so patience is key.
Confirm Update: After some time, check the firmware version again to see if it has updated to the latest version.
Test for Resolution: Use your AirPods as you normally would to determine if the update has resolved the issue of one AirPod not working.
By keeping your AirPods up-to-date, you can ensure that any known bugs are fixed, and your devices are running optimally, which may resolve your issue without needing further troubleshooting.
Fix 6: Inspecting for Physical Damage
Physical damage to your AirPods could be the reason why one is not working. If they've been dropped or exposed to liquids, internal components could be affected. Here's how to assess and deal with potential physical damage:
Inspect for Visible Signs: Look carefully at both AirPods for any cracks, dents, or discoloration that might indicate damage.
Check for Water Damage: If your AirPods have been exposed to liquid, they may have water damage. While the latest models have some water resistance, they are not waterproof.
Dry Your AirPods if Necessary: If they have gotten wet, place your AirPods in a dry, warm place with good air circulation to gently dry out.
Avoid Heat: Do not use a hairdryer or any direct heat source to dry your AirPods, as this can cause further damage.
Contact Apple Support: If you suspect physical damage that you can't resolve, contacting Apple Support or visiting an Apple Store may be your best option.
Taking careful stock of your AirPods' condition can save you from attempting unnecessary fixes when professional repair or replacement is needed.
Fix 7: Checking for Sound Settings and Stereo Balance
Incorrect settings on your device can also lead to one AirPod not working. This could be due to the stereo balance being shifted all the way to one side. To check and adjust sound settings:
Go to Settings: On your iOS device, open the Settings app and tap on 'Accessibility.'
Navigate to Audio/Visual: Scroll down to the 'Audio/Visual' option.
Adjust the Balance Slider: Ensure the balance slider is positioned in the middle to distribute sound evenly between both AirPods.
Test the Changes: After adjusting the balance, listen to audio through your AirPods to see if this has resolved the issue.
Making sure the audio settings are configured correctly can be an easy fix for what might seem like a hardware problem.
Fix 8: Troubleshooting with Apple's Audio Accessibility Features
Apple provides various accessibility features that might affect how your AirPods work. These features are designed to help users but can sometimes be turned on by accident.
Check Mono Audio: Go back to the 'Audio/Visual' settings and ensure that 'Mono Audio' is turned off. Mono Audio combines both audio channels which could result in one AirPod not playing sound if there are issues with the channels merging correctly.
Check for Hearing Devices: Some settings are specifically tailored for hearing devices. If these have been activated, they might interfere with normal AirPod functionality.
Reset Accessibility Settings: If you're unsure what's been changed, you can reset all settings. Go to 'General' in your Settings app, then tap 'Reset' and select 'Reset All Settings.' Be aware this will reset all settings back to factory defaults.
These steps can rectify issues related to software settings that may be preventing one of your AirPods from working correctly.
Following these troubleshooting methods should cover most of the bases for fixing an AirPod that is not working. If none of these solutions work, it may be time to consider professional support or replacement. Remember, regular care and maintenance of your AirPods can prevent many of these issues from occurring in the first place.
Conclusion
Dealing with one non-functioning AirPod can be a roadblock in your daily routine, but with these steps, you can usually identify and fix the issue swiftly. Remember to keep your AirPods clean, check for battery inconsistencies, maintain their firmware, and ensure a solid connection with your device. If all else fails, professional assistance is a reliable final resort. With a little patience and troubleshooting, you can usually get both AirPods back up and running, restoring harmony to your audio experience and ensuring that your favorite tracks play seamlessly in both ears once again.
FAQs
Why would only one of my AirPods not be working?
It could be a low battery, a dirty speaker, or a disconnected Bluetooth connection. Always check these first.
Can I fix my AirPods at home if one isn't working?
Absolutely! Most issues, like charging and connectivity, can be resolved at home with some simple steps.
Should I reset my AirPods if one side isn't functioning?
Yes, resetting your AirPods can often clear up any errors causing one to malfunction.