An error occurred while loading a higher quality version of this video
Browsing the internet and streaming videos have become a core part of our digital experiences. However, the occasional frustrating interruption – like the "An Error Occurred While Loading a Higher Quality Version of This Video" message – can put a damper on your enjoyment. This guide provides an in-depth look at this common problem and offers proven strategies to solve it. Whether you're a casual user or a tech professional, understanding this error can help you ensure a smoother online video streaming experience.
Understanding the Error
In the simplest terms, the "An Error Occurred While Loading a Higher Quality Version of This Video" message appears when the streaming platform you're using fails to upgrade the video quality. It's common among platforms that auto-adjust video quality based on your internet speed. This error can occur due to several factors, including internet connection issues, browser problems, or complications from the streaming platform's end.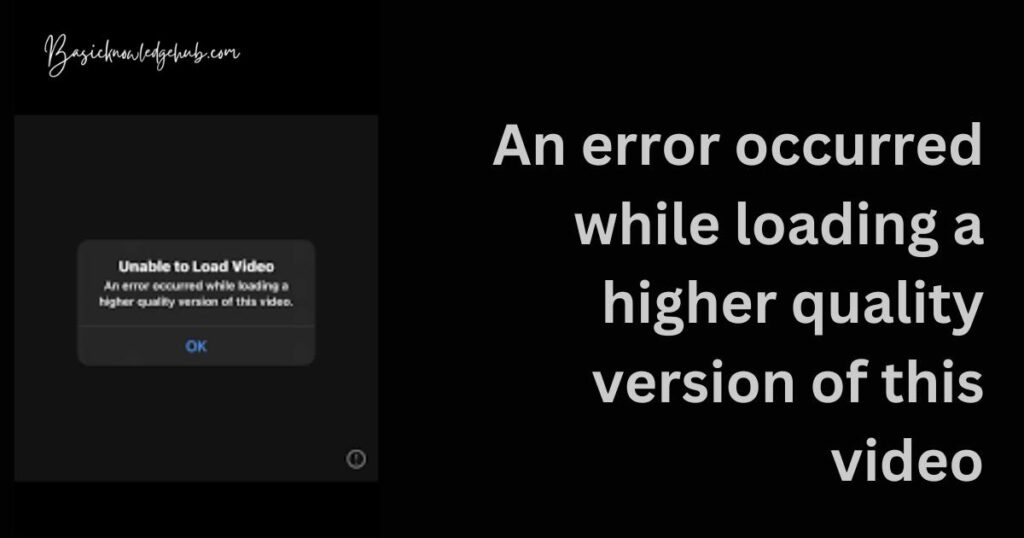 Possible Causes of the Error
1. Internet Connection
Video streaming platforms often start with a lower-quality video stream that requires less bandwidth, then transition to higher quality as your internet connection allows. If the transition is interrupted – say, due to unstable or slow internet – this error message may appear.
2. Browser Issues
Sometimes, your browser may be the culprit. If it's outdated, has incompatible extensions, or is running with cache problems, it might struggle to load the higher quality video, resulting in the error message.
3. Problems with the Streaming Platform
Errors in the video streaming platform's servers or issues with how they process video quality upgrades can also trigger this error.
How to Resolve the "An Error Occurred While Loading a Higher Quality Version of This Video" Error
Having examined potential causes, let's dive into the solutions. Remember, the issue may not always be within your control. If it's a problem on the video streaming platform's end, your only course may be to report the issue and wait.
1. Check Your Internet Connection
Start by verifying the stability and speed of your internet connection. You can use online tools like Speedtest by Ookla to gauge your internet performance. If your connection is unstable or slower than what's needed for high-quality video streaming, consider troubleshooting your Wi-Fi, connecting directly via Ethernet, or contacting your service provider.
Read more: How to turn off screen mirroring
2. Update Your Browser
If you're on a computer, it's worth trying a different web browser to see if the issue persists. Also, make sure you're running the latest version of your browser. You'll be surprised how often these tiny updates fix big problems!
3. Clear Your Browser Cache
It's a bit like taking out the digital trash. Over time, your browser collects little pieces of information that can sometimes get tangled up and cause problems. Clearing them out might just do the trick.
4. Disable Browser Extensions
Certain browser extensions might interfere with video streaming. Try disabling extensions one by one and check if the problem persists.
5. Switch to Another Browser
If you've tried everything above with no success, the problem may be browser-specific. Consider using a different browser to see if that resolves the issue.
6. Contact the Streaming Platform
If the error persists, it may be a problem with the streaming platform. Reach out to their customer support for assistance.
Conclusion
The "An Error Occurred While Loading a Higher Quality Version of This Video" error can be frustrating, but it's typically solvable with a little troubleshooting. By understanding the potential causes and solutions outlined in this guide, you can help ensure a smooth, uninterrupted video streaming experience. Remember, if the problem persists, don't hesitate to contact the streaming platform's support team—they're there to help you enjoy the content you love in the best possible quality.