Discovering Tidal: An Artist-Centric High-Quality Music Streaming Experience
Music streaming has dramatically transformed the way we enjoy our favorite tunes. Amid the bustling digital music scene, one platform stands out — Tidal. Distinguished by its high-quality audio and artist-centered philosophy, Tidal offers an unparalleled experience to music lovers and creators alike.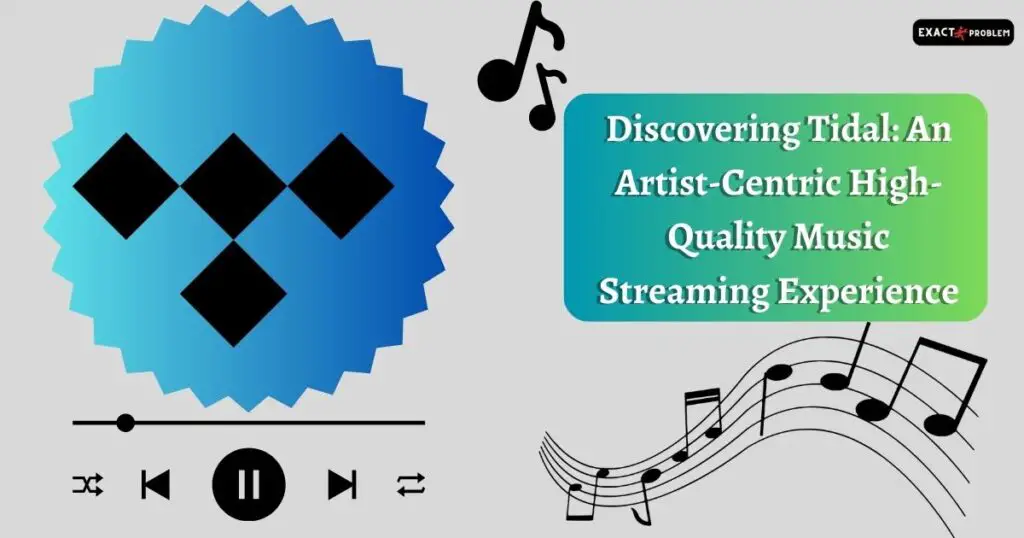 Also read: How to Adjust Your Facebook Feed for Most Recent Posts: An Easy Guide
Tidal: Pioneering High-Quality Music Streaming
Tidal breaks free from the pack of streaming services with its relentless focus on superior audio quality. This commitment is evident in their HiFi and HiFi Plus plans. Offering lossless, CD-quality audio, Tidal enhances the listening experience, making it feel like you're in the recording studio with your favorite artists. If you're an audiophile, these premium subscriptions are worth considering for their unmatched fidelity.
Empowering Artists: Tidal's Unique Business Approach
One of the unique aspects of Tidal is its artist-friendly ethos. Initially, this platform was owned by a legion of famous musicians like Alicia Keys, Beyoncé, and Kanye West. Even after a change in ownership, Tidal continues to give back to the artists. A part of every paid subscription directly benefits your most-streamed artists, ensuring they are fairly compensated for their creativity and hard work.
Dive Deeper into the Music with Tidal Masters
Tidal Masters takes high-quality streaming a step further. Utilizing the MQA codec, this feature allows streaming of tracks in hi-res audio. This gives users the opportunity to listen to music the way artists intended it to be heard. To fully experience Tidal Masters, however, you need a device and software that supports the MQA format.
Affordable Plans to Suit Every Listener
Tidal ensures its service is accessible to a wide audience by offering different pricing options. You can start with a free version that provides decent quality streaming, albeit with occasional ads. Their paid options range from $10.99 per month for HiFi, providing an ad-free experience and superior sound quality, to $19.99 per month for HiFi Plus, which adds MQA and Dolby Atmos support. Tidal also offers family plans that allow multiple users under one account.
Broad Compatibility with Various Devices and Software
Whether you prefer listening on your smartphone or through your home theater system, Tidal has you covered. Their app is compatible with a wide range of devices, including iOS, Android, Roku, Apple TV, and many more. Integration with popular third-party sound systems and media player software is smooth and hassle-free. For the ultimate experience, consider devices that support Tidal Connect, which allows casting of high-quality audio streams.
Enjoy More Than Just Music with Tidal
Tidal goes beyond music streaming. Its users can enjoy an array of podcasts, read in-depth articles in their Magazine section, and watch a massive library of music videos and live concert recordings. For fans eager to get a sneak peek of upcoming features, Tidal offers an Early Access program for HiFi Plus subscribers.
Conclusion
Tidal offers a unique and immersive music streaming experience. Prioritizing high-quality audio and fair artist compensation, it stands as a beacon for both music lovers and creators. The variety of subscription options, broad device compatibility, and additional features like Tidal Masters and Early Access make Tidal a compelling choice. For those who seek a richer and more ethically balanced music streaming service, Tidal could well be your perfect match.
Frequently Asked Questions 
1. What makes Tidal stand out from other music streaming platforms?
Tidal emphasizes high-quality audio streaming and fair compensation for artists, making it a unique choice.
2. Is the audio quality on Tidal significantly better?
Yes, Tidal offers lossless, CD-quality audio through its HiFi and HiFi Plus plans for an enhanced listening experience.
3. What is Tidal Masters?
Tidal Masters is a feature offering hi-res audio streaming utilizing the MQA codec for the ultimate audio quality.