Exploring the Phenomenal Capabilities of Nubia's REDMAGIC 8S Pro Gaming Smartphone
Behold the Nubia REDMAGIC 8S Pro, the most powerful gaming smartphone of 2023. This groundbreaking device, built with next-generation technology and superior features, is all set to redefine mobile gaming. Gaming enthusiasts and tech savants worldwide are ecstatic about the launch of this dynamic gadget. As we delve deeper, we'll unravel its robust capabilities, unveiling why it stands out in today's advanced tech market.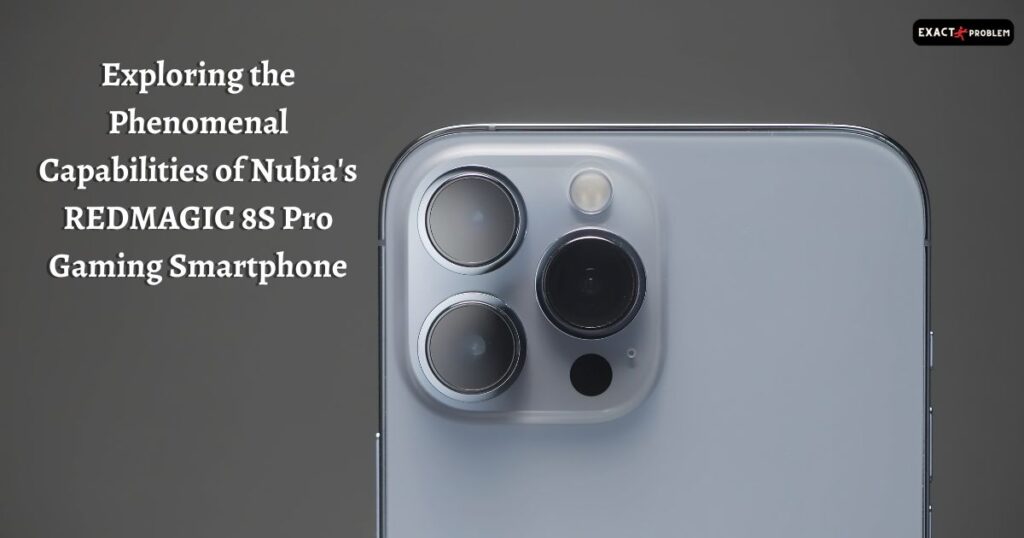 Also read: Discovering Tidal: An Artist-Centric High-Quality Music Streaming Experience
The Gaming Beast: An Overclocked Marvel
At the heart of the REDMAGIC 8S Pro, there lies an overclocked Snapdragon 8 Gen 2 Leading Version chipset. This phenomenal processor outpaces the industry standards with its 3.36GHz CPU clock speed and 719MHz GPU speed. Power and efficiency are the mainstay here, delivering unmatched performance for a seamless gaming experience.
Keeping Cool under Pressure: ICE 12.0 Cooling System
As any gamer knows, heat management is crucial in maintaining the phone's optimal performance. This is where nubia's so-called ICE 12.0 cooling system comes into play. This innovative technology includes features like 3D vapor chamber cooling, a graphene heat sink, and, most notably, a built-in fan, ensuring your gaming marathons never get too hot to handle.
Elevating Your Gaming: Monstrous RAM and Unparalleled Storage
The REDMAGIC 8S Pro doesn't shy away from boasting extreme numbers. With the Pro Plus variant, you can leverage up to 24GB of RAM and 1TB of storage. Although such high RAM figures may seem surplus for typical gaming, they ensure top-tier performance for the most demanding tasks. Simultaneously, the 1TB storage opens up vast possibilities for storing numerous high-end games and media.
Uninterrupted Gaming: Impressive Battery Life and Swift Charging
Balancing endurance and charging speed, the REDMAGIC 8S Pro is a true game-changer. While the base model is powered by a 6,000mAh battery, supporting 80W wired charging, the Pro Plus variant pushes the envelope with a blazing fast 165W wired charging speed, albeit with a slightly smaller 5,000mAh battery. This intelligent design ensures you get back in the game in no time.
An Engaging Visual Journey: Stunning Design and Camera
In addition to performance, the REDMAGIC 8S Pro excels in aesthetic appeal and camera capabilities. Its design features the typical gaming phone traits, including a circular RGB light and capacitive shoulder triggers. However, what sets it apart is the 16MP under-display selfie camera, allowing a full-screen, immersive gaming experience. Complementing this is a high-resolution triple rear camera system, promising impressive photography.
The Sounds of the Future: Audio Enhancements and Connectivity
The REDMAGIC 8S Pro doesn't compromise on audio or connectivity either. It supports dtsX Ultra for superior sound quality, features three microphones for excellent audio input, and even includes a rare 3.5mm port. Meanwhile, the Wi-Fi 7 compatibility ensures you stay connected to your games at high speed.
Wrapping Up: The REDMAGIC 8S Pro – A Gaming Powerhouse
The Nubia REDMAGIC 8S Pro stands as an outstanding innovation in the world of mobile gaming. It offers unmatched performance, dynamic design, superior storage, swift charging, and phenomenal cooling features. Whether you're a hardcore gamer or a tech enthusiast seeking the latest advancements, this gaming smartphone is a testament to the heights that modern technology can reach. Packed with industry-leading specs and user-friendly features, the REDMAGIC 8S Pro truly embodies a gaming powerhouse, setting new standards for future innovations. It's more than just a smartphone; it's a revolution in the gaming universe.
FAQs
What sets the nubia REDMAGIC 8S Pro apart in the gaming smartphone market?
The REDMAGIC 8S Pro boasts an overclocked Snapdragon 8 Gen 2 chipset, a superior cooling system, and massive storage.
Does the REDMAGIC 8S Pro's battery and charging live up to its gaming capabilities?
Yes, the phone balances endurance with charging speed, offering up to 6,000mAh battery capacity and superfast wired charging.
What makes the visual experience of the REDMAGIC 8S Pro unique?
Its under-display 16MP selfie camera and vibrant RGB light design ensure a full-screen, immersive gaming experience.