Google lens for iPhone- How to Install + Use
Google Lens may be used to translate languages, recognize plants, or calculate mathematics, among other things. On iOS devices, it's much simpler to use. You may snap a photo of anything using the camera on your iPhone or iPad and then use Google Lens for iPhone to hunt for the answer of.
It's possible for Lens to identify items thanks to Google's vast computer data and machine intelligence, which can then provide information about them. When you use Google Lens to take a picture of a plant, it may identify the species and provide more details about what you've captured. Google Lens, on the other hand, isn't limited to text and math. Real-time recognition of a large variety of objects is also possible.
This app allows you to instantly translate between a wide variety of various languages. You might also be able to find out where to acquire things you've seen on the internet, as well as solve your arithmetic difficulties. How does it all go? Simply take a picture of your boarding pass and upload it to Google Calendar. It will be updated as soon as the flight information is available. Using Google, you may research a well-known building's history and present hours of operation.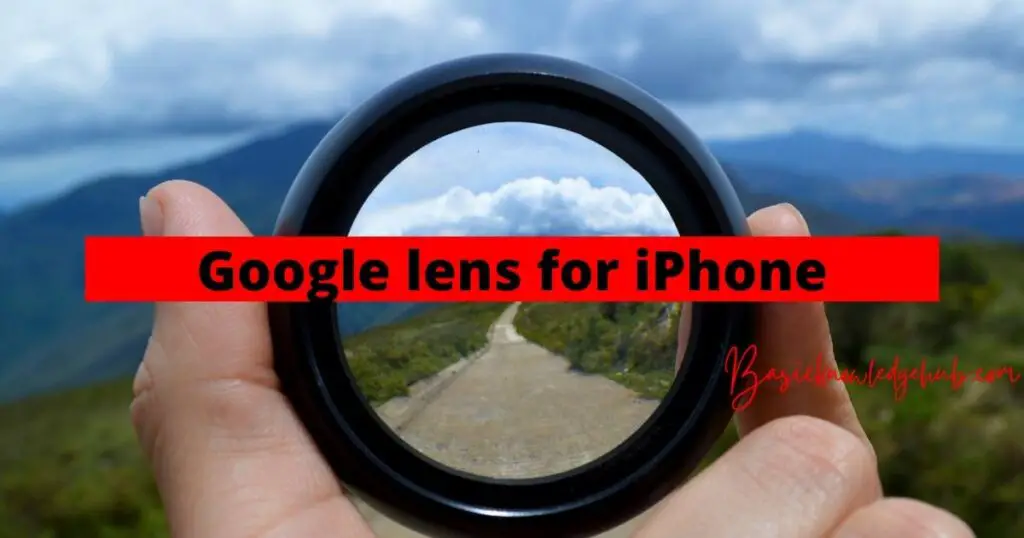 Google Lens can now be used on both Android and iOS devices, which is excellent news for Apple users. iPads and iPhones may both use this software without issue. To begin with, follow these instructions.
How to install Google Lens on an iPhone or iPad?
Google Lens does not have a separate app in the Apple App Store, unlike other Google products. One Google application has now integrated its features into two additional Google applications. The ideal Google Lens choice for you will depend on how and on which device you want to use it. The optimal option for you will be determined by these factors.
Using Google's app is the very first thing that comes to mind. You may use this to access Google services such as customized news, sports event updates, and weather updates, which are all accessible directly on your iPhone. Additional Google search technologies such as Google Lens and Google Maps are also featured in this section. With Google Lens for the iPhone, you can use your camera to do real-time searches while also taking pictures. By looking through your camera roll, you may locate photographs that you've previously saved.
Download and install Google Photos. On the iPhone, you can't really go wrong with this. Google Photos provides cloud-based photo storage from Google. A vast variety of picture editing and management tools are available through the app. Also included is Google Lens. All of your photos from your camera roll are accessible via the Google Photos app. You may then analyze the data with a sweep of your finger.
You can't search for photographs in real-time using your iPhone camera with Google Photos. When you initially launch one of the apps or use Google Lens, your picture library will be accessed. In order for Google to analyze your images on their servers, this is a need. When you use Google Lens, you may have to take a still picture of your subject before the algorithms can figure out what it is.
How to use Google Lens live on your iPhone?
To search in real-time, use the Google app on your iPhone.
Use your finger to tap on the camera button next to the search box on the home screen of the app to start recording the video.
Turn on your camera.
During your first few uses of the app, Google may request access to your photos. As long as Google Lens is up and running, it will keep trying to figure out what you're looking at.
Swipe left and right to switch between Google Lens modes while the app is active.
Bottom-of-screen mode names will show.
As the series progresses, each label becomes more precise. It's possible to use a translation tool to help you transition from one language to the next. Photos of text may be taken and then read aloud or copied to a new application. You may take pictures of food at a restaurant to help identify it and get recipe ideas.
To use Google Lens, Simply aim your camera in the direction of the thing you want it to search for. When Google analyses a live photo, it will create white circles on the screen.
A bigger white circle emerges when it recognizes an object in the picture. Each object it recognizes will be marked with a white circle. Position your camera at the correct circle until it turns blue to identify anything. The warning states, "Press the shutter button to search." After you've completed the process, Google will connect with its databases for a while before presenting you with a list of relevant results. Remember that you'll need Wi-Fi or mobile data in order to do this successfully.
The shot you took is yours to keep. The search mode may be changed by clicking the white three-lined button on the left of this screen. Among other things, it may be used for writing, interpreting, or doing homework. There is no need to take a new picture in order to see the updated findings below.
Do you want to get more out of the situation?
You don't need to take a second picture to see what Google Lens found in the first one. Take a look at the results by tapping on one of the white circles that appear. Alternatively, if you think Google has overlooked anything, you may use this method. Use the magnifier on the right white button if you need to see things more clearly. This enables you to help Google by focusing on and changing the search area around a certain item.
Use Google Lens on iOS Pictures in your camera roll
You may find yourself using Google Lens in the future. Take a photograph of your food, for example, but don't want to go looking.
If you have a smartphone or tablet, you may use two methods to search for photographs. To get started, go to the main Google app page and press the camera symbol next to the search box. Click the photo album which is on the left of the search button. This opens up a window displaying all of your photos. Any picture may be searched by Google for certain items.
Alternatively, you may use the Google Image viewer to accomplish this. Simply open the picture and choose Google Lens from the menu that appears. Second, from the right, there is a framed circle. If you click on this link, Google will re-analyze the picture for you. Click here to see the results.
The following screen is always the same, no matter how you approach it. Search results are based on what Google recognizes in your picture. You can swipe and change the search mode or reselect the scene to focus on different objects. You may also use the white dots to toggle between the various items that Google detects in the region.
How to get more accurate results from Google Lense on iPhone?
Google Lens is usually very good at detecting items and giving relevant results. It can detect and distinguish the subject of your photographs, which can range from animals to plants to exquisite food. However, Google does make mistakes.
Google may struggle to detect an object in low-light conditions or if it is ambiguous. Google Lens recognizes items, but its search choices aren't always the best or the most accurate.
If at the bottom it asks for feedback, Please spare a few minutes and leave a comment. if you found the results beneficial. You can then submit feedback outlining your concerns, which should improve future results.