How to turn off the Google Assistant
Google developed the same in the devices which we use daily. They named it Google Assistant. The first time they released an AI (Artificial Intelligence) project that was on the next level. It gained a lot of popularity on the starting days but slowly people started facing problems. The case studies revealed that Google Assistance fetched the data from a user and then assisted in every activity. Some users got very fed up with this issue. So, in this article we see how to know its working and "how to turn off Google Assistant"
    Hello Techies! Every one of us cannot perform every work or task without assistance. When we are about to start to do something new, we need some guidance because we never did that before. Image your first days of school when you were taught the A, B, C, D, and all those nursery rhymes and counting numbers, wasn't that fun? Yes, it was. But how did you learn them? Just because you had a teacher to teach all those things. This is simply called Assistance.
Don't miss:
All about Google Assistant:
Abstract of the Ideology behind the creation of this software
    The idea was put forth in the Google developer conference that was held on 18th May 2016. The main aim of this project was to make the devices more user-friendly. Designing an AI model which will work on the Speech Recognition algorithm and take users' commands and try to complete them automatically. It will function on the human voice as a command then performs the ordered task. In the very beginning, the Google Assistant was only installed on Android smartphones. Google received an enormous amount of positive feedback from its users and therefore, the further progress track captured pace.
First experiments:
    Artificial Intelligence held only a dream a decade before. Seeing the huge robots and smart motorized devices in movies made everyone dreamt of holding such technology with them. A several years ago, Google made this nightmare come true.
    The assistant was first added to the Allo Android and IOS application which was an Instant messaging app from Google. Later it was added to the Google PIXEL smartphones which were the Android phones developed by the company itself. 
Further development:
    After successful testing and application of Google Assistant on their PIXEL smartphones, Google moved towards the implementation of this smart AI model to other devices. Other brand's android phones, tablets, electronic devices that use voice commands, home appliances etc. The next test got an up vote when the software was discharged on other android phones. From there the real charge of Google Assistant began. 
    In the year 2017, the access of Google Assistant expanded. From internet search to ordering the products through online shopping, from changing devices' hardware settings to set up alarm on the go. Also capturing the visual info of the user through the device camera. 
    The process to give an order to Google Assistant is so simple, you can just say "Hey Google, play a song for me" and within a second the Google Assistant will do the job for you. This was the basic introduction to Google Assistant. 
Devices supporting Google Assistant:
Here is a list of those devices:
Google Pixel series smart phones
Android phones of other brands
Automation sensors and security systems
Smart devices inside a car
Google Nest devices
This AI software performs the following tasks:
Set up the events in calendar.
Open apps as per your request from your phone.
Accessing the home appliances (only if Google Nest is installed and linked to them).
Automates the devices in the car.
For security systems like automating the residential CCTV cameras, burglar alarms, metal detectors etc.
Playing audio games.
Ordering food from an online website.
Booking your flight tickets.
Shopping from an online store.
List of the OS that support Google Assistant:
Kali Linux
Ubuntu
Windows (from windows 7 and further versions)
Android
Chrome OS
iOS and iPadOS
Programming language that is used for writing the code of this assistant: C++
How to access Google Assistant through your phone/tablet:
Using the Google assistant through your phone, follow these series of steps:
Note: Device used: Vivo 1609
On your Android phone turn on your Google app or chrome browser and in that tap on the mike symbol. Google will listen it through its voice recognition algorithm and give you the relevant results: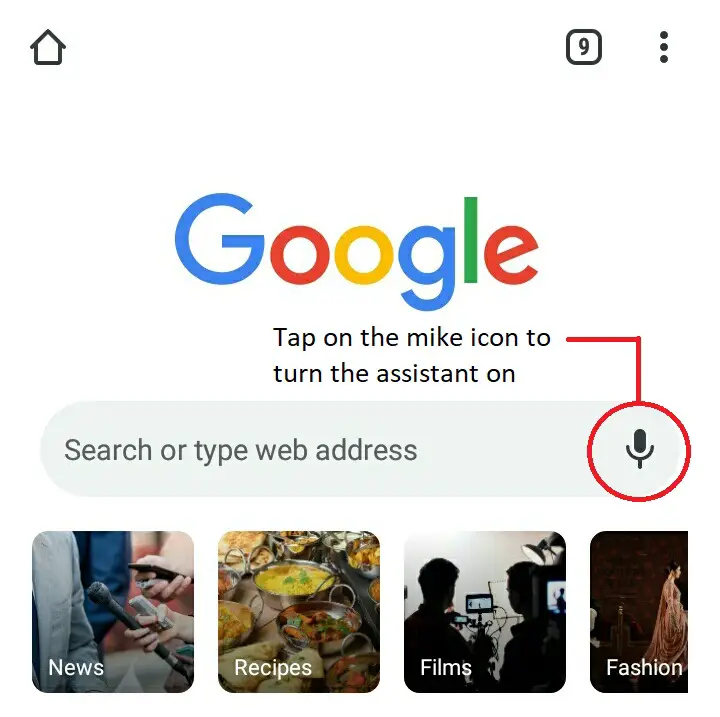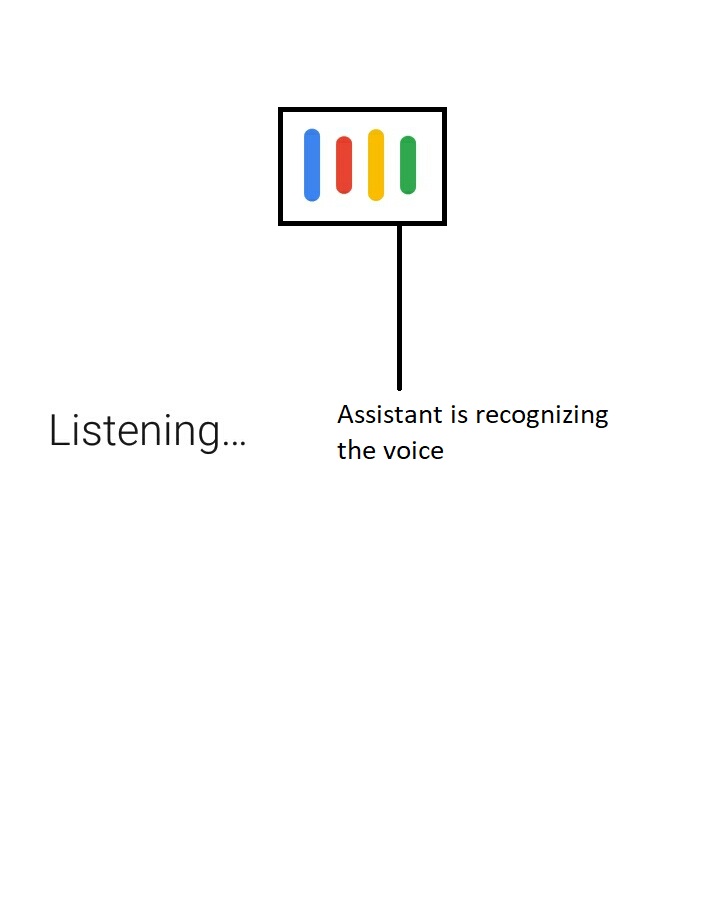 Installation of the Google assistant app:
    I am not pretty sure but the assistant comes pre-installed in the Google app and chrome browser etc. almost on every phone. If you still want to access it externally this is the simple procedure of that app installation:
Go to the Google Play Store App in your smart phone and search for Google Assistant: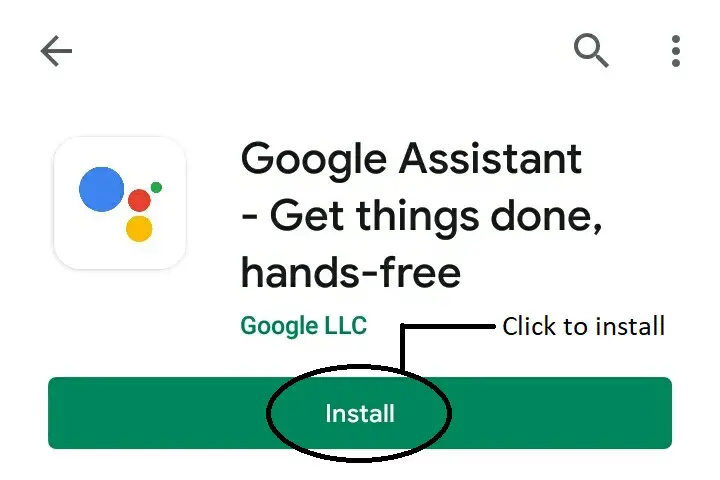 Click on install, the app size is 756KB so it will take no time to install it in your system: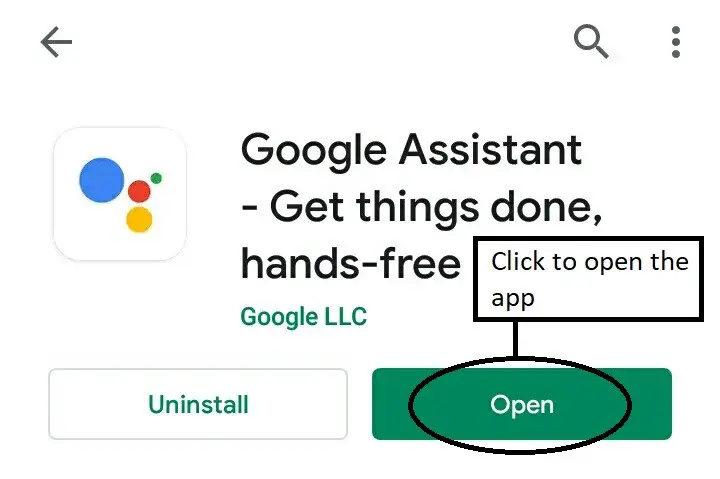 The introductory interface will appear and its ready to handle your daily tasks:
This was all about the installation process.
On the go when you when you tap on the app it will be ready to serve you. Just ask, "Hey Google"
How to find the assistant in your computer/laptop:
Go to the Google Chrome browser.
There you will find the mike symbol near the search bar (you need to plug in earphones).
Click on that and then speak to give the respective command.
What are Google Nest devices?
    Kevin Ashton put forth the concept of devices running on an organized network. He coined this term as Internet of Things. We now know this term as 'IoT'. In the late 19370s this was called as embedded internet – a stream of network controlling things around it.
    The concept of IoT gained a lot of importance when IoT was mentioned in the Forbes magazine. Also, it was the theme of the Europe's largest internet conference held in 2011 namely LeeWeb. After that till now it is now the core feild of development and study. IoT works on data supported from cloud storage servers. Theses servers hold separate data for every work.
     Google implemented the same concept quite differently. They invented Google Nest under the same concept. It gained popularity and it is in more trend nowadays. Nest Labs was a separate franchise developed under two Apple Engineers Tony Fadell and Matt Rogersin in 2010. Google took over the labs giving $2.3 billion.
These were usually made for testing home automation. Automating home recovers the following things:
Control over the electric appliances.
Accessing the security system installed in home.
Home temperature and ventilation control.
Poisonous gas detector machines.
Smoke detectors.
They actually made the homes as Smart Homes. Opening the door under the voice control is one of the examples.
First device:
Under the Nest concept Google launched the Thermostat. Its core abilities were:
Self learning.
Sensor enabled
Wi-Fi working
This was the first device that was mainly programmable. Its core functionality was to sense the outside atmospheric temperature and then maintain the air conditioning and temperature inside the house. The data fetched was calculated and displayed on a real time basis on the sensor screen itself.
Functioning of Google Nest:
Firstly, the Nest machine is connected to the local internet connection or Wi-Fi.
The device running on IoT work under smart computer chips or processors to execute instructions.
Then data is also sent to the device from the cloud storage.
User can control and access this with his/her mobile phone or computer.
 What is the connection between Google Nest and Google assistant?
Google combined the Google Assistant with Google Nest and developed Smart Speakers called Google Mini. These speakers' fetched data from all the Nest devices connected to it and informed the user accordingly with an automated voice. The main thing is that Google Assistant helped a lot in this project. In real time user can fetch any information related to home can be from and simultaneously commands can also be passed.
Main issue: How to turn off the Google Assistant
Why the problem turn off Google Assistant occurred?
    Now, you must be thinking that why such a useful app is getting a negative upvote nowadays. The answer is simply pointing towards data security. Complaints related to data breaches and data leaks are in vain these times. Many users send feedbacks saying that their calls, sensitive data, private talks, important business calls, even addresses all got recorded. This all came into the picture through a news report that came from Belgian public broadcast on July 2019 channels. The report phrased, "the collected data was sent to third party contractors who paid to transcribe audio clips for hearing all the critical info". This happened because people started to use it for every technical and non-technical work
    Google interpreted that they accumulate the data to increase the transparency between the system and user. To instruct the AI model according to individual user's requirements, prior data fetching is important.
This problem came more into spotlight when:
European countries took a step forward to shield the data that gets gathered by Google. On the 1st of August 2019, the administrator of Hamburg, Germany carried out a sanctioned method to prevent the user info leak from Google, its employees, and the third-party sites for three months.
How to turn off Google Assistant
The app related settings were released under the circumstances of huge heaps of complaints. Mainly the problems related to data leaks were in more focus. In collaboration to the Google android app update the assistant settings were released. They include
Settings available with Assistant:
Voice command settings
App encryption through voice command
Voice match
Face Match
Home control settings that the control of all the devices connected Google mini
Notification settings from apps and connected devices
Language settings to speak with the assistant
Continued conversation through microphone
Family bell – scheduling family events before time and adding reminders to it
Snapshot setting – involved weather reports, daily news, bill payments, booking show tickets, flight tickets, creating shopping lists, notes and all prompts related to Travelling, Cooking, Celebrations and personal Interests.
Assistant Devices settings
These helped a lot for controlling the app and putting up on some restrictions. In the last setting the option related to turn off the assistant was also provided.
Now, here is the solution to your problem. A step-by-step guide for turning off the Google Assistant:
In your phone open the Google app and click on the three dots in the bottom of the interface: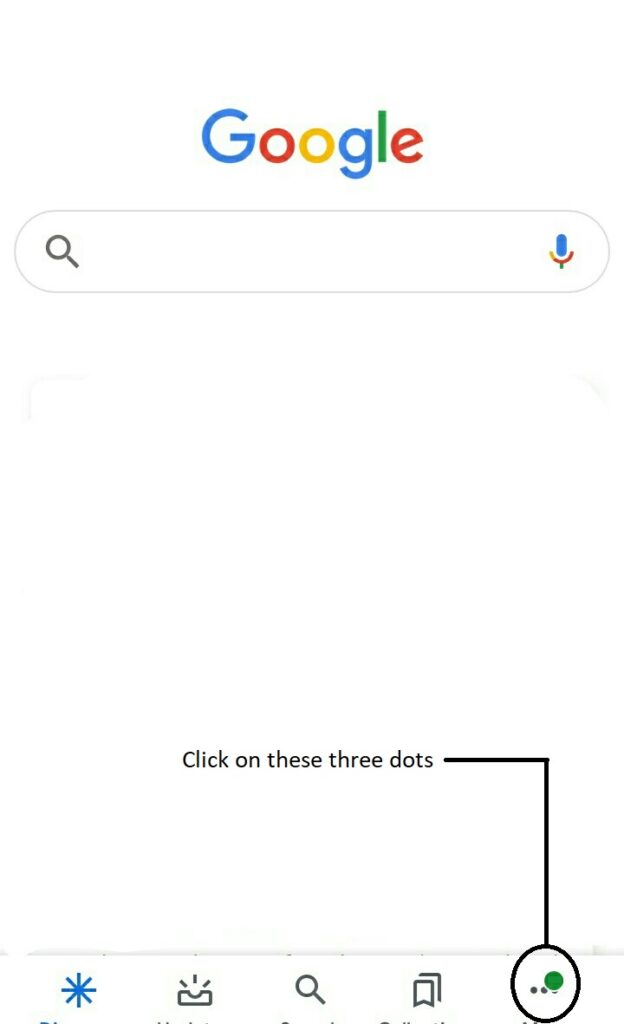 Scroll down and tap on the settings option: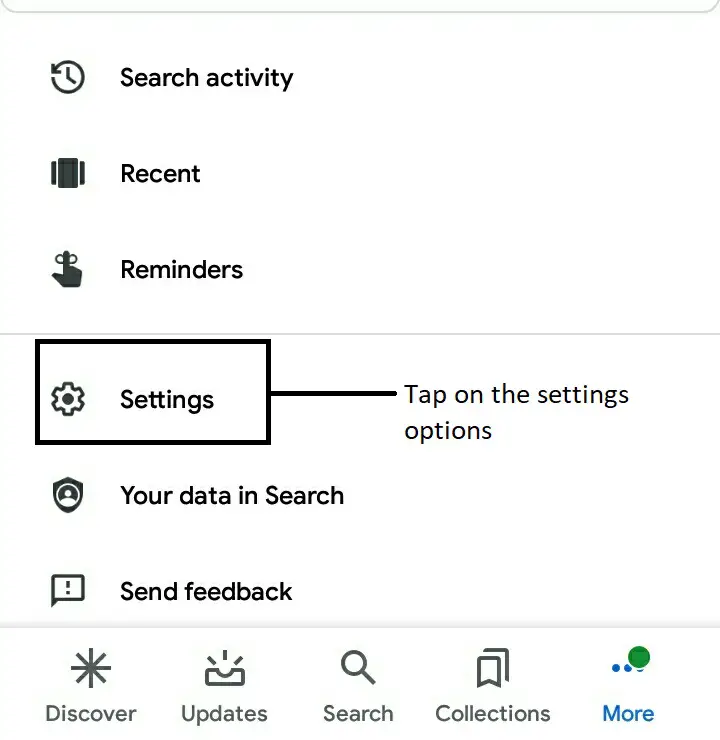 There you will see the Google Assistant option, click on it: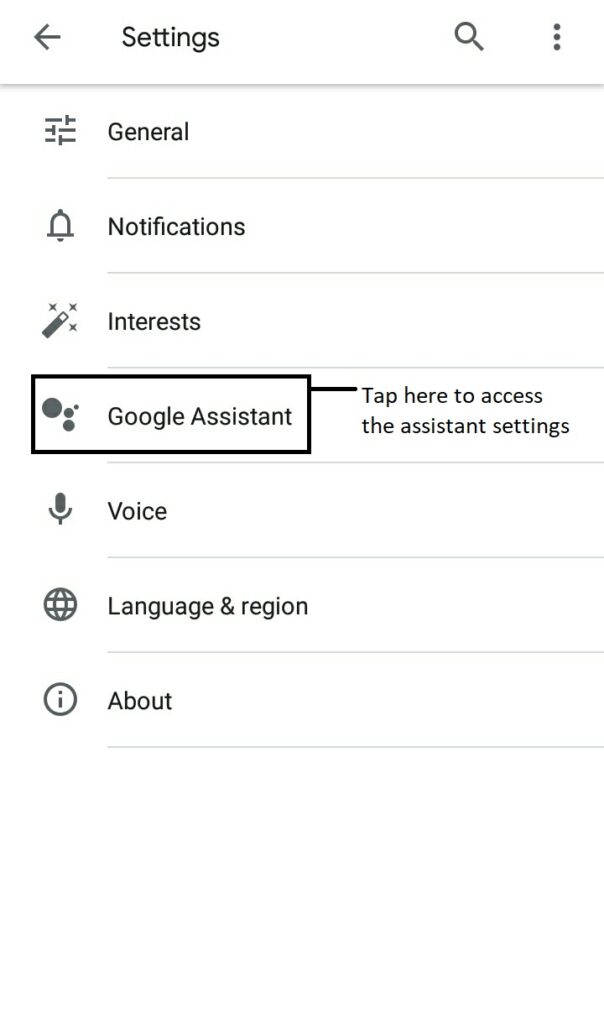 It will redirect you to yours Google account management section, in that click on the Assistant option: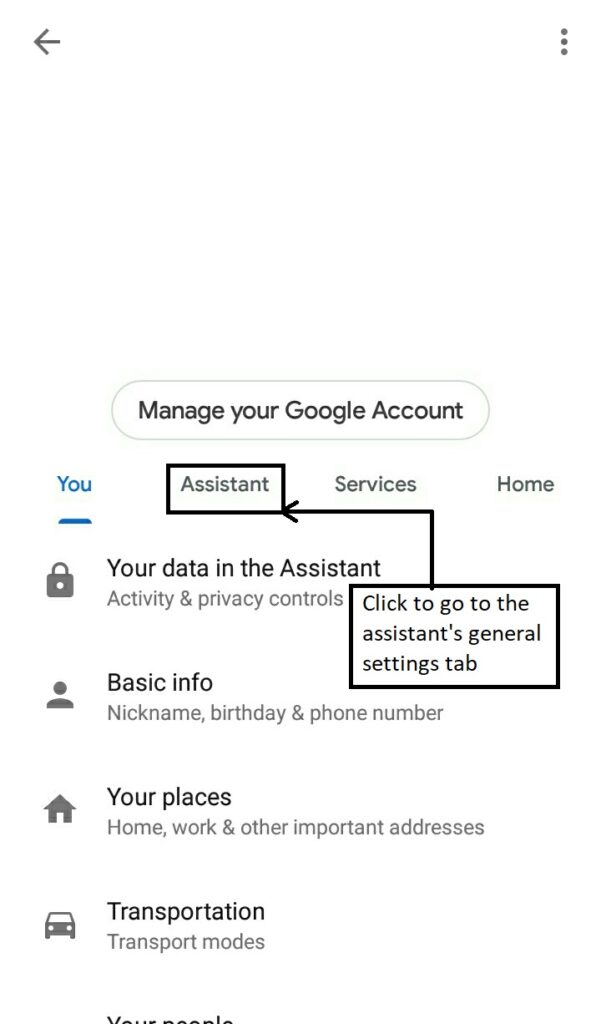 After coming to the Assistant section, scroll down and go to Phone option: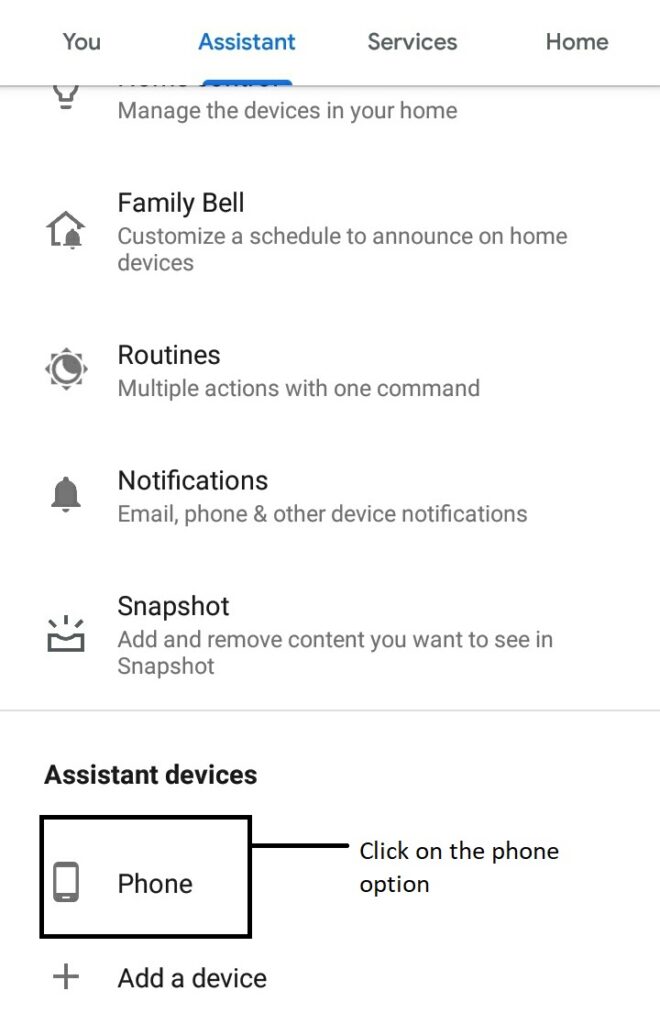 On the next page you will find the Google Assistant turn ON/OFF option. Click on that blue button to turn off. Your job is done: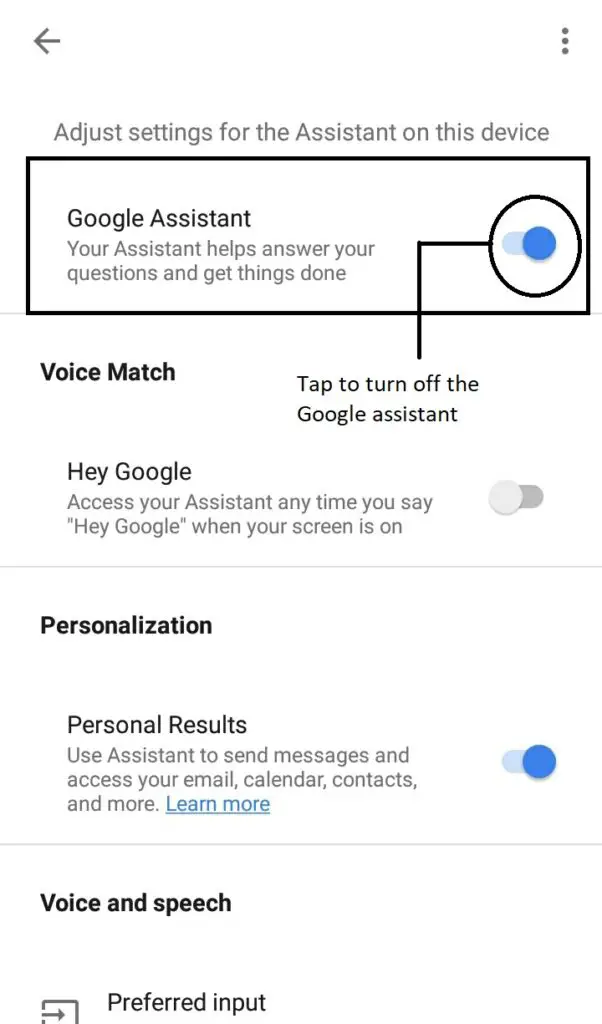 Conclusion statement:
    Here, I conclude this topic. This is a vast topic within itself to explore and this article gives you a brief about it. We have discussed download, installation, advantages, disadvantages, app issues and how to turn off Google Assistant on Android phone.
   Now, I have a request. Tech has made all the tasks easier. We can control almost anything with our voice commands or just some clicks. However, we forgot the importance of doing our tasks by ourselves. Engaging in the habit of automatic life is nearly a dangerous thing. Some things should be compulsorily handled by humans only. My only sayings to you are – keep the habit of doing things by your brain and understandings. Do not involve in automation so much that you become lazy enough to switch off lights and fans. Maintain the habit of physical work.
    Humans control tech, tech should not control humans.