How to Temporarily Disable Face ID on Your iPhone?
Facial recognition is a cool and authentic way of gaining access to your phone. All you need to do is give it a glance, and booyah you have unlocked your phone. What if you are in a situation where you do not want to use your face ID, or someone is trying to fake your face ID, or your device could have gone missing. There might be many reasons you want your Facial recognition to be turned off. Let us see How to Temporarily Disable Face ID on Your iPhone.
Hands-on method to Temporarily Disable Face ID on Your iPhone
We can temporarily disable the face recognition using the volume and sie buttons. Hold the side button and either a Volume Up or Volume Down button. Long press until that action brings you a screen displaying the following options slide to power off, Medical ID, or call Emergency services. There is also a cancel button, tap on it to disable the face ID. To regain access, you need to enter the passcode, and you can use it now.
How to Temporarily Disable Face ID on Your iPhone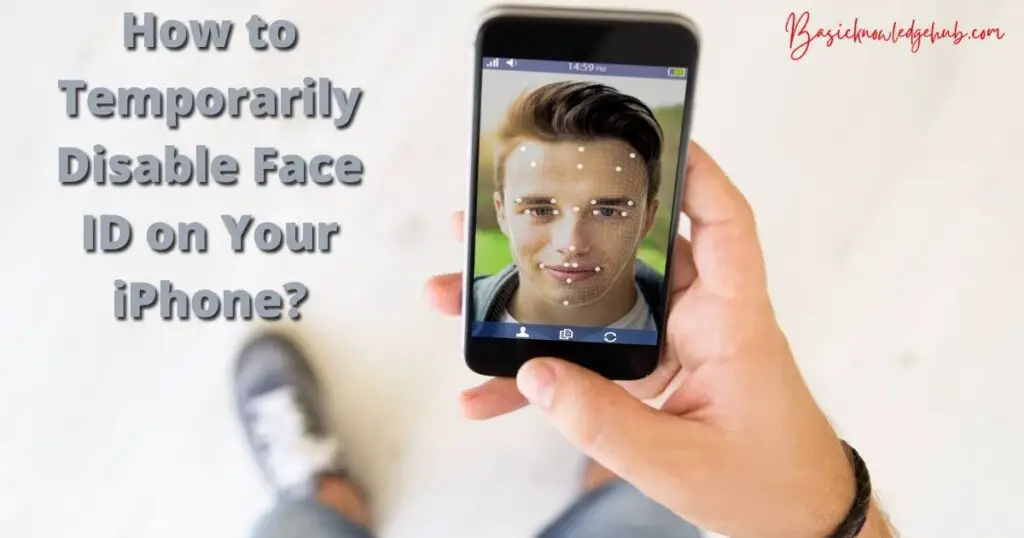 Hands-off method to Temporarily Disable Face ID on Your iPhone
You can also disable the face ID using Siri. This method works only if your iPhone is locked. Say "Hey Siri, whose phone is this?", the Siri responds by saying that the phone is yours and displays your contact card. This thing disables the Face ID for once. The only way left now is to enter your passcode to regain access. Once you enter the passcode, Face ID is enabled again.
Using settings to Temporarily Disable Face ID on Your iPhone
There is a setting in your iPhone settings, which will permanently disable the Face ID and you can also customize it according to your preferences. If you want to permanently disable the Face ID make sure your passcode is strong enough since you will have to open your phone using a passcode only. Go to the passcode sections to strengthen your passcode using alphanumeric passcode or a strong six-digit numeric passcode. The steps below will do it for you. These instructions also work on iPad too.
Step-1:
Tap to launch the Settings app on your iPhone
Step-2:
Scroll down in the list to the "Face ID and Passcode" and enter your device code if prompted, since you are dealing with the personal settings.
Step-3:
The Face ID and Passcode screen appear. Now locate the use Face ID section to enable or disable the usage of Face ID for those sections.
Step-4:
The listed options include iPhone Unlock, iTunes and App Store, Apple pay, etc. We can use this option to unlock any personal apps using our Face ID. If you want to permanently disable the Face ID unlocking, turn off the "iPhone Unlock" toggle button.
All the listed features in the Face ID and passcode section are enabled by default, make sure you are disabling only those, which you do not want to use your Face ID.
Read Also: How to Run Diagnostics on Your iPhone?
Disabling the Face ID remotely
There could be a case where your mobile phone might have been lost or stolen. In such cases, the Face ID usually disables itself after five unsuccessful attempts. Though Apple considers Face ID as the most secure method of gaining access to the iPhone, still people have managed to crack it and gained access. So if you want to take care of such situations, there are apps that will be of use in such situations. The Find my app on your iPad can be used to disable the Face ID using a Family sharing plan. Follow the below steps to disable the Face Id and send a message to the person who finds it.
Step-1:
Open the Find my app and enter your device using the unique number present on your iPhone.
Now sign in to your cloud account and tap on the Find iPhone icon.
Step-2:
After entering the specifications, the app will locate your phone, and mark the phone as lost, then tap on the activate link below it. Click continue after it.
Similarly, in iCloud, select the device and tap on the Lost mode icon to mark it as lost.
Step-3:
After clicking the continue button, the page displays all the details that will happen if you mark your phone as lost, read those instructions, and click on continue. Also, enter an alternative Phone number, which can be used to contact you if someone finds your phone.
Step-4:
You can also display a message on your phone if someone finds it. Write down that message in the message section and tap activate. Now your phone is in lost mode and your Face ID is disabled.
Do the same in the iCloud platform, enter the mobile number, display a message, and click on continue. This will disable the Face ID until someone enters the passcode of your iPhone.
The above methods are helpful in disabling the Face ID temporarily or permanently.