The role of a good content writer is to submit a regular article to the team. Do not copy-paste from any site. Have a look, get an idea, but write your own words. Your team needs the best article on the topic that covers the entire scenario required. Always think of yourself as a user, then think about the problem, write them in a paper, do some research. Then start writing.
Role of a good content writer
If any of the content writers follow these rules, he/she can write the best useful article:
Level 1: check the article already exists
Always check the article already at the site or not. If yes, please inform by the exact url to the team.
Two methods to check
a. By google search-> site: abcdefgha.com "Keyword to search"
Use this syntax to search
b. Use the search option on the site itself.
https://abcdefgha.com/?s=Keyword
Now you should know about the Keyword( it is the task provided by your team for which your article ranks for).
Level 2: What is a Keyword?
First, you need to understand What is a Keyword? In short, Keyword is nothing but the search term which you type to search on Google. Better to learn it from Yoast
You also need to know about what is an irrelevant keyword. After learning both the basics, move to the next level.
Note: The very first line in each topic is the main keyword so use it as it is.
Level 3: Start writing
Always think about the problem as a user, what he/she wants from this post, If there is any problem, then how will he/she fix the issue, etc. Write all the things in a paper, do some research. Read your competitor blog, or top search result blog. Also, note down their headings. Then start writing. Parallel perform level 4. If you got a task by your team like this: Task:" ——– "
" ——– "-> This is the main keyword, so it needs to be used as it is, at every 300 to 400 words, there is min one keyword required, and max two-> so for 1700 word article min 5 and max 10 keyword required for good SEO. Three positions are predefined-> Put in the first paragraph, in a Heading, in conclusion.
" ——– "-> This is the main topic and main keyword, so we need to focus on this more and at top priority. Put the heading on Google, and You will get two types of suggestions
FAQ/FQA/People also ask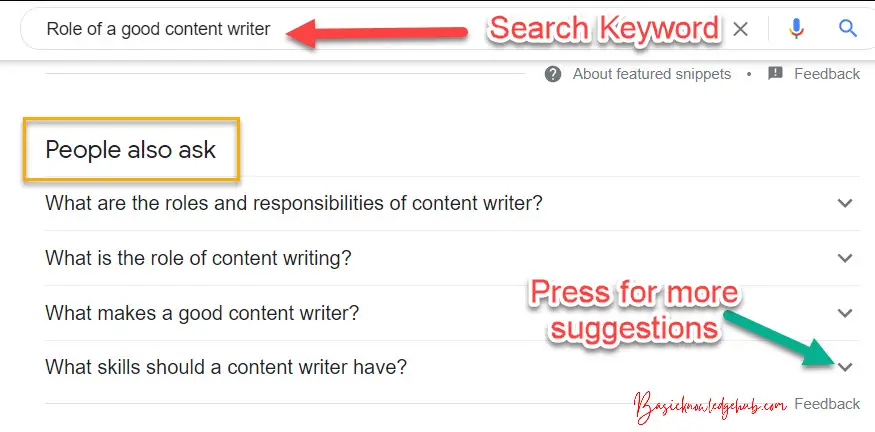 Related searches at the bottom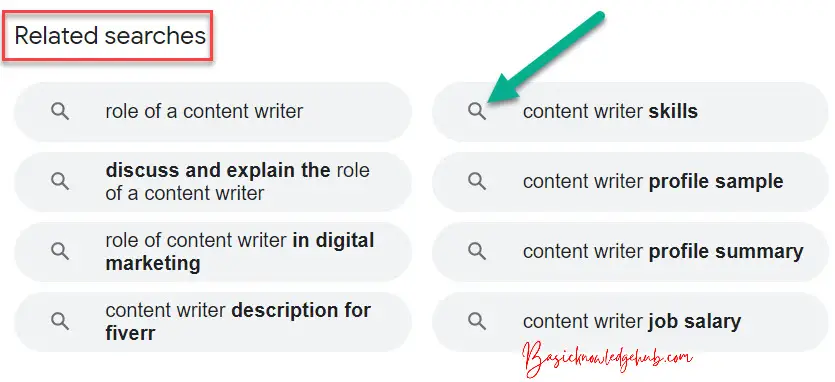 Note down the important ones and useful ones -> this will be our second priority.
Third priority-> Make own FAQ
Other priority->Write a Meta of 150 to 300 words.
Meta means the main important paragraph, which is explaining about the keyword. It also includes the main keyboard. In simple line why the user read your article, this is the main part, the zest of your article. Also, write a conclusion of 150 to 300 words. But do not repeat the same sentences. This is the biggest blunder done by the content writer.
(Meta is just like your drawing hall room, its shows everything about your psychology and standard of living, Meta means: The very first paragraph for an article, it create interest to the user to read the whole article, eye-catching, unique, SEO friendly, The meta must be 250-300 words not more than that, always  include the keyword in the first paragraph, and one paragraph can not exceed 150 words)
Level 4: own experiments
Once you are assured that your content has enough data, then do your own experiments on your phone and laptop. Take screenshots and add the site logo at the left or right corner, rename the images to the relevant topic. Always compress the image (max 200kb). Use Snagit to make borders and arrows. As we have added the pictures above.
Must read how to screenshot on HP laptop
Level 5: Grammar Check
You need to check the grammatical error, whether you are a master in your writings. Sometimes we forget to a full stop.
You can sign up free for Grammarly, and some SEO tools in the market also provide it at a cheap price. Set to American language, our core focus country USA.
Check for readability: This is one of the essential parts of content writing. For better readability, use transition words. After crossing this Level, you can move to any of the levels, but better to follow stepwise.
Level 6: Plagiarism
You need to check plagiarism, and we prefer quetext. At every login, it provides 2000 words for free, So use this first. If you have a budget, then purchase pro; otherwise, you may buy it for just 2.76 US dollars (Rs200) from this link, but they provide only 2500 words per day. Never copy or write any line from any site. Read from anywhere but write in your own sentence. If the matching sentences are more than 65%, then immediately edit them in your own words.
Level 7: Copyright free image
Not only plagiarism found in your article but also in your image. So, every blog requires copyright-free images.
Mostly try to take a screenshot of your own phone/laptop wherever possible (Level 4: own experiments)
You can use these sites for images (if needed then only):
Never copy past/download Google images. Send all images in a compressed folder to the team. Always rename the image's name to relevant content. Also, add them to your content.
Level 8: Best format
Write in a very simple ms word format with Times New Roman Font or Arial font, because they are fast-loading fonts with font-size:
Heading->16, Subheading->14, content->12, bold important words, no extra spaces, follow the punctuation guideline of US English Grammar.
Level 9: Check any good site
Check our site once how the content writers have written Eg: what-phone-do-I-have
Level 10: Duplicate Sentences
Remember: do not repeat the same sentences, paragraph in the same as well as do not use in other new articles too. It is known as a duplicate sentence and not suitable for SEO.
Important Notes for Role of a good content writer
Need not to write table of content. It is auto-generated by the plugin.
One heading can cover max 300 words, A paragraph must be less than 150 words. Better to put subheading to seperate a big paragraph.
Do not use future tense unless it is too required.
Write less than 10% passive voice sentences.
A sentence should be less than 20 words.
Do not add words like corona, pandemic, etc.
Do not make heading or any word in capital letters/ italic, unless it is too required.
Conclusion
So, now you know what is the role of a good content writer. Follow all the levels one by one. After writing two-three articles, you will be able to write best. Please bookmark this page. We will further update this article. Put your valuable suggestions below to help the content writer. For any doubt ->ping to your team. Read the blog basicknowledgehub.