5 Ways SEO Helps To Grow Your Online Business
More than 25% of the users click the first result they find on Google, whereas the 10th site only gets 2.5% CTR. And, it is all because of SEO. Today, SEO has become one of the most integral parts of the digital marketing plans of the majority of companies, both big and small, due to its potential. SEO is most powerful factor to grow your online business.
Search engines generate most of the overall organic traffic, while a lot of B2Bs believe that SEO generates reliable leads. Statistics also show 81% of individuals use search queries to make purchases. Also, a lot of searchers depend on search engines for making buying decisions. So how does SEO help to grow online business? Want to know? Here are 5 ways: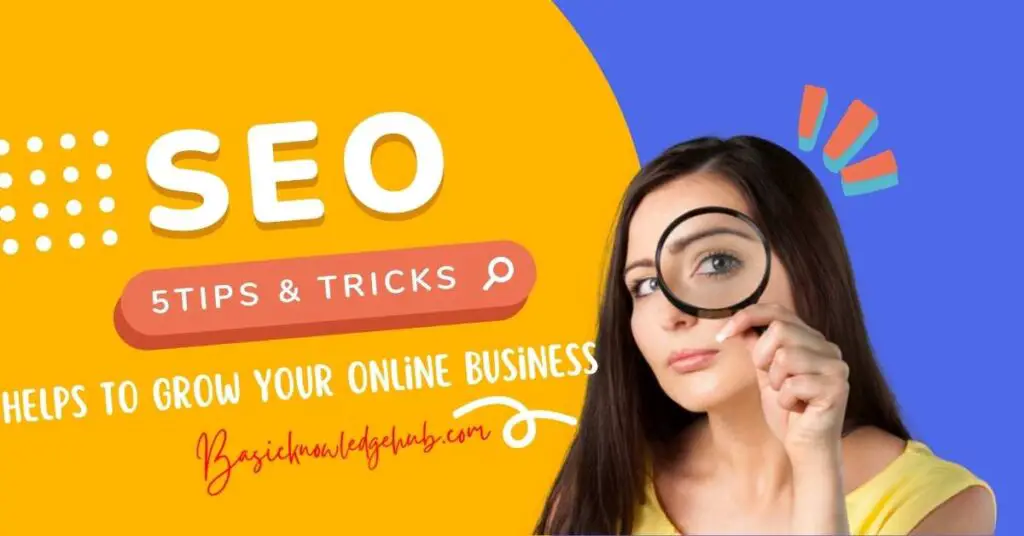 SEO Targets Audiences Directly
Implementing the right SEO plans helps your online business engage with customers and prospects directly through your site in two ways: detailed keyword research and link building.
In the first process, know the words or the terms the online users are using to look for answers to their queries. Using the right keywords can help you relate to the audience and make your website more relevant to them.
Never use random keywords or hard-to-digest jargon and terms that do not relate to the target audience. Even if you have the perfect SEO strategy in place, such keywords do not bring you business.
The second technique targets the audience. Embedding links from other sites or web pages into your content is easy, but lit is important to keep domain authority in mind when doing this.
If you want users to remain on your site, choose authority and highly relevant links as much as possible. This way, the users can find the required information and trust your site easily.
SEO Helps in Building Credibility and Trust
Ranking well on major search engines makes people view your online business as more trustworthy and credible. People use Google for all their searches because Google gives them top-quality results. As per Google, it ranks only high-quality content coming from the most authoritative sources.
So, when the target audiences find your site ranking well on Google for several terms relevant to the industry, they have higher chances of going through it, considering it authoritative and reliable.
SEO Offers a Competitive Edge to Businesses
Just like you, even your competitors are investing in search engine optimization. Those investing heavily outrank the competition in the search engine result pages and gain maximum market share.
Considering that 90% of online traffic does not go beyond the first page of Google search results, you cannot afford to miss the first page. In fact, if your competitor is already there, try every possible thing to get right there, such as,
Identify your competitors first and then analyze their strengths and weaknesses.
Also, work on your online reputation.
Ensure your site loads faster than your competitor site and is mobile-friendly.
Get good quality content and focus on offering the best user experience.
Take the example of Gotch SEO, an online academy for SEO coaching and training programs, which gets a 74.5% conversion rate. But how is it possible? Here are a few things that it did:
Used ad targeting for bringing back the visitors who ignored it the first time
Kept its web pages distraction-free, to-the-point and simple
Created videos for its webpages
An offered lead magnet for providing information
Used advantage-driven headlines for creating interest.
Customized CTAs to fit lead magnets.
Included trust signals like disclaimer and logo.
SEO Brings in Traffic to a Site
It is not easy to start a business, and once you are up with this task, grow brand awareness and visibility. Since there are a large number of people using the internet these days, it is easier to use SEO techniques to get traffic.
SEO techniques like keyword optimization in titles and meta-tags, use of quality content, and back-linking drive traffic to a site. It helps your site stand out, making it easier for individuals to find your business and enhancing the click-through rate. Quality content such as images and videos that are unique to your business can bring in website traffic. Taking the help of useful tools such as a photo editor or a video editor allows creating high-quality visual content that is less in size.
Take the example of Mario Deal, the SEO expert, who used proper SEO techniques for generating 4X more traffic than the competitor for a health and fitness site that he was working on.
Initially, he found that the site has 68K visitors every month, with blog posts generating good traffic. The site was also making good sales. But when Mario checked the competitor site, he found that it was receiving 1,000,000 visitors every month. He instantly understood that it was difficult to compete with such a huge fish in the market.
Real Also: How to create a trendy Google Web Story?
So, instead of using the traditional SEO techniques, Mario edited the site with a varied angle and eliminated all errors. Result: the site traffic quadrupled in just 6 months. The SEO strategies Mario used for driving traffic to the health and fitness site are:
Cleaned up all 404 errors, including redirect chains.
Updated old form content
Changed the page titles to make the pages more relevant.
These little things made the site better, making it a powerhouse for the visitors.
SEO Is Long-Term Plan for Long-Lasting Results
Dissimilar to the other forms of digital marketing, SEO is not instant. SEO brings in results for businesses within six to twelve months of use to show improved rankings and increased traffic on a site.
Though the results from SEO are slow, they increase the visibility of a site in the long run. That's because your online business remains visible to the users when it moves up the rankings.
This means your business also stays in the top spot for a long time, thus beating the short-lived attention of other digital marketing forms like paid search.
Final Thoughts
SEO can help an online business in several ways, from acquiring increased sales prospects to attracting new visitors. It boosts the ranking of your online business in the search engines to make it highly visible and helps with your overall business branding too. So, it's high time you start using SEO to grow your online business.