Screen mirroring iPhone to Smart TV
In this article, we will explain all possible ways you can do screen mirroring iPhone to Smart TV. Screen mirroring means casting one screen onto another via a wired or wireless connection. We use Airplay to do the screen mirroring for Apple devices. Screen mirrors can be useful if you want your games to be displayed on wider screens or to get a large display. If you are not sure what Airplay is, it's just another name for screen mirroring in Apple devices.
You can either directly screen mirror your phone just by clicking the overlapping screens icon on your control panel, or you can use an HDMI cable to connect your phone and TV to get started with the sharing of screens. If you want to use the wireless one, make sure you are connected to a single data network. This method is completely free and does not involve any third-party application and is built into it. This method works with almost every iPhone you have. Casting can be done easily if you have the right tools. So let us start with knowing what Airplay is.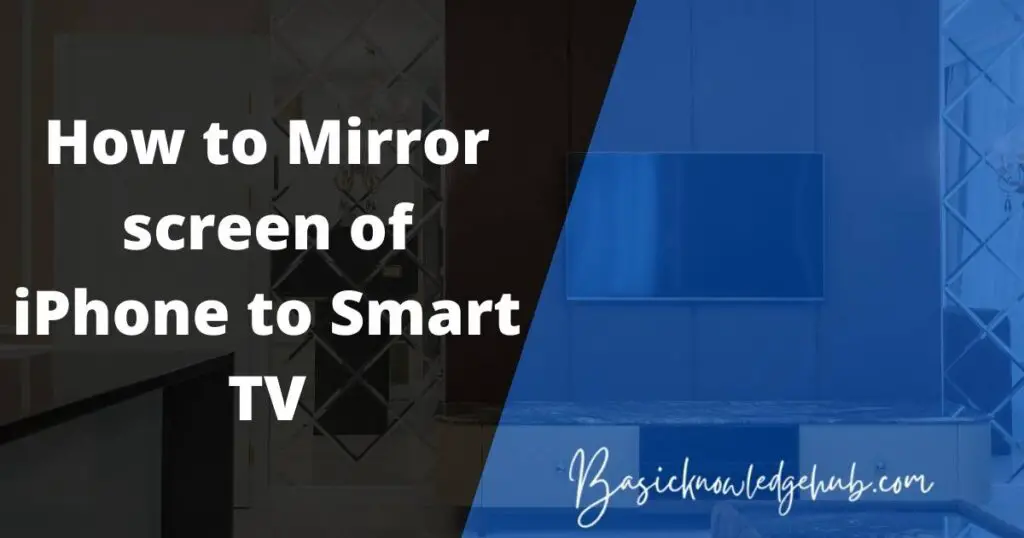 Learn About Airplay before screen mirroring iPhone to Smart TV
Before beginning the process, we need to know what Airplay is and its settings. Let us know all about it. There are four kinds of options available in Airplay
Airplay: This allows us to enable the airplay feature on our smart TV, which you only need to do for the first time.
Require Code: The first time you are switching on your airplay, all the available devices around you can connect to your device. If you want to prevent this from happening you need to set a passcode so that every device needs your permission to connect to your Smart TV.
Subtitles and Captioning: As the name suggests, this will enable the subtitles and captions for the media you are playing on your screen. We can also change the size, font, and color of the subtitles.
About Airplay: This gives us information about the version of airplay we have on our smart TV. Make sure you are running the latest version, if not update your Airplay.
Using Wi-Fi or Mobile data for screen mirroring iPhone to Smart TV
1. Making Data Connection
Go to the settings and open the Wi-Fi.
If you do not have a Wi-Fi connection, do not worry you can also use mobile data.
Connect your mobile to the Wi-Fi.
2. Connecting the Smart TV
Start your Smart TV by plugging it on.
Go to the settings page and click on "Network" settings.
You will see options regarding the networks available and already paired networks.
If you have already connected your phone before, just click on "Check Connection."
If you are a first-time user, click on "set up connection." Then click on wireless for connecting over Wi-Fi.
You will see all the networks available nearby. Select your Wi-Fi and enter the passcode.
If you are using mobile data, switch ON your "Hotspot" and connect your smart TV to it.
Make sure you connect to the same network as your iPhone.
3. Screen mirroring
Once the network is set go back to the settings and scroll all the way down to Apple Airplay and Homekit. If you are a first-time user, you will have to enter a password to get connected. We can also set up the Homekit. The passcode should be secretive if you do not want random people to connect to your TV.
Now on your iPhone, scroll down from the right side of the phone to get the control panel. Th the control panel, you can see the overlapping rectangle screens, the symbol for screen mirroring. This icon will display the devices available for connection, click on the smart TV you want to connect to, and start sharing. That's it, done. Now you can see your phone on your smart TV screen.
If you want to stop the mirroring, tap on the overlapping rectangle boxes on the control panel and click on stop sharing.
Read Also: Why is my Samsung tv so dark? How to fix it?
Using HDMI cable and Lightning Digital AV Adapter
Another method of screen mirroring is by making a wired connection using an HDMI cable and AV Adapter. This is a direct method, we do not need to use any other software or something like that. Just connect the cables, and you are ready to go.
First, plug the one side of the HDMI cable into your TV, and make sure you are inserting it into the correct port. Now connect the HDMI cable and the AV Adapter. Take the AV Adapter based on the charging port of your mobile phone, since you have to connect it with your phone. Connect the Av Adapter and your phone, booyah you have your phone screen on your smart TV. This is an easy and simple method but you need to stay connected all the time with the TV.
Air playing content from apps for screen mirroring iPhone to Smart TV
If you do not want to screen your whole phone and want to just project the shows or content like Amazon Prime and HBO Max, they have their screen casting buttons in their applications directly. You are just one click away from doing it.
Once you have your phone and TV on the same network, select the file you want to play from the application on your phone. If the apps are compatible with Airplay, you can find the button in the app. The Airplay button is generally a rectangle with a triangle below it, usually, at the top corners of the screen, tap on it.
If you have any queries, please visit basicknowledgehub.com to know more.