Why is my Samsung tv so dark?How to fix it?
 Samsung is one of the best tv production brands in India. The main attraction of Samsung tv is its cutting-edge tv. Samsung manufactures thousands of TVs every year. Nowadays, HDTV is a top-selling piece of Samsung. It is possible to connect our mobile to television and watch everything we want. Smart TVs are very easy to handle and have more clarity than the previous version of Samsung. But, Why is my Samsung tv so dark? How to fix it?
When you see any movie or song on tv, it should be clear. If you see darkness, you will lose interest in that movie or music. So, clarity is the most crucial part of enjoying tv.
Today, I will discuss the darkness of Samsung tv. It is the most common issue raised by Samsung users. The evening of the Samsung tv is not a big issue, and we can easily adjust it from the settings. There is no need to reach out to the store for repair. The problem of the darkness of tv can be easily solved within a minute. After reading these articles, you can solve the dark pain of your Samsung tv. So, there is nothing to worry about your situation; it can be easily fixable.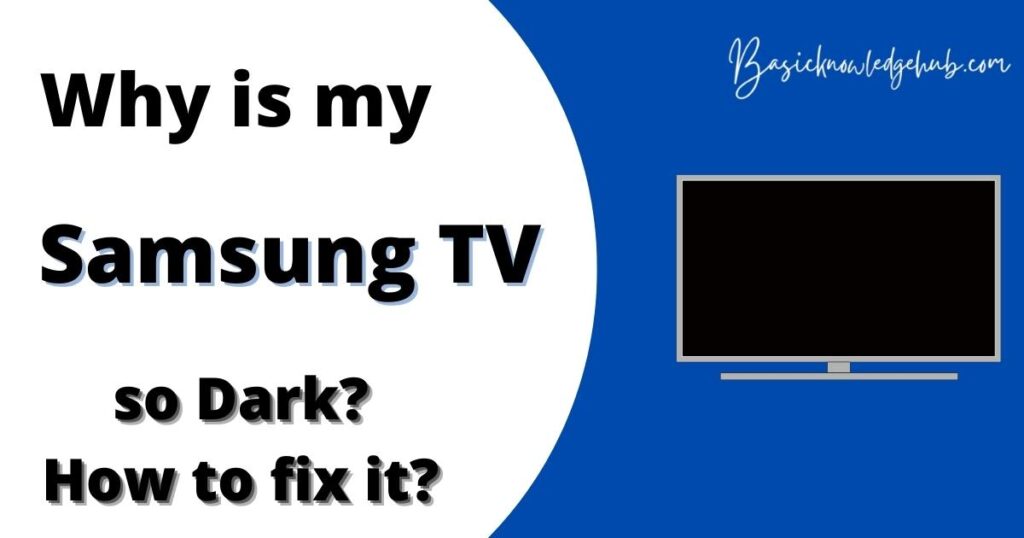 Do not miss our tutorials:
So, let's discuss a solution to your problem in depth.
Adjust the darkness of the tv from the settings
It is the most preferred way of solving my Samsung tv so dark issue. You can quickly check for brightness from settings, and you can adjust brightness from high to low as you want. For that, you have to go to TV settings.
Go to settings, press on picture, after that, select expert settings, and then press on contrast. (mostly contrast between 80 to 85 is more accurate for all videos)
Go to settings, press on picture, after that, select expert settings, and then press on brightness, and adjust brightness from 45 to 55, which gives appropriate video.
Go to settings, press on picture, after that, select expert settings, and then press on sharpness. Adjust sharpness to 25% or less. This is the usual range of sensitivity for better video.
Backlight settings
 Backlight is referred to as brightness in some models. This backlight is preadjusted in the middle, and you can change it manually as you wish. Depending on weather, day, or night time, you should specify particular brightness. Appropriate brightness adjustment will give you a better experience of watching tv. So, adjust the backlight as we wish and continue enjoying the movie.
Changing gamma
Every Samsung model has its gamma settings. In most cases, gamma is predefined as 2.2. if you notice your Samsung TV is dark, then lower this gamma value. As you lower gamma, you will see more bright videos than previous.
Energy-saving mode
In most smart Samsung TVs, energy-saving mode is enabled, due to which you will see dark videos. So, you have to disable the energy-saving mode for clear and bright pictures.
For disabling energy-saving mode, go to the energy star logo that appears on your screen, then set it for standard, which will help you brighten your tv screen.
Choose Home mode 
When you buy a new TV, you will be asked for a few settings, and you have to go through some picture settings. If you purchase a TV for the retail demo, store demo, or home, you have to enter that. If you are using tv at home and selected retailer mode in settings, you will face the problem of darkness. So, check for a method of tv for fixing the darkness issue.
        Go for settings from the Samsung tv smart hub; after the system, tap on expert settings, click on usage mode and select home mode.
Turn off adaptive brightness.
For automatic detection of light levels, light sensors are used. This light sensor automatically adjusts backlight brightness by adjusting adaptive brightness.
For 2016 Samsung models or older: Click on a system, select eco solution, press the eco sensor, and turn it off.
For the 2017 Samsung model or later: Click on settings, select general, press on the light ambiguity sensor, and adjust from up to down to get the appropriate brightness to the screen.
Turn off the ambient light detection feature
If your TV automatically turns dark, you should check the status of the ambient light sensor. Newer TV models have ambient light detection features like eco sensors in older TVs. If you are experiencing excessive dimming, you should turn off the quality of ambient light detection. To turn off ambient light detection, follow the above steps-first go to settings, press on general, and then an eco solution, select ambient light detection. Now select the slider to turn the feature on or off.
So, by adjusting the ambient light detection feature, you can quickly solve the darkness of the tv. After adjusting, if the problem remains as it is, then checks for pulse width modulation of your tv.
Adjust Pulse width modulation
If you are watching the more bright scene on tv, then brightness will automatically be controlled by pulse width modulation. to fix the pulse width modulation follows the instruction given below-
1 .select service menu>>select svc>>click on other settings>>now select CAL data restore>>press ok.
2. select service menu>>select advanced >>press 0000>>select picture-2D >>now chose subsetting
Now check for PWM MIN or PWM MAX; now adjust their value as required.
Reset your tv
 It is the most common solution to every problem with your tv. Resetting the tv will reset all functions to their predefined state.to reset your tv, follow the above steps-
First of all, turn on your tv, go to the settings, choose the general options, and then press the reset. After pressing reset, you will be asked for a four-digit pin, '0000' by default.
Enter this pin and select 'ok.' so your tv resets and the darkness problem may resolve why is my Samsung tv so dark issue. 
Watch in standard definition.
There are two options on tv: HDS ( high dynamic range) and SDS( standard dynamic range).when we select HDS mode, the image appears darker than usual.so, we should choose SDS mode if you are experiencing darkness on your tv.
Contact Samsung service provider.
Suppose any of the above-mentioned methods are not working. In that case, the last option is to contact the Samsung customer support team. Generally, all problems related to the Samsung tv are just minor glitches that can be easily fixed. But you are unable to fix it, and you should contact a service provider.
Conclusion-
Hopefully, your problem related to the darkness of tv may be resolved. The darkness of tv is not a big issue; it can easily be fixed using small steps as mentioned above. Every TV has it's own preset up for brightness, and it may not be suitable in all areas. So, we have to fix it manually, as per our requirement. Darkness is usually an essential factor that can produce irritation to viewers.
Suppose you are watching a cricket match, and you notice that your Samsung tv is so dark, then apply the above methods for resolving your tv's problem. It will benefit you. You don't have to reach any repair service; you can quickly fix that issue at home.
FAQ-
What are the best color settings for Samsung TVs?
Answer-Ensure that your contrast is set to 45, brightness set to zero, sharpness set to zero, color set to 25, and tint is set to zero. Also, select "movie" picture mode settings from the menu. This will give you an excellent viewing quality of the picture.
Does the Samsung TV have good picture quality?
Answer-As compared to other brands of tv, Samsung tv has better picture quality except for LG.samsung tv, which has a brighter picture and better contrast. Samsung TVs are more reliable and easy to handle compared to other TVs. Any problem related to Samsung tv can be easily fixed.
How long should Samsung TV last?
Answer-Every electronic component will last as we use it. It will depend on you how you should keep it. If we kindly handle TV, it will remain up to a minimum of 5 to 7 years and maximum, they will last up to 10 or 20 years with some maintenance. Every electronic component does not guarantee how many years it will last. In some cases, if your electricity crosses a certain level, your tv will blast.so it is up to you how long you will take care of it.
What is the drawback of intelligent tv?
Answer-Smart TVs generally operate on internet connectivity. All the functions like quality, speed, and display depending on the strength of your internet. If you lose internet connection, the tv wall stops displaying a picture. If the internet speed is slow, the image quality will be poor, and the video speed will be slow. So, internet use is the main drawback of smart TVs