How to Connect Samsung TV to WiFi Without Remote
It was a fine Saturday evening, the popcorn was ready and it was the perfect mood for watching a thrilling movie on Netflix. I took my popcorn in one hand and went to reach for the remote from the table. It wasn't there. I somehow misplaced my remote and now I was there with a bowl of popcorn in one hand and a black screen on my Samsung TV in front of me. I know how to switch on the Samsung TV by using the power button present on the body of the device. So, I switched it on, and there it was, my Samsung TV has been disconnected from my Home WiFi. How to Connect Samsung TV to WiFi Without Remote?
Now, I can't even try to watch the movie by connecting my smartphone and casting it over to the TV screen. The mood for watching a movie on Saturday evening just dissolved into a void and I was back on my smartphone, surfing through social media and going about with the day, just as I used to during the weekdays.
After some days I found my Samsung TV remote and I was disheartened at this point because I tried every way to connect my Home WiFi to my Samsung TV and I found more success in some ways than others. Here I want to share, how to connect your Samsung to your WiFi.
Don't miss our tutorials on Samsung: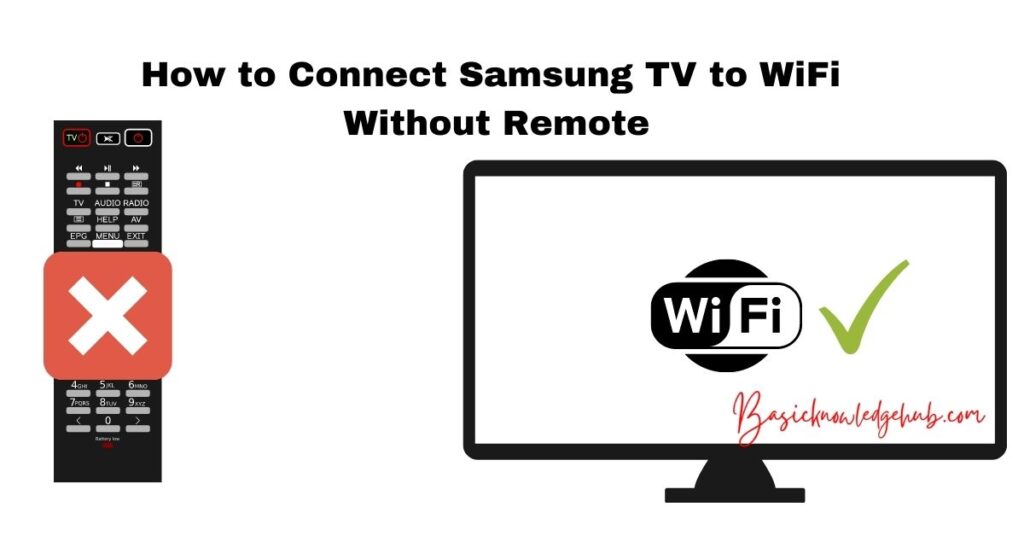 Why is it Important to Connect Your Samsung TV to WiFi?
To download applications, stream video, and update the software on your smart TV, you'll need an internet connection. You probably don't need an internet connection on your TV if you don't use any video streaming applications like Netflix.
However, you probably paid a premium for the smart features on your TV, and you could feel tricked if you can't utilize them. In most circumstances, a smart TV will connect to the internet via an ethernet connector on the back panel or by wireless.
If those alternatives aren't accessible, it's possible that you don't have a router at home, or that your television only has ethernet and you don't have a long enough ethernet connection. Perhaps you wish to put a television in a mobile home.
Why is Your Samsung TV Not Connecting to the WiFi?
If your Samsung TV's WiFi network isn't responding, one of these causes might be to blame.
Temporary Issue: If your TV is unable to connect to a wireless network owing to a password or a software bug, this will make troubleshooting much easier. If the problem is caused by a hardware problem, the solution might be costly and time-consuming. When you can't connect to the internet or your Wifi settings are damaged, it's one of the most aggravating situations you may have when watching TV. This might be due to several factors, including a malfunctioning TV remote or a firmware problem that corrupts your network setup.
Incorrect DNS Configuration: All connected TV devices, whether smart TVs, Android TV boxes, Amazon Fire TVs, or Apple TVs, require DNS (Domain Name System) settings to connect to the internet. To make it easier to connect to the internet, all devices should have their server addresses correctly configured. Even the tiniest setup error might result in a delayed or non-existent connection. Samsung Smart TVs come with a built-in smart DNS system that downloads the best-available settings for your internet connection automatically. These DNS settings can make your device connect to a network even if it doesn't appear to be able to do so — but this isn't always the case. In rare circumstances, you may need to modify the DNS settings on your television manually.
Blocking Mac Addresses: A Mac address is a network device's unique identity. It's frequently used when connecting devices to a Wi-Fi network since MAC addresses are the most reliable and simple way to identify a specific device. When you connect a new device to your home's Wi-Fi and it says "unidentified" or "offline," it's possible that your router is blocking it. This is frequently due to MAC filtering, a mechanism that prohibits unfamiliar devices from connecting to your network.
Outdated Firmware: Your TV is a smart gadget, thus it will ultimately require firmware updates. It's critical to update your TV's firmware regularly to keep it running smoothly. Your TV's firmware is necessary for it to work properly. Software updates are frequently released, and they address errors and provide new functionality while doing so. If you've turned off automatic software updates on your Samsung TV, make sure to check for updates manually at least once a month.
Issue from Router or Modem: If your Samsung TV won't connect to WiFi, it might be due to an issue with your modem or router. It's possible that you'll need to obtain a new one, or that the ISP will send someone to solve the problem.
Different Ways to Connect Samsung TV to WiFi Without Remote
Connecting to WiFi through the SmartThings App
Note: This method requires you to use the remote if you have never registered to the SmartThings app.
Downloading the SmartThings app

According to the smartphone you have, an iPhone or an Android, you can find the SmartThings app on the App Store or the Play Store respectively
Open the App Store or Play Store on your smartphone.
Search for the SmartThings app by typing in "Smart Things" in the search field.
Tap on the download button and wait for the app to install.

Registering to the SmartThings app

Open the SmartThings app on your smartphone and click on the Register button.
Fill in your name, email, password, and mobile number in their appropriate fields.
After doing the following you would be sent a code to confirm your email id.
Confirm your email by copying the code from your Inbox of the email service and pasting it in the SmartThings app. 
Next, log in to your new account by putting in the necessary credentials in their respective fields.
To avoid logging into the SmartThings app numerous times, select the checkbox for Remember Me.

Connecting to Your Samsung TV

Upon logging in to the SmartThings app, tap on the dashboard option.
Your Samsung TV would be auto-discoverable to the app.
To further use the digital remote service, go ahead and tap on the blue button labeled as Remote.

Connecting your Samsung TV to WiFi

After you have successfully followed all the above stages, press the Menu button once.
Go to the Settings option and select WiFi and Connectivity.
Enable the WiFi option and select the connection of your choice.
Fill in your WiFi password and click on Connect.
Connecting to WiFi Using Keyboard and Mouse
Samsung TVs also provide you with the option of connecting your Keyboard and Mouse to your TV via USB.
There could be a chance that the keyboard or mouse that is available to you might be incompatible with your Samsung TV. Thus here are some examples of peripherals that are compatible with most Samsung TVs.
Logitech K750
Logitech K400
Logitech K360
You can also look for the recommended peripheral that can be set up with your Samsung TV by going over Guide > Devices > Mouse and Keyboards.
Connecting the Keyboard and Mouse

First, you have to connect your Mouse and Keyboard to your Samsung TV, via USB.
Your Samsung TV would automatically register the connection.

Connecting your Samsung TV to WiFi

Press and hold the Lone Button present on your Samsung TV.
A window would pop open. Select the Input option
Next, select the Live TV option from the dialogue box that opened.
Recommended would be present just after Channel. Select that option.
After that, select the Configure Network.
Finally select Router SSID and put in the WiFi password accordingly.
Connecting to Wifi Using An Universal Remote
This is the option that is recommended if you aren't able to connect your Samsung TV to the WiFi using the other alternatives. This method involves you purchasing a universal remote for the Samsung TV and using it just like the native remote. A universal remote costs between $10 to $20. There is one basic step if the remote doesn't work with your Samsung TV out of the box. You might have to configure the universal remote by inputting the code provided in the guide that comes with it. 
If it works, then the rest you can figure out as you operate it just like the native remote.
Conclusion
You don't have to worry about losing the remote of Samsung TV from now on. The guide (How to Connect Samsung TV to WiFi Without Remote) above is a way you can easily enjoy your favorite shows and movies by connecting you to the WiFi. That too, without using the remote. 
In these recent years there is always an app for the device you buy, and a legit one too. Everything around us, from your Samsung TV to your refrigerator has an app for it to control remotely, making it more and more accessible each day. Even if you don't have a smartphone close to you, a keyboard or mouse near you can do the day's work. However, if you think the remote is lost into the void of your house, you might go for the option of buying a universal remote for your Samsung TV and try not to lose it the second time.
FAQ
Is there any third-party app that I can use to Connect the WiFi to my Samsung TV?
There are numerous applications available both on the App Store and the Play Store to use your smartphone as a remote. However, just installing the app won't help you access the Samsung TV. You have to have an IR (Infrared) Blaster present on your smartphone to navigate through your Samsung TV. Many smartphones from Xiaomi, Oppo, and Huawei have IR blasters and you could use the app on these devices to use it as a remote control.
Can I connect the WiFi to my Samsung TV using the Power Button?
Most Samsung TVs have a power button at the bottom or on one of the sides of the body of the device. The power button, on most Samsung TVs, doubles up as a navigation button. Using the power button present on the Samsung TV, you can perform some activities without requiring the remote. This includes functions like changing the volume of the Samsung TV, changing the source of the input, or even surfing between channels. However, the functionality of the Power Button is limited to just these things and you can't access the Settings option using it. Thus there isn't a way you can connect to the WiFi using just the Power Button if you don't have the remote for your Samsung TV.