How to find malicious apps on Android?
Mainly, we are going to focus on how to find malicious apps on Android and how it affects lives in this article. So, everyone faces an issue with their mobile phone. No mobile phone is perfect. That is because there are certain suspicious functions happening in the background that is not visible to us. They are not meant to be found by us. Let's know how to find malicious apps on Android.
 A mobile phone is the greatest invention that we could have hoped for. It is hard to believe all the things a mobile phone can do now. The world has evolved in a way where we want more of anything. Mobile phones these days have more storage, more battery, more resolution when compared to older models. This is because upgrades have been a better part of our lives. We upgrade our TVs, our gadgets, our cars regularly now. Similarly, mobile phones have been upgrading a lot these days.
Firstly, the competition among these mobile phones is vast. There are new companies emerging to take down the giants. Most of them have Android OS. That is why Google is one of the best technology-based companies in the world. Secondly, all this competition can also be a negative thing. The range gets increased resulting in a multitude of disadvantages. There is a study that stated that the expansion of Android phones is causing the malware to grow. It causes a ripple effect that we cannot really control on a larger scale.
Do not miss: wpa-psk [tkip] + wpa2-psk [aes]
What is Malware?
Malware is short for Malicious Software. The term malware is a broad word. Here, viruses, worms, and trojans and all other harmful software comes under Malware. Malware is anything that causes damage to a device's software. The three ways a device can be damaged are viruses, worms, and trojans.
Virus:
It is a malicious piece of code that is written to change how a system works. This can spread from one electronic device to another. So, the damage it can cause to a system is high. The virus could potentially corrupt or destroy data permanently. They could be spread by Email, USB drive, Internet file downloads.
Worms:
A worm works like a virus but it is worse. This is because worms can spread from one computer to another with no human contact at all. They find weak links in the software and spread through those links. Because it's so silent, they are hard to find and eradicate. Worms can modify and delete files. They can rob our data once installed into our computer.
Trojans:
Finally, Trojans are pieces of code that are malicious. They are designed to steal information, damage data, or any other disruption to a device's software. They are disguised as secure software that is almost similar to how original software looks. The trick to make us believe everything is fine whereas they are damaging the system profoundly. Although trojans cannot replicate themselves, they are as dangerous as the other malware.
What are Malicious Applications?
Malicious apps are software or pieces of code that are specifically designed to damage a system. Although we perceive malicious applications are bad, the reason for which these are used defines them. These apps could also be used for ethical hacking, for reconnaissance to identify other malicious applications. Malicious applications use different techniques to be under the radar. They evade all anti-malware software. Firstly, all our information is out there on the internet and easily accessible. Secondly, financial information or private data could be shared with the whole world. This can cause chaos around you.
Mainly, there is a simple way to know if your Android mobile has any malicious apps. Here's how to find malicious apps on Android.
How to find malicious apps on Android?
Google puts effort into keeping its users' data safe. So, they look into every aspect of everything that they create. This is one of the reasons why they are so successful. They have introduced Google Play Protect for this exact reason. The service scans all the apps on your phone in an effort to eliminate malicious apps. The platform checks millions of apps every day to provide us with the best possible service. Here are the steps to follow.
Find the Settings app on your mobile from the application drawer. The icon is gear. It can easily be found in the S section of your application drawer.
Next, scroll down until you find the Security tab. It is named as Security & Lock Screen on OnePlus mobiles. This tab contains all the options related to the safety of the mobile.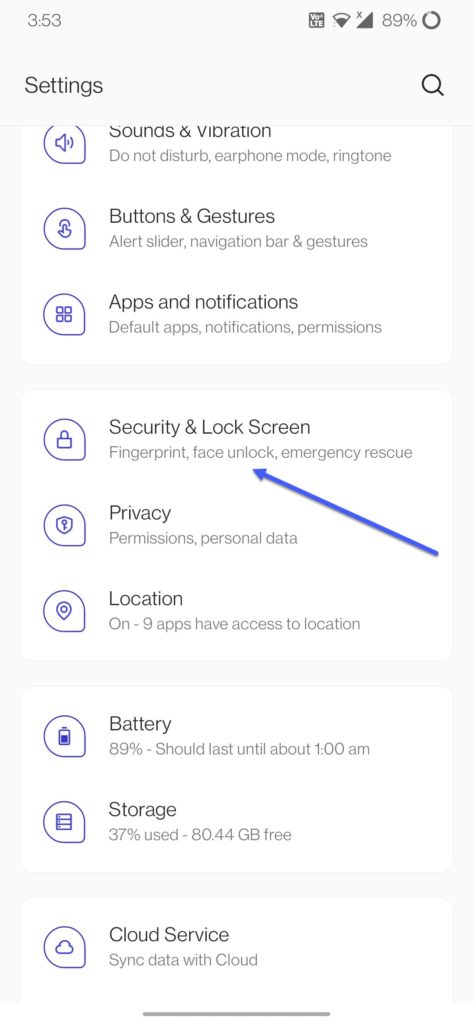 Open this Security tab by clicking on it. We could find different options. There is a section named Google Play Protect that oversees the safety of all the applications on the mobile. That will show the details of the last scan too.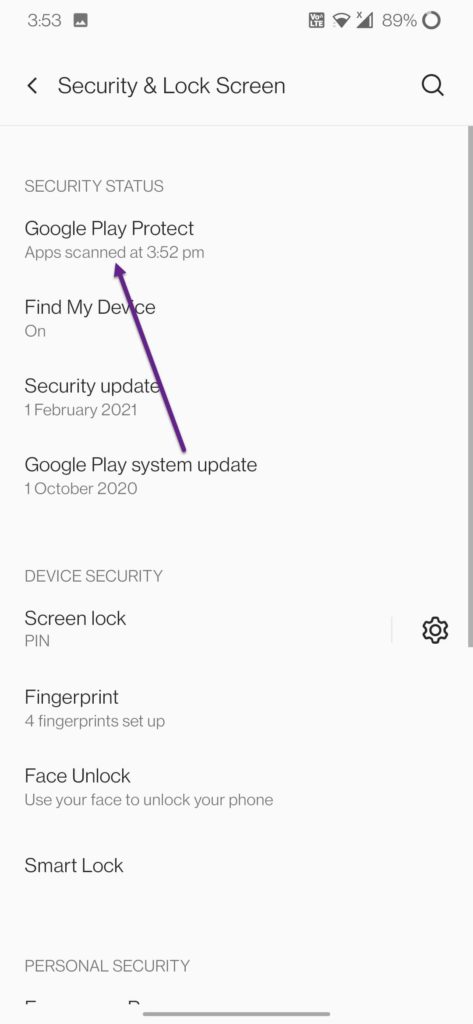 Click on this option to start scanning. A warning will be shown if there are bad apps on our mobile. Finally, it will show 'No harmful apps found' when all the apps are clean.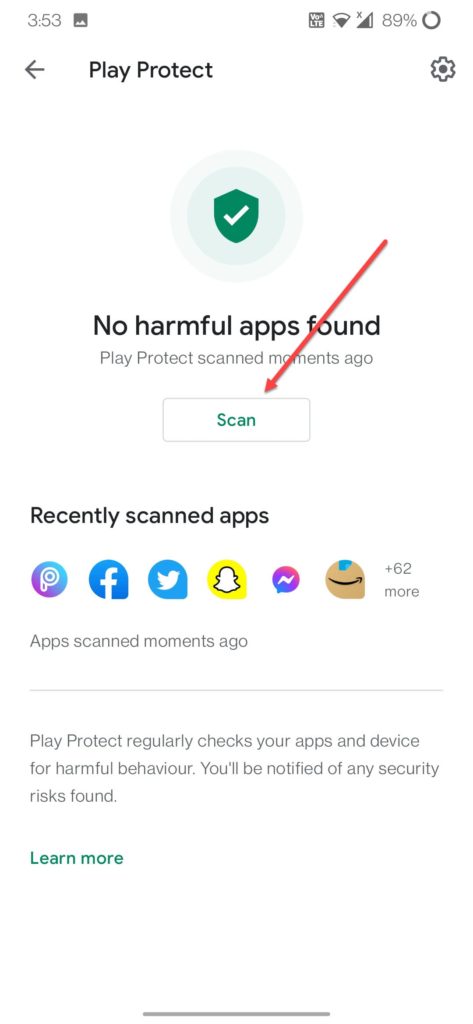 This is how to find malicious apps on Android using Play Protect.
Signs that your device has malware:
Getting charged with higher rates on your bills may cause suspicion on your minds. When bank balance is getting decreased or there are irregular patterns in our payments, we might have to be cautious that malware has taken control of our financial details.
Uncontrolled data usage is also a sign. The damaged software uses more data than we actually need. This causes a spike in our phone bills. In this case, our bills have to be constantly observed.
Trojans tend to download unnecessary apps on their own. Firstly, these apps are harmful to the network of apps present on your mobile. Secondly, they look safe to the naked eye. We could get to know what it actually is, by looking into the software deeply.
Irritating ads show up on our screen randomly. They pop up on our screen harshly. Clicking on these ads will mess things up by opening websites that are advantageous to the people that created them.
Lastly, the battery becomes a big problem when these malware apps kick in. They tend to drain the battery quickly. These malicious apps do everything in the background. These unauthorized activities drain the battery so much and so fast.
In these ways, we may know how to find malicious apps on Android.
What can Malicious applications do to your phone?
Firstly, when these apps take over your mobile phone, there is no limit to things they can do. These apps have access to every corner of our mobile. Generally, we are not equipped enough to eradicate them but we have to do it to keep our mobile safe. Most of the android malicious apps
Record call conversations which sometimes can be private. These recorded calls could be sent to attackers.
Could be in charge of all the operations that are being performed in the mobile.
Can potentially download other malware to cause further damage to our data.
Will have access to our location, our google maps.
Collect our email addresses, contacts, our social media accounts.
How to remove malicious apps on Android
                              Steps to follow to eradicate Malware infection:
You have to disconnect your mobile from all other electronic devices immediately. This will stop any further infection. This will make malicious software not get interacted with our data. Remember that you have to unplug every external device that includes USBs, hard drives. Access to the internet is the strongest thing malware could have. If we could disconnect it, the device will not get infected any further.
Secondly, we should always be cautious of what we type and where we type. Malicious apps find a way to have access to all your texts, videos, and photos. Usage of online accounts will be you falling into an inevitable trap set up by these malicious apps.
Next, always protect your payment-related details because that is the most affecting aspect of anyone's life. Once gone, it is hard to recover money as it cannot be efficiently tracked. That is why there must always be extra protection for payment-related operations.
Safe mode/emergency mode must be activated to disable all third-party apps. These third-party apps include malicious apps too. Switching into safe mode is easy on android devices. So, I'll show you how to enable safe mode on the OnePlus 7 now. Firstly, long-press the power button. A menu is displayed on the screen. The menu consists of SOS mode, power off, and restart buttons. Next, long-press the power off button in this menu. A command box will be popped up on the screen. This is a confirmation message for Safe Mode. Click on OK to confirm.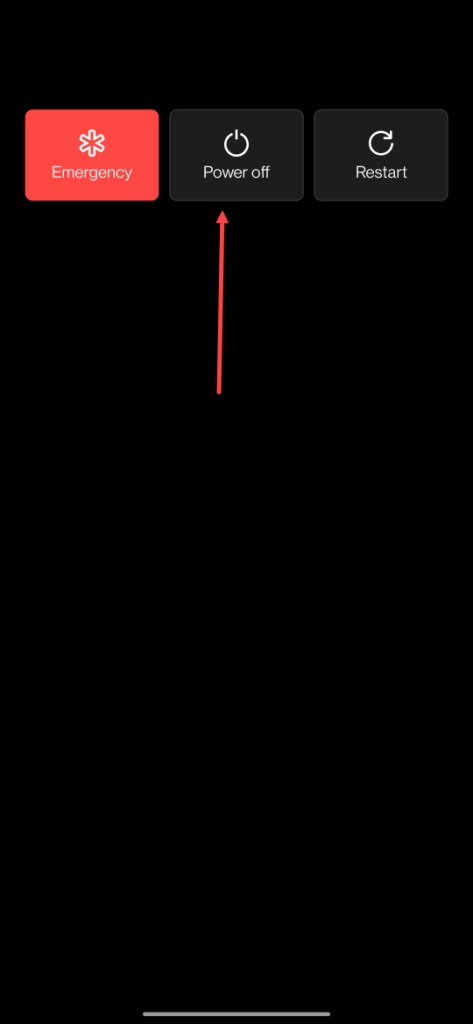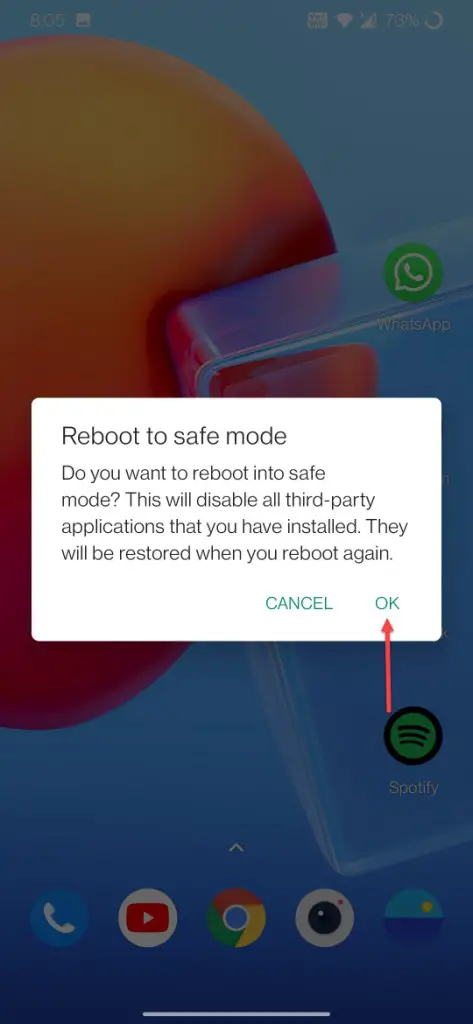 Locate malicious apps on Android
Sometimes we could see these malicious apps aren't stealthy enough. We have to try and locate them. Next, on locating the apps, we have to uninstall them from the settings where there is an Apps manager. There will not be a uninstall option for some apps. This means that the app has taken control of the administration.
Change the passwords for all the accounts that are on the device or for online accounts that share any personal information. This can help in tricking the malicious apps out there.
Lastly, we have to contact our bank if there's some problem and we have to do it quickly. The bank would deactivate the account or they will take certain measures to keep our accounts safe.
All these cannot be taken for granted. Even a small issue can grow into something life-changing. So, I urge you to be careful.
Anti-malware applications
We could consider using anti-malware applications too.
Some of them are
AVAST Mobile Security: This has more perks for its paid version when compared to the free version. This includes firewall services that are hard to go past. The app will not work well on older devices.
AVG AntiVirus Security: There are many pros to this. Antivirus, anti-phasing, and anti-malware are just some of the features that are included in the free version. Its anti-theft features are available in both free and paid versions.
CM Security: This app is fairly popular on the Google Play Store. Most of the anti-malware features are included in this. This works well for older devices or low spec devices.
Kaspersky Internet Security: This app has most of the basic features in its free version and its extended features in the paid one. It enables cloud protection and anti-phasing. It may not perform well on older devices.
Dr.Web Anti-Virus: This is relatively low maintenance. This is old-fashioned and thus it is simple to use. Contrastingly, it is pretty expensive for the paid version.
Conclusion:
Everything has to be safe these days because of the growth in technology. So, there are pros and cons to almost everything. Although we enjoy the pros of something, we have to avoid the cons of it. So, this article is a detailed explanation of how to find malicious apps on Android. I hope that my article helps you keep your mobile safe.