Why is my hotspot not working?
Hello guys, I hope you all are doing fine amidst these tough times. So recently, I was at a gathering with my friends and scrolling through social media through my mobile data. One of my friends happened to run out of his daily mobile data limit and I offered him to share mine through hotspot. I turned on my hotspot from the settings on my phone only to find out that it wasn't working at all. Why is my hotspot not working? I tried some of the quick fixes but none of them worked for me. That's when I reached home and found out what the problem was. So, in case you are having a similar problem, or, you want to get yourself saved from it happening in the future, go through the post and I'm sure it will help you a lot to get out of this tricky situation.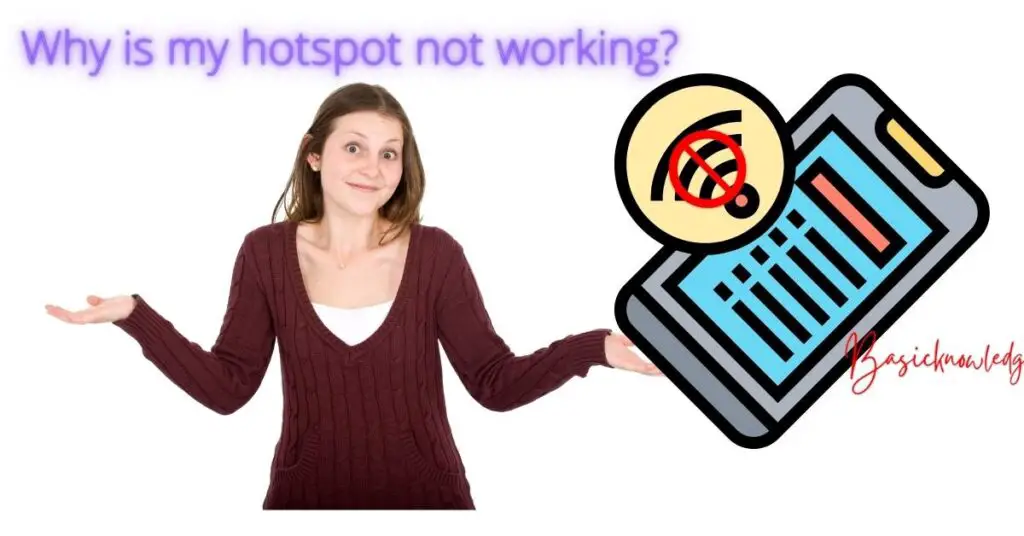 Do not miss How to use Mobile Hotspot without using Data?
What is a mobile hotspot?
When visiting someplace without Wi-Fi, a mobile hotspot might come in handy. A mobile hotspot is also called a personal hotspot. It is a device that serves as a localized Wi-Fi network, allowing users to access the net. Although you may purchase a portable hotspot separately, many mobile hotspots are included as a function on your device.
A mobile hotspot is a system that can broadcast a wireless signal to nearby gadgets to link to when traveling. It's not to be mistaken for a hotspot, which may be found in public venues such as restaurants, hospitals, or in institutions or companies that have secure connections that provide free Wi-Fi. Mobile hotspots often work by transforming an LTE connection, often from your smartphone, into a Wireless signal. You may then "connect" your laptop or some other phone to it in the same manner that they would to a private or open Wi-Fi connection.
Digital security and reliability with mobile hotspots
Mobile hotspots are an excellent yet unsatisfactory option. Although they can reach almost everywhere, it isn't as quick and reliable as a broadband or fiber Wi-Fi connection in your office or home. Because they are mobile, their coverage is likewise limited when linking to other devices. You can produce a Wi-Fi signal anywhere you go if you have access to data, but since mobile hotspots are tied to your smartphone, they can rapidly drain your battery life.
On the plus side, the Wi-Fi network of your mobile hotspot may be secured with WPA-2 encryption, keeping it quite protected as any home network. Just ensure your passcode is secured and activated. Anyone with access to your hotspot and data transferred over it will be able to connect to it if it is stolen or if you do not use password security. In some cases hotspot not working due to security issues too.
Does my phone have a mobile hotspot?
Many new kinds of cellophane include a built-in hotspot capability, that you can most likely configure and activate via your smartphone's settings application. Various providers and smartphones, in general, offer the service as long as you have at least 4G LTE connectivity, while compatibility for a 5G network would certainly enhance the experience. Although, a 4G or 5G connection need not imply that you will have a mobile hotspot. Verify with your provider or in the settings of your device to see whether you have one. If your phone does not have a hotspot then you can face the issue of the hotspot not working.
Several phone mobile hotspots enable us to link numerous devices to your connection, up to ten in certain situations. Just keep in mind that sharing this type of connection among several users may cause an already visibly sluggish experience to become much slower. You may change the name of your hotspot and alter its password from the settings, conceal your device so that others cannot see your network, and choose whether to utilise WPA2 security or not. You might well be able to activate your mobile hotspot and link to additional devices through Bluetooth or USB tethering based on your smartphone.
If you don't have an unlimited data plan, it's crucial to understand that the hotspot uses your data limits, which implies you might go out – and you may do so much faster than standard phone surfing, depending on what you're doing with your mobile hotspot. Even individuals with unlimited subscriptions might see their service hindered if their service provider reduces speeds after reaching specific data limitations.
Connect a computer or another phone and browse the web, watch movies, and play music exactly like you would with a normal broadband connection.
How to enable the mobile hotspot on Android?
May be hotspot not working because you have forget to enable it, follow the steps:
Step-1: Go to the settings menu in your phone.
Step-2: Search for "Network and Internet" and select the option. [Different Android phones have different layouts for the settings menu. So, you might have to use the search bar in the settings page to find the hotspot settings]
Step-3: Open the option "Hotspot and Tethering"
Step-4: Click on "Wifi Hotspot"
Step-5: Click on the slider next to it to turn it "On"
Now you can connect the other device to this portable mobile hotspot. Click on the device's wi-fi settings. Locate your smartphone's name in the available networks list and select it. The screen will ask for a password that can be found and changed in your smartphone's hotspot settings. Enter the password and you're good to go.
Why is my hotspot not working?
You're on tour and can't access Wifi, but you do have your laptop.  You're linked to your office just through your cell phone data. There is an emergency need to send your product proposal to an overseas client. So, what are your thoughts? Yes, you utilize your mobile hotspot to link your laptop to the internet. Your connection problems have been resolved, and you may now exhale a sigh of relief. What if your Android hotspot isn't working?
You would no more be capable of sending emails to the customer, which might be a game-changer for you as a businessman. This is why we have emerged with some fantastic methods for how to solve Android hotspots not functioning. So, without further ado, let's get started.
Learn more: How much data do I have left?
Hotspot not working-How to fix?
Make Sure that your Internet Connection is Still Available
One of the most basic issues which can result in your hotspot not functioning correctly can be that your internet connection is not available. Many Android people enable their hotspot network in order to utilize that on other smartphones or laptops. Even if the connection is solid, they are unable to launch any website or app if the android hotspot is not connected to the internet. Have you ever considered why this occurs? This occurs when your net subscription expires. To avoid this problem, it is advised that you establish a daily data plan restriction. If this appears to be too much work for you, contact your service provider and request that they register you in a package with unlimited data every day.
Switch your Wi-Fi off and switch it back on
This is one of the quickest tries to fix your hotspot issues. Restarting a feature as in a lot of other cases can be tried to fix the hotspot issues as well. So, it's worth a try. There is a possibility for the device's Wi-Fi to have trouble obtaining a signal in some instances. In this scenario, you can try turning down wifi and then turning it back on. Swipe down the bar from the upper portion of your Android smartphone. There will be a WIFI option accessible. Turn it off and then back on again. See if the connection is stable and working now or not. In most cases, it shall be fixed hotspot not working.
Restarting you Smartphone
Sometimes, it is possible that your mobile which is providing the hotspot service is not able to provide the hotspot service properly. This can result in unstable connectivity from the hotspot. Pcs and cell phones have comparable operating systems. When your pc unexpectedly hangs, your first instinct would be to turn it off. Upon rebooting it, you notice that your pc is now operating normally. The same thing occurs with your Android smartphone. When you restart your phone, a lot of issues, malfunctions, records, and phone cache are cleared. So a simple restart is all that is required to resolve the Mobile hotspot with no internet problem and fix the hotspot not working issue.
Recreating your hotspot
Recreating the hotpot refreshes the mobile phone's hotspot settings. It sometimes fixes if there is some issue with the mobile hotspot's settings. This entails deleting the old passcode of your hotspot then changing it to a fresh version. Modify your old passcode and create a fresh one. You have now established a fresh hotspot for your Smartphone. In case this method does not work, we will go to another method listed below.
Turn off the power-saving mode of your smartphone
It's intended to assist extend your charge life and save you time by proactively applying changes that you'd normally have to do manually. When you activate Power Saver, Android will reduce your smartphone's efficiency to preserve battery power. This makes the phone to function somewhat slower but lasts longer. Your smartphone will no longer vibrate as much. GPRS function will also be limited, meaning applications will not be able to access your smartphone's GPS capabilities. This implies that Google Maps navigation will also be unavailable. The majority of background data use will be reduced as well. Email, texting, and other apps that rely on updated information might not always upgrade till you resume them. Battery Saver mode is not one that you want to have on all the time.
Since you turned on the battery-saving option on your Android handset, the hotspot has been malfunctioning. Follow the procedures below to do this.
Navigate to the battery option, which may be found in your device's settings menu.
Now, choose the power saving option and toggle it off.
After that, double-check your hotspot connection. This should resolve your hotspot not working problem.
Check the bandwidth
The most recent smartphones have a 5GHz frequency. Others lack this functionality. This implies that although you employed a technique to force your Smartphone to utilize 5GHz, your hotspot would fail if your phone isn't compatible with 5GHz.
To resolve this issue, follow the instructions below.
First, you need reconnect your Android phone to the supported bandwidth of 2.4Ghz.
To accomplish this, navigate to the settings menu and select the network and internet option.
Then, select the hotspot and tethering option, and last, select wifi hotspot.
You will now have a choice called the AP band. Here, pick the 2.4Ghz option.
If this does not resolve the problem of the hotspot not working, we will proceed to the next remedy.
Checking the receiving device
If all the above-mentioned fixes don't seem to work for you, there might be a problem in your receiving device. It's possible that your hotspot is working absolutely well, however, your receiving equipment isn't. Because the receiving device can be having a hardware or software issue, your hotspot may not be able to maintain a stable connection.
Factory Reset your smartphone
If you factory reset your phone, all of your content will be erased and it will restart as if it were brand new. To do this, go to your settings menu and then seek for factory reset. This will clear up all of your phone's problems and allow it to start over. Inspect your wifi connection once more to ensure that it is operational. Before doing this must save all of your data.
Finding out a phone service provider
If none of the above-listed fixes worked for you, the only option left for you is to take your phone to a reputed phone repair service. My recommendation is to go to the nearest authorized service center of your android smartphone brand. They will offer the most genuine and worthy solution to fix your hotspot issues. This will also not temper with your device's warranty if the phone is still under warranty.
Additional mention: 
The current generation of smartphones contains a function that turns off your hotspot after a few minutes of inactivity. This may cause problems with your hotspot. To avoid this, uncheck the box that reads "automatically switch on the wifi."