Hey techies! Today we are presenting one more package for you. com.android.settings is the most important element of the android operating system. But most of the users do not know anything about it. Although com.android.settings has a lot of errors and can stop suddenly, users must know about it. So, without any delay, let us learn all about its uses with tech in deep.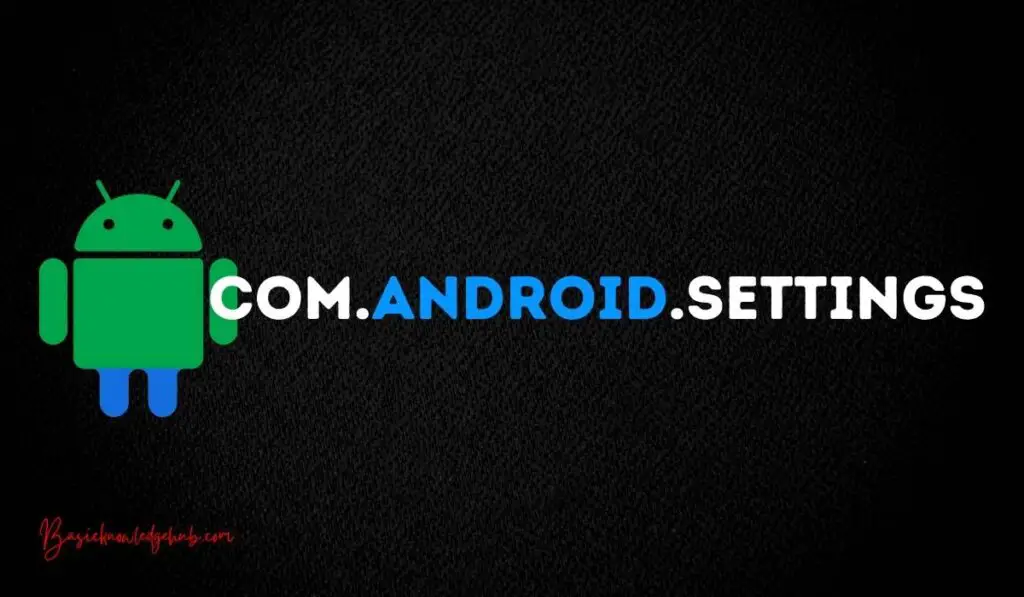 What is com.android.settings?
To explain this, let us break the works at every full stop or dot.
Reading it in smaller parts will surely help you to understand it easily. The first part, "com" is considered as a common syntax for most of the commands of android. "Android" suggests that this belongs to an android directory, and "settings" means what the name suggests. 
We know about the settings of our android devices that they are the main reason for providing the gain access to most of the devices. It is the reason because of which you connect your device to WIFI. You can clear storage, give permissions to applications, and more with the help of settings. The layout of settings can be different, but the UI does not matter. The settings icon is the same in each smartphone and works the same way. 
Don't Miss:
Why com.android.settings stop unfortunately?
We know about the errors that occur because of com.android.settings. So, let us discuss about the ways to solve it and what causes it? There are many reasons for this problem to arise. It depends upon the user to sort the solution according to the problem they are facing. 
Bugs in firmware
When any android user root their device or try and use a custom ROM, it can cause an error in the android setting. To understand this step, you must have knowledge about ROM. If you do not know about it, you can skip this step.
There are many custom ROM present on the internet, but any user should use a compatible ROM. A pro tip is that he/she should avoid using the beta version. A stable version of any ROM should always be selected. Otherwise, you can experience bugs or errors. So, if you have used a custom ROM, then you know what is causing errors. 
incompatible play store
The play store can be unsuited when you try to download it or update it from any third-party source. This will surely create a fuss and cause errors as the update which the user just performed was not compatible with the android operating system. We will not discuss the issues in detail, but when you download anything, and a little later, you realize that it is not congruent, then you might have to face a lot of errors. 
cache memory 
The term memory must have come to your knowledge once in a blue moon while using the smartphone either to store images and videos or to download games. Memory is basically of two types, volatile and non-volatile. Non-volatile memory is the storage capacity or internal memory. On the other hand, volatile memory is your random-access memory. 
Cache data is the temporary storage used for storing data that is used very often. Cache memory is very fast, thus saving a lot of loading time instead of waiting for any particular application to start again. When you open too many applications at the same time, then RAM is consumed, which causes the slow working of the mobile or the stopping of applications unexpectedly.
Incompatible Update
It is possible that any third-party update can create a bug, and the android settings might shut down automatically. Generally, any error in the android market or the play store causes the error to rise. This is mostly because the operating system of your android device is not up to date. 
file error
Crashing of files is not very common nowadays, but sometimes files are downloaded incompletely. This can cause an error for the device's Android settings. There are a lot of files on any OS, and each of them has certain instructions. If any one of the files is crashed, an error can be created.
How to fix com.android.settings issue?
We have gone through the main reason that causes this error. Let us see certain methods to overcome this bug. We might change a lot of things which can cause errors. At times, you will see a message like "Unfortunately, settings have stopped." Just press "OK" when you see this dialog box. Sometimes you have no option but to say OK to things. But we will also solve that issue. All you have to do is to perform the steps given below.
Restart your android device- 
The best and simplest way is to restart your smartphone. It is worth trying as minor bugs are automatically solved when you restart. So, try and restart your android device and see if you overcome the bug. If not, follow the next step.
Clean the RAM-
As mentioned in the problems creating section, if the RAM is filled, you can face many issues. You should clear your RAM as it is worth giving a shot. You can also try some applications that clear RAM, but only if your phone's RAM is not very good.
Clear the CACHE data
Basically, it is the most important step. Clear the cache data of your smartphone. Cache memory is in your android device, and it is used to make the phone smart and fast. It also helps in saving memory as you need not load it again and again. But it gets filled up again and again just to create a fuss. So, to clear it:
Open Settings on your device.
Search APPS or application manager in your settings. 
Now go to the dots and select "show all apps." 
Once you get it, search for "settings" on it and click on force stop.
Now clear the cache and the data of the application.
Once it is cleaned, restart your device.
uninstalling the last installed application
Sometimes the last application that you have installed might cause a lot of problems. Try to recall and find the previous application that you have installed. If you found it, uninstall it, or remove it. You can also remove all the third-party apk from your device.
Go to settings.
Search for apps. 
Find the application which you have installed last.
Once you find the latest application, open it.
You will get an UNINSTALL button. Click it, and it will be uninstalled.
factory reset
Your last option to solve this bug or any other problem is to factory reset your smartphone. If any error is bothering you, reset your device. But please save or back up before resetting your device. Just follow the steps:
Open Settings on your device. 
Go to additional settings.
Now select the "backup and restore" options. 
Click on the Factory reset option.
Enter your screen lock and press "OK."
Your device will reset. It will take some time, but your issue will be solved. Try to keep your phone charged. At least 60% is required before the phone has been shut down.
Conclusion
So in this article, we have learned about com.android.settings, how it is caused, and what are the best solutions to overcome this error. Hope you have understood it and enjoyed the article.