Want to know how you can block ads on your chrome? Want to see how you can avoid getting bombarded with pop-ups and banners. Learn how you can use Adblock chrome android within 2 minutes. See how you can turn on the ad blocker with a few simple taps. Check the list of browsers that are better than chrome for security and privacy. If you are stuck anywhere then check out the video on our youtube channel.
We all know how annoying it is to get bombarded with ads while boring any website. And this can be dangerous also since many websites land you on a new webpage that could download harmful files. Along with the security risks, nobody likes to get disturbed again and again. This happens because this way the website can make more money and nobody can complain.
Many web browsers come with ad-blockers in-build and on by default. But chrome did not have ad-blockers until March 2018. And even now, chrome does not enable the ad-blocker feature by default.
In this article, we are going to see how we can turn on the ad-blocker feature on our phones and what are the alternatives. We will see some of the highly-rated apps which we can use to block ads. Align with this, we will convert some of the frequently asked questions in the FAQ section.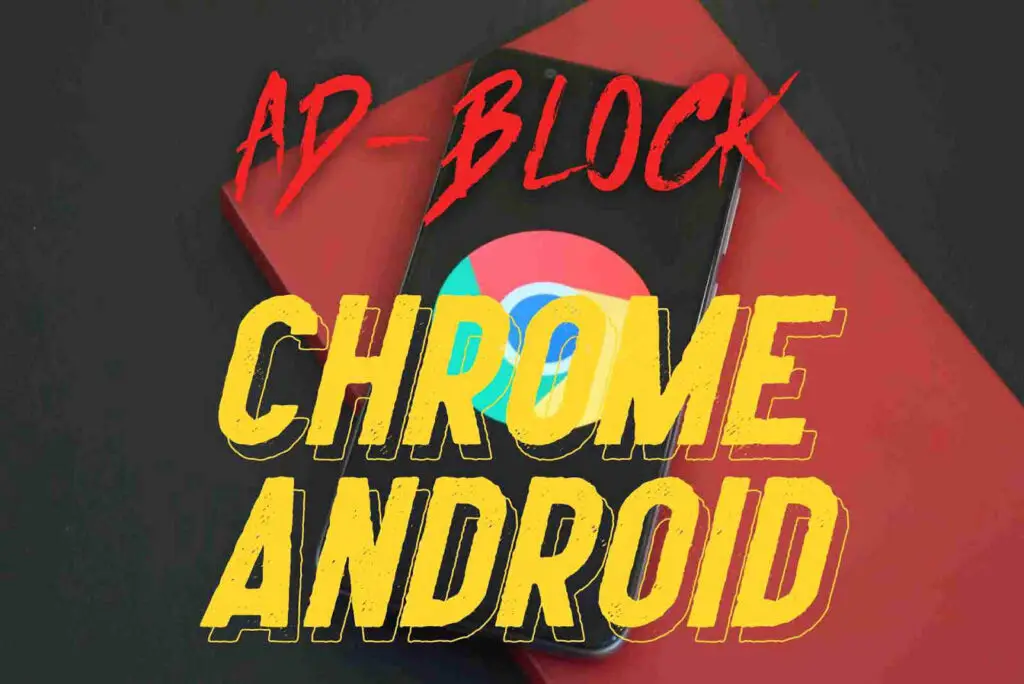 Why should I use ad blockers on Chrome?
As we have discussed in the previous section, constantly showing ads can ruin your experience when visiting any website. This happens more than you might think since the majority of websites depend on ads for revenue. And some websites will try to maximize their revenue by showing users as many ads as possible. This can be in the form of popups or redirecting you to a new page when you click anywhere on the site. Websites that offer limited use such as downloading software or movies are notorious for the number of ads they show.
Aside from the annoyance, this can also become a security risk since some websites ask you to download a malicious file on your phone. And if you download it without noticing, then your phone can be hacked. It could include private data leaks, sensitive data-stealing overtime, ransomware attacks, and more. This privacy risk is too high to ignore especially since ad blockers are available for free. We would highly recommend using ad-blockers on any web browser you use, even on your laptop/desktop.
To avoid this we can use ad blockers that work seamlessly with Chrome browser and will save you a lot of time. The Adblock chrome android feature is built in the Chrome app and can be turned on or off with a few simple steps.
How to block ads in Android Chrome?
Here we are going to see how we can use Adblock chrome android using the in-build feature. These steps are for Chrome on Android devices, but if you want to see steps for Chrome on your desktop. Then check out the next section for the same.
NOTE: If you are using any other browser then we would suggest exploring settings to find adblocker.
Follow the steps mentioned below to enable/disable ad-blocker:
Open your smartphone and launch Chrome, not the Google launcher.
Once opened, click on the three dots at the top right, and a drop-down menu should open.
From the menu, tap on "Settings" and then "Site settings".
Now scroll down and look for "Ads" and tap on it.
A new window will open with a slider named "Ads", tap on the slider to enable/disable the ad-blocker. If it says allowed, then it means the ad-blocker is active.
You can turn on and off the ad-blocker with this slider, repeat the steps for it.
How to enable Lite mode in Android Chrome?
We can use another way to reduce the number of ads you see on any website. In the Lite mode, Chrome will reduce the data usage which will lead to reduced ads. This is not the best solution for blocking ads, but it will do the job. We would recommend using lite mode since it will save a lot of your data along with reducing the ads. Along with these, websites will open faster since there's less data on the website.
NOTE: This will affect the website on your phone since to save data Chrome will not load images or videos. We would recommend giving it a try and reverting the settings if you don't like it.
Follow the steps mentioned below to enable/disable lite mode:
Open your smartphone and launch Chrome, not the Google launcher.
Once opened, click on the three dots at the top right, and a drop-down menu should open.
From the menu, find and open "Settings" and a new window should open.
In the new window, scroll down and tap on "Lite mode".
You can turn Lite mode on and off with the slider, it is similar to turning on and off the ad-blocker.
How to block ads on Google Chrome?
In this section, we are going to see how we can block ads on the desktop version of Chrome. The steps are different when compared with Adblock chrome android, this is why many people can't find the as-blocker setting.
If you want to know why you should use an ad-blocker then check out the first section in the article. But we will quickly see the pros in the form of pointers:
Improves the user experience.
Saves a lot of time by not having to close the redirected ads.
Avoid any inappropriate popups from coming while using the website.
Protects your privacy and safety by not letting you redirect to unsafe (advert) websites.
NOTE: If you are using any other web browser then try browsing the settings, the steps should be similar.
Open your desktop/laptop and launch Google Chrome.
Once it opens, click on the three dots at the top-right corner of the screen.
After clicking, a new window should open, click on "Settings" and type "Site Settings" in "Search settings". Or click on "Privacy and Security" and you should see site settings.
Click on it and scroll down to find "Pop-ups and redirects".
Click on it and you should see two options. "Sites can send pop-ups and use redirects" and "Don't allow sites to send pop-ups or use redirects". Select the one which you need and close Chrome.
The setting you select will become the default on your Chrome browser.
Third-party apps to block ads on Chrome (Android)
If you are not satisfied by Chrome's in-build ad blockers or the performance is good. Then we have the option to use third-party as-blockers available on Google's PlayStore.
These ad-blockers are often more powerful and provide you with much more options. Such as which type of ads to show, which type of ads should be shown, and more. Also, you can keep track of the number of ads the app blocked and how much time you saved. We have mentioned some of the best ad-blockers you should use, but there will be new apps with better features. The features of each app will vary, and you should try at least 2 to 3 apps before sticking to anyone.
NOTE: No ad-blocker will block all the ads on your phone without root access. We will mention what the app is capable of doing and what you expect. But if you are not sure what is root access on Android, then check out this article: How to root Android 7.0.
Full AdBlock VPN: Adblock All Apps, Free + Private
Rating: 4.8/5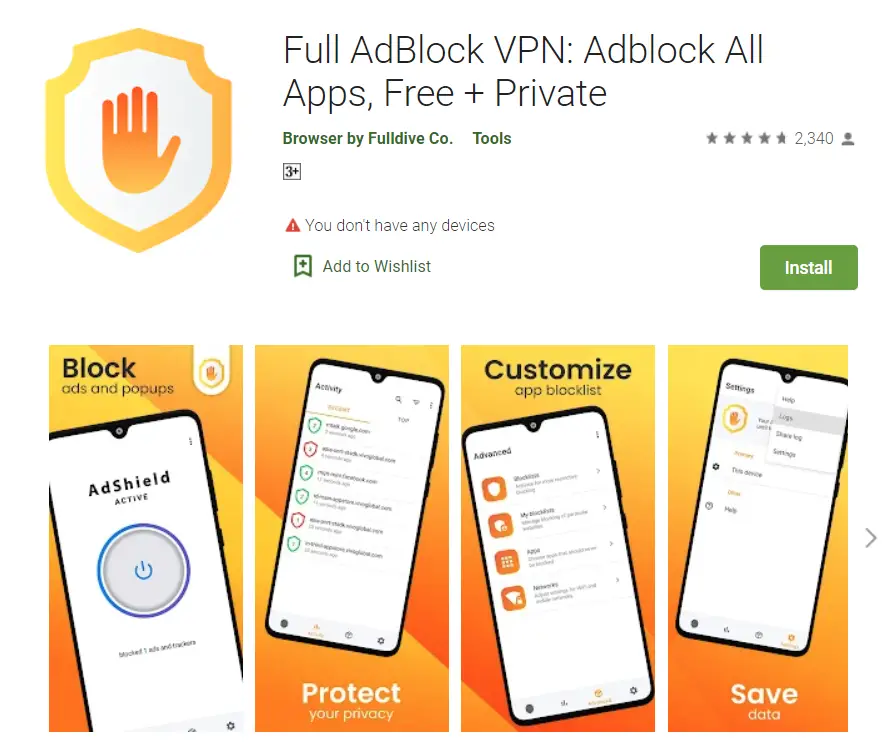 This adblocker provides users with tools to block ad blockers on all browsers without the need for a root. We have already discussed why root is needed and why not all ad blockers can work without it. Below are the features offered by the app:
Remove ads from videos and web pages.
You will no longer be irritated by popups and banners.
Provide a safe and secure browsing experience by preventing malware and viruses.
FAB Adblocker Browser: Adblock
Rating: 4.6/5
This browser allows you to block ads on all the web along with a free in-built VPN to add an extra layer of security. There are other features that the app provide, we have mentioned them below:
Removes ads from videos, whenever you watch any video there will be no ads and the video will start directly.
Pop-ups will be blocked from opening in the web page and make the browser run smoother and faster.
Along with pop-ups, ad banners will also be blocked from showing up on the site.
Incognito mode will not store your history, all will protect your privacy.
The app also blocks cross-domain tracking cookies. (These cookies keep track of your activity from one website to another.)
App also provides you with free and unlimited VPN service, which you can turn on and off from within the app.
Your browser will open websites faster and will reduce data usage.
The app has great reviews and updates are frequently provided by developers. We would highly recommend giving this ad-blocker a try.
Download FAB Adblocker Browser: Adblock from here.
Brave Private Web Browser
Rating: 4.6/5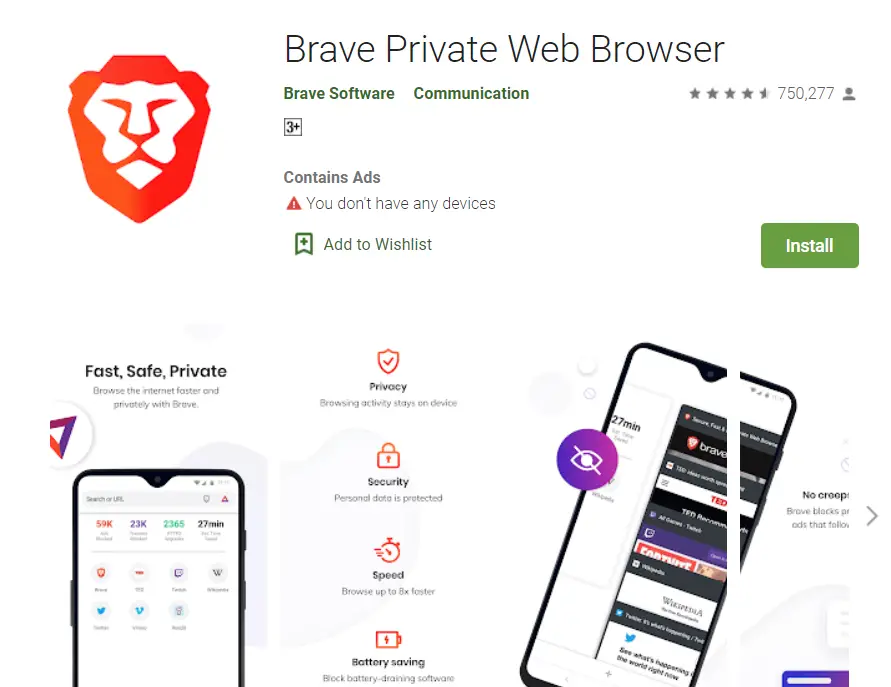 This is a very widely used browser to protect online privacy and it has an in-build adblocker. We would highly recommend using this browser since it provides a fast and secure web browsing experience. And brave supports Windows, Mac, and iOS. Due to this, you can get a consistent experience across different platforms. The features for Brave browser are mentioned below:
Provides a fast and secure experience by providing options to the user search engine of your choice and ad blocker.
Enable users to have private browsing with the help of private tabs, blocking ads, anonymous browsing history, and more.
The brave browser loads websites faster and saves your data.
Sync all the bookmarks and more.
You should check the Brave browser, it provides a great user experience with online privacy and security. Download the Brave browser from here.
Adblock Browser: Block ads, browse faster
Rating: 4.3/5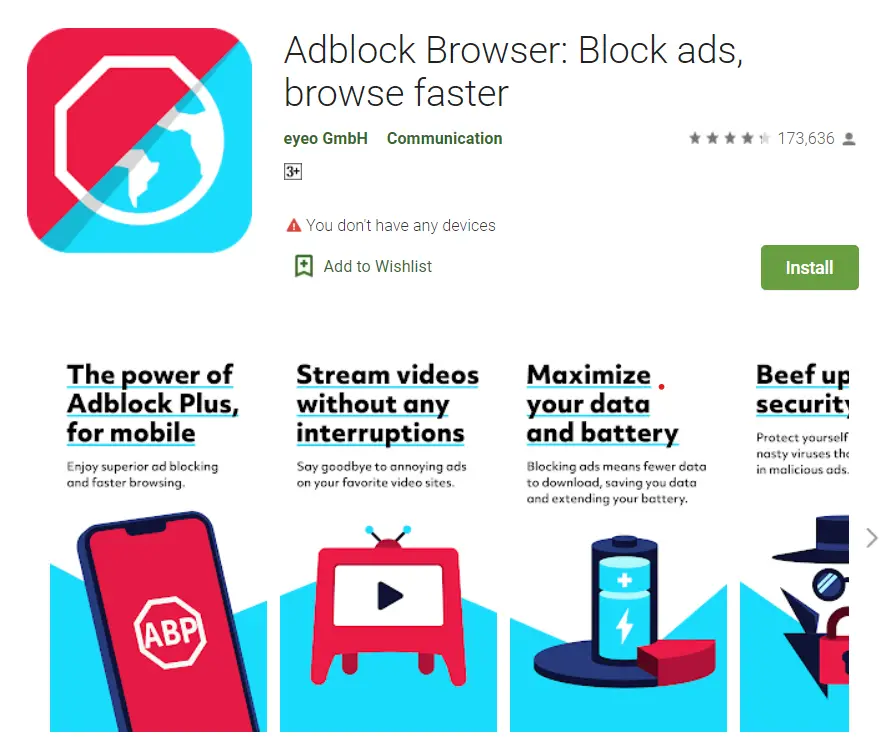 This browser provides users with useful features without too many bells and whistles. The app's is description is simple and on the point, it blocks all the annoying ads and makes your browsing experience smoother. The app is completely free to download and has good reviews on PlayStore.
The highlighted features of the apps are mentioned below:
The browser provides users with a fast and smooth browsing experience. The majority of the ads are blocked but there might be some ads which nit get blocked. But the browser allows users to block those ads too.
Unlike other browsers, ABB saves your data and extends battery life.
Along with ad blocking, ABB also protects you from malware and viruses. Also, your online privacy is protected by the browser not allowing cookies to track your activities.
Download Adblock Browser: Block ads, browse faster from here.
Summary
In the article, we saw how we can use adblock chrome android, and desktop. If you are not satisfied with chromes as blockers. Then you can use third-party apps to block ads. However, not all ad blockers will work without root.
If you missed any section, then we would recommend going through it again. But if you are stuck anywhere then feel free to drop down your query in the comment section below. We are more than happy to help put our readers.