DiagMonAgent – The troubleshooting designed for Samsung smartphones
    Hey Samsung users! This is Piyush Bhujbal. I have another tool for you that can make your problem-solving more helpful. Creating the most helpful tools has always been an ambition for Samsung. They are just doing their task very well. When there is a technical problem related to something, the aim is to find its solution. For that purpose, a troubleshooter is needed. Many a time this happens, when there is a total mess up in the phone. So Samsung designed a troubleshooter called DiagMonAgent. Its abbreviation is Diagnostic Monitor Agent.
    Handling multitasking is a complex job for a device. When it comes to Android development this becomes tougher. Samsung received a lot of complaints from the customers related to phone hangs, no space left, etc. In this article, we will be tracking the problems related to Samsung smartphones and this tool.
What is DiagMonAgent for?
    We face a lot more problems in day-to-day life. Like, say, if you are going cycling every morning. The tire punctures suddenly, what to do? As it is early morning so, no shops are open. Set back to home walking along. Some problems need experts. You cannot repair the punctured tire yourself. In the same way, the issue related to your phone needs a person or a toolkit. To fetch a repairer is tedious work. But, a pre-installed toolkit in your phone can do it with one tap.
     This implementation first came in the computer fields. The software engineers came p with an idea to build a system mechanic within the system. A healer that will help to remove functional interruptions.  If a user knows the OS inside the machine very well then a troubleshooter is also present. For example: when Windows PCs run into an issue the system automatically runs the Windows Diagnostic Centre. This toolkit developed by Microsoft automatically detects the issues when the windows machine is booted up.
Do not miss: ZTE Recovery Tool: Brings Back the Lost Data
List of issues to diagnose through DiagMonAgent
This is a list of tasks that DiagMonAgent performs:
VIRUS scan and repair
OS damage
Application malfunctioning
Factors affecting the performance
    Older mobile phones were not hackable. But there were limitations to their use. Only calls and performing some multimedia activities were possible. Soon then in 2012 smartphones were available for almost everyone. Android took over the market. Awesome full high definition display, a powerhouse to support games, video calling is also introduced, just like a small computer in hand. But, personal security came to the ridge of extinction. Cyber attacks and Virus risks which were only possible for computers also got into these devices.
    Most of the users do not use any antivirus on their mobile phones. They are not aware that the most crucial data is in that small digital packet. Phones are most likely to get hacked. Some factors play a major role in damaging your smartphone.
Applications downloaded from external sources
Visited websites that do not hold any security certificates
Permission is given to unknown apps to access the data
Not clearing the site data or cookies after web surfing
Accessing some risky sites without the use of Private Networks
DiagMonAgent – The troubleshooting designed for Samsung smartphones
There are a dozen solutions to this problem. The first is to stop using smartphones and start to use traditional small phones. I know it is difficult to implement because all are in that vogue. So let us find a handy solution.
What about a monitoring device?
It will keeping a track of all the activities 24/7 and then returns to you with all reports at the end of the day. A virtual bodyguard for your phone. Yeah, that's quite good. Ok, let us get into this topic in more detail.
Considering all the above-listed factors Samsung developed an app named DiagMonAgent. From the release of Android Nougat, it was integrated with the system. A built-in app that observed all the user activities. And notified if any threat is encountered while using the phone.
About the app
Package: com.sec.android.diagmonagent
Developer: Samsung Technologies
OS support: Android only
Phone: Samsung smartphones only
Availability: Free
Adding it to your Samsung phone
Now, let us make some arrangements and set up to add this awesome app to your device.
Some things that should be taken into consideration are:
The compatible version of Android version for this app is: Android 7.0 (NOUGAT) and above
It is a built-in application for Samsung phones. So, it is only for Samsung smartphones.
Space required to install
It hardly takes 5 MB of your phone space.
Checking the versions:
There are releases of versions since the development of Android 7 took place. The latest versions available are from the 7.1.x category. We will install 7.1.25
Locating DiagMonAgent inside the device:
Follow these steps to locate it inside your device:
Go to settings
Then locate system apps
In that locate DiagMonAgent and you are good to go.
Downloading and Installation
For downloading go to these series of steps:
Visit the official site.
Click on download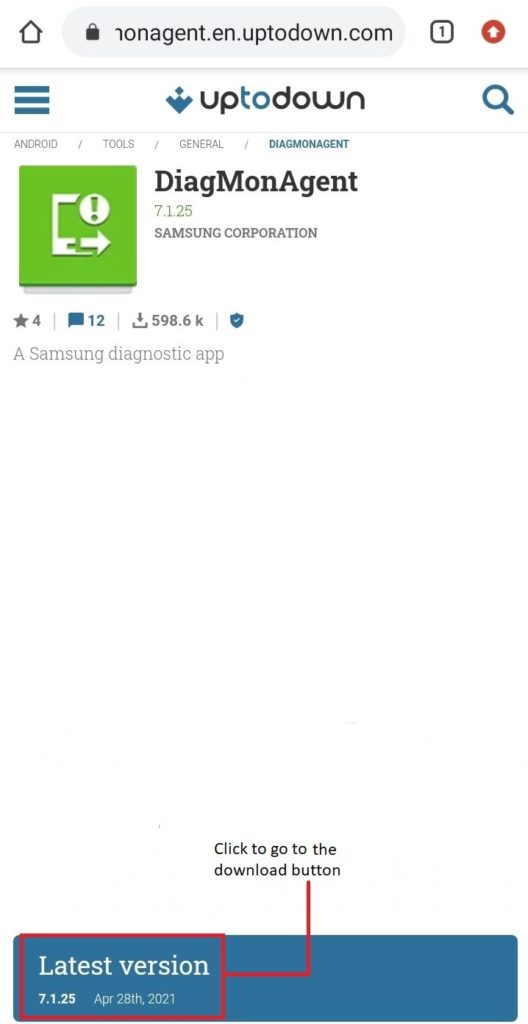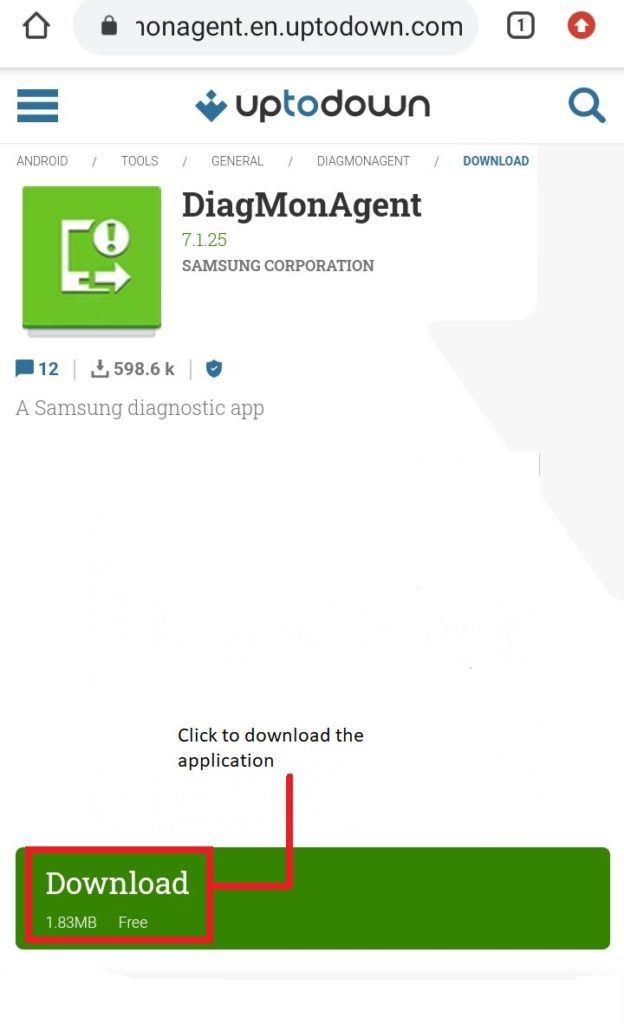 It will ask for permissions, go through the process and it will be on your device.
For installation:
Click on the downloaded app apk
It will ask for installation, click ok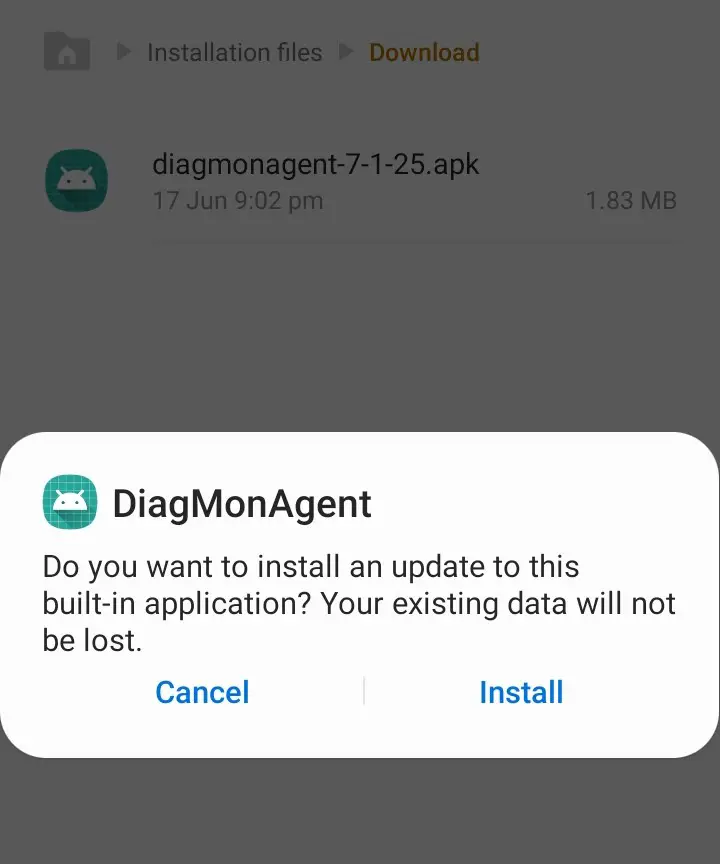 It will take some time and your job is done.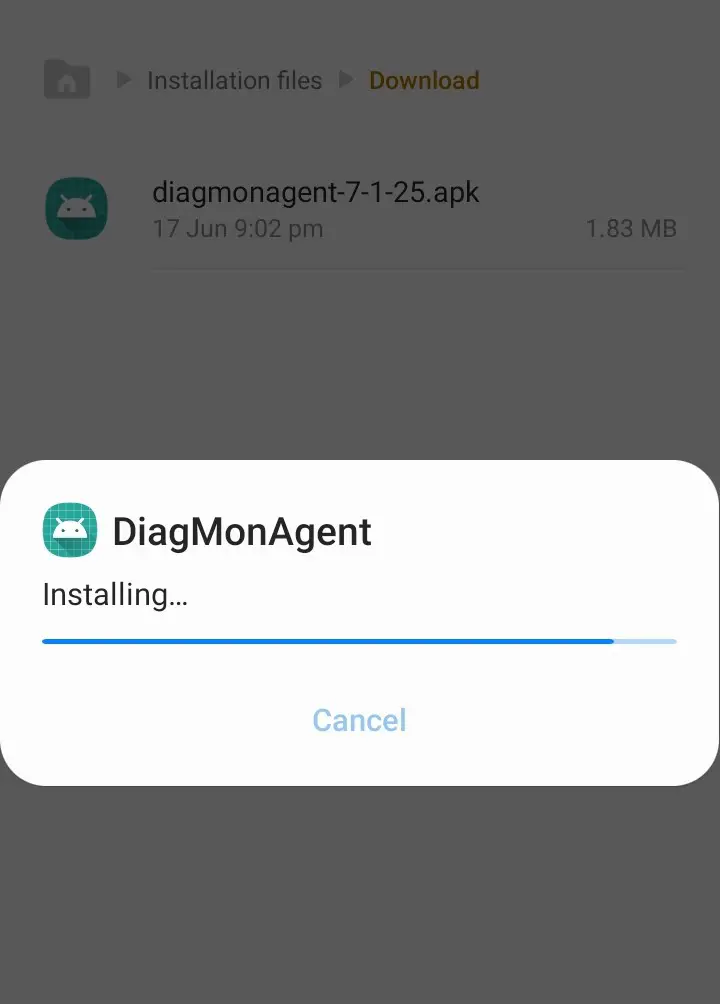 Usage:
You do not need to worry about the usage of this application. It is used by the system itself. when installed it will get access to your phone. It checks everything related to data, packages, malware, corrupt files, etc. this makes it a perfect antivirus package for a smartphone.
How to fix- Related problems and analysis
Problem 1: DiagMonAgent has stopped
    We will be analyzing this error and find a solution for that. It is making the effect more on the minds of peoples and less on the devices. The problem becomes more tedious because it makes a pop-up all the time when the phone is in use.
    Well, no one knows the perfect reason for the app failure. It may happen during software updates that can make a crucial change in the phone. This will create an effect on the installed applications also.
SOLUTION: 
The solution is simple
Go to the settings on your Samsung phone
Go to the Apps settings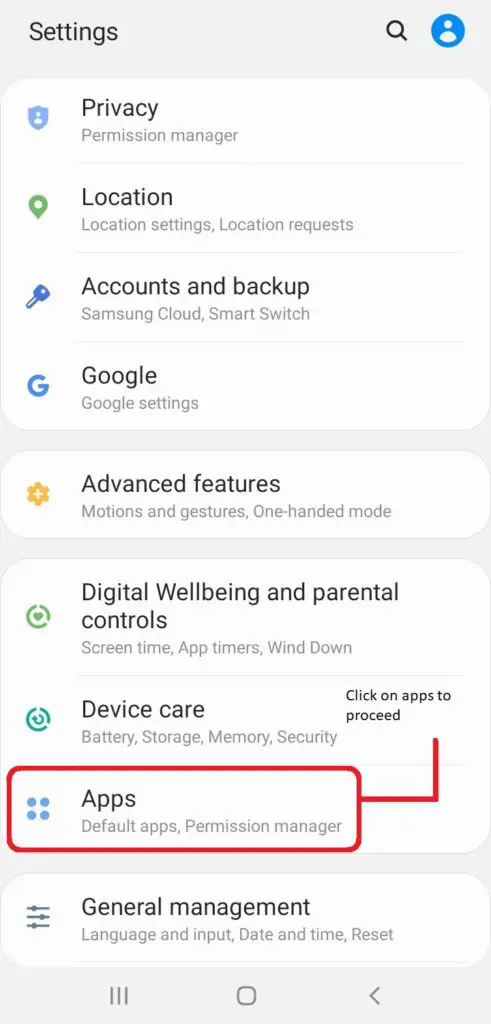 There click on the three dots in the right-left corner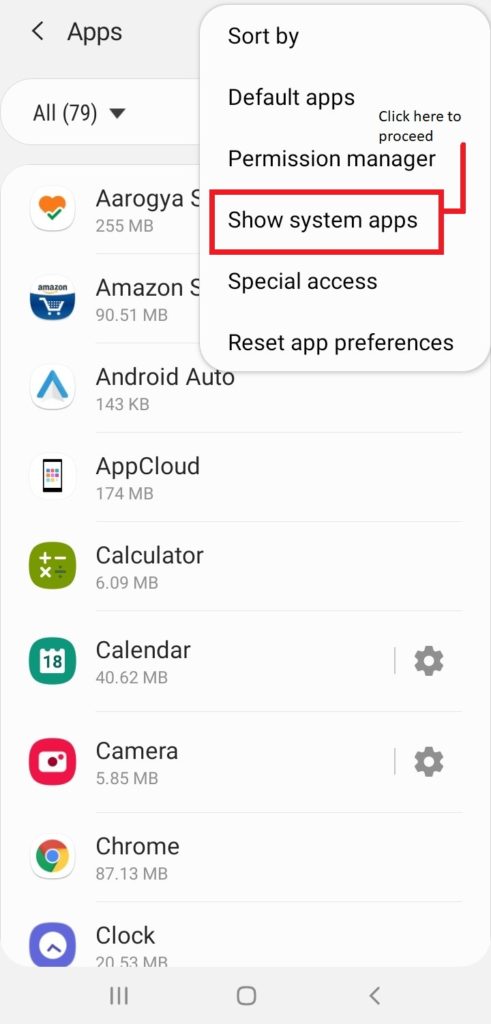 Click on Show system apps and find DiagMonAgent.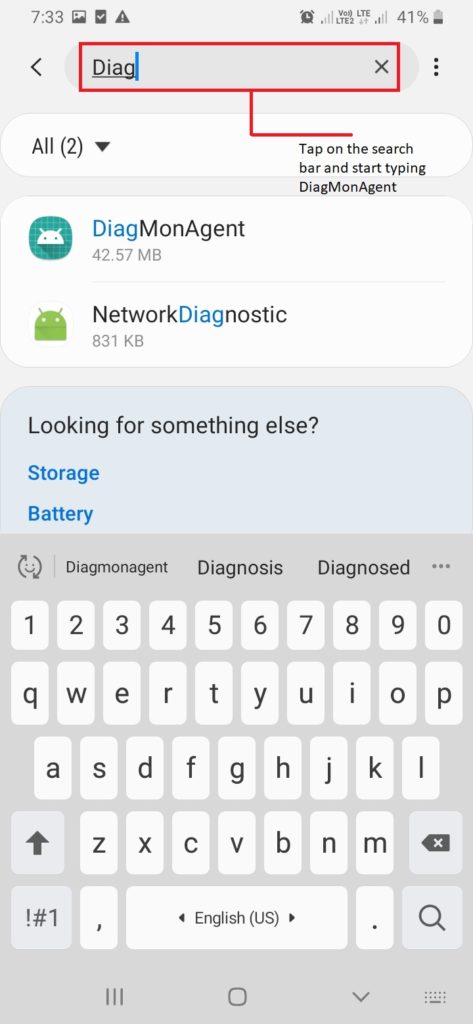 Then click on the app, scroll down and force stop it.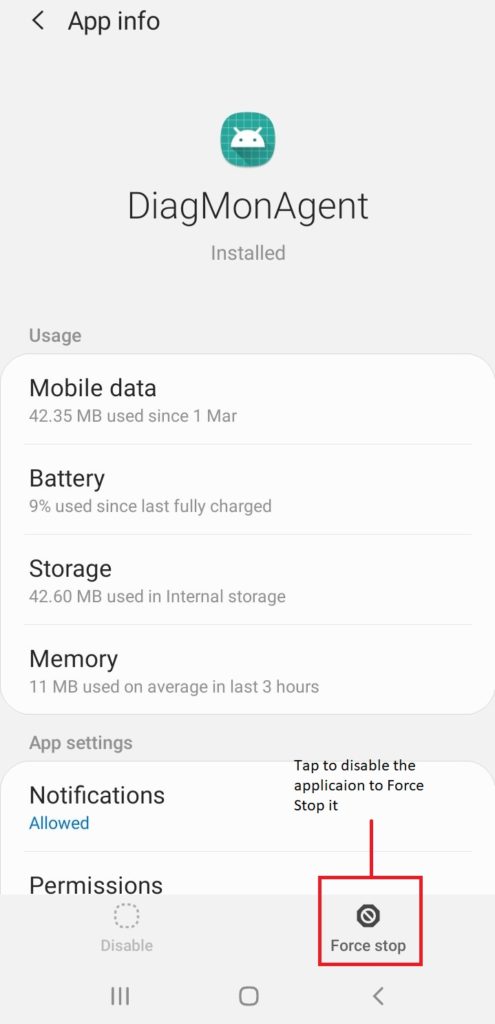 Clearing all the data will remove all the data it has collected since it was installed on the phone. But, it will do a positive response to that app working.
If still, the problem persists then:
Follow the same process above till step 4. Then follow any of one these two:
 And then find the option Disable. Click on it, your job is done. The app is stopped from performing any further process. When you disable any application means you partially remove it and restrict it to perform further actions. In some phones, this option is not available.
Just side of Disable option there is a Force Stop option. It would obstacle the ongoing process of that respective app.
Problem 2: A lot of notifications that fill up the status bar
The status bar and notification panel are filled up with the notices send-up by DiagMonAgent. You had tried everything, from stopping it to clearing the data. The easiest way is to make a factory reset of your device. But you need to take some care before doing that:
Take back up of your contacts
Make the necessary file backup on the Google Drive
If needed copy your files on some external hard drive or any other device
Google account backup should always be considered in these cases
Short cut method
Go to settings
Then go to Backup and reset
In that tap on Factory Data and reset
Click on reset phone
Preferred method
Firstly, power off your device
Then press volume up, home and power button
Wait for some time
The phone will be in Android Recovery mode
You will have to navigate in the mode through volume buttons only. Use volume up to go up and use volume down to go down. Use the power button to select an option
Then go to the Factory Data Reset option and click on that
It will give a warning that once the process is ON it will not get reversed.
Click and wait for some time.
Frequently Asked Questions:
This app is pre-installed in Samsung phones so can it be uninstalled?
As it is pre-installed in the device, one can just disable or force stop that app. If you have installed it externally, then it can be permanently removed. For permanent removal, you need to root your device. That is risky for Android. Any mistake will lead to the misbehavior of other apps on your phone.
Does this app contain any viruses?
Well, it is a myth. It is not a virus rather it is made to diagnose problems of Samsung Galaxy phones.
What type of problems this app can solve?
This app scans the whole device. If it detects some issue, a notification bells up in the user's phone to repair it.
End of Line
    Ok digital natives, that all for this topic. We have gone through every aspect and understood in-depth for this topic. I hope that you have got to know how to use DiagMonAgent. Thorough research is needed for everything that is under the digital domain. I request you to do the same for the every software you use and the every gadget you handle. This app is none other than a software toolkit just like the Windows Diagnostic Centre. Functioning is the same only the name is different.
    Recent build-up reports say that such apps will be in great demand and will replace a lot of human effort to diagnose system-related issues. I still recommend you to use your phone carefully. Do not get addicted to it. Tech is simply developing every second but don't you think that humans are only behind the development. We should not forget that our base is mother Earth. Some contribution towards the planet is a must. The one who is reading this is agile enough to understand the last three lines after reading the whole article.