How to Remove a Bloatware?
When we buy a new laptop or smartphone, it comes with pre-installed applications. These pre-installed applications are called bloatware. It's not necessary that these applications will always be helpful for us. Some of them are only taking up space of your hard disk drive, nothing more. So, How to Remove a Bloatware? Here we are providing complete Bloatware Removal Methods from Windows as well as android both with/without third-party.
These software applications use valuable resources and slow down the system. Bloatware for software bloat doesn't necessarily mean that it is pre-installed. The software can be recognized as bloatware if it is not widely used but still consuming a lot of potential resources. Eating up your Ram and not giving space to other applications. They also tend to drain the battery a lot faster. So let's try to understand what this bloatware is and how they are installed in the system. How to identify this bloatware if you have any in your system. Also, we'll see how to remove bloatware from your system.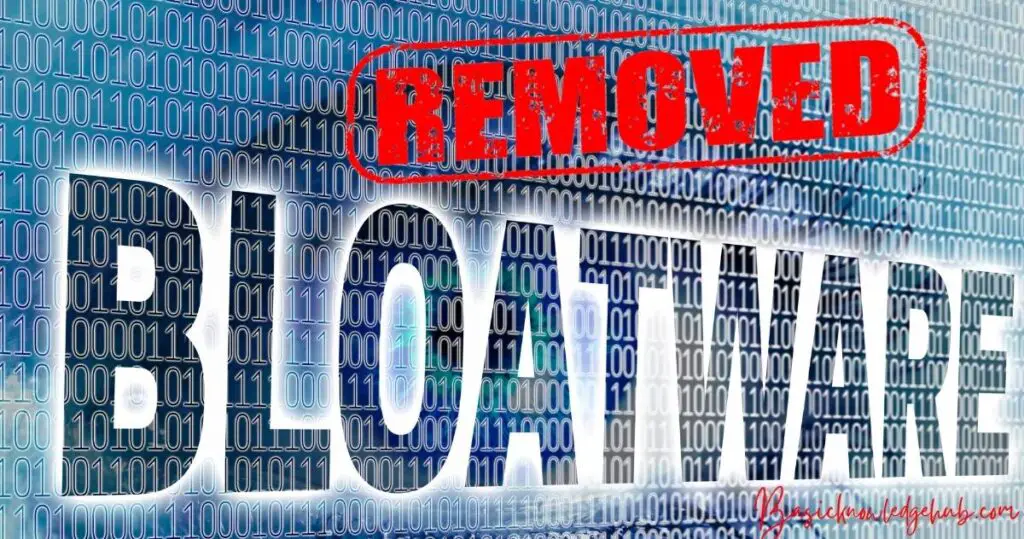 How and why these bloatware are installed in the system?
         In this competitive market of Technology, you can't earn money just by selling the hardware devices. You have to think more than that to earn a good chunk of money. Third-party applications pay PC or laptop makers and Android manufacturers to include their applications in the device or system. This will focus on the extra profit.
For example, if a shopping giant wants to increase his business, he will launch his application and make it available to the user. To do this, he will pay a smartphone manufacturer to include his app as a default application. He will pay the manufacturer to make that happen, and as a user, you will get to know about the app, and you will use it. The app will generate income for that shopping giant because you are using it to buy groceries and goods. If you are a Xiaomi mobile user, you will notice that there are pre-installed apps on your mobile phone, like Opera browser.
Now you must be wondering why this Opera browser app is on my mobile phone? You already have Google services installed on your system because Google develops Android. With Google services, you are getting the Google Chrome web browser; still, the Opera browser is there. What is the reason behind it? The reason can be Opera browser has a partnership with Xiaomi mobile company, or he is paying exclusively and explicitly to Xiaomi to feature his app in the mobile.
           Here the rejoicing thing is you can uninstall the Opera web browser and other such applications that are pre-installed in your Android but not all of them. Let's take an example of Google play music or Google duo. Some of you might be using these applications, but the majority of users don't use them, at least not regularly or more often. Some of you might be considering uninstalling them, but you can't. What Google is trying to do here is he is forcing you to use his applications and services so that it can generate more revenue.
           Such apps use your valuable resources in the background and make your device slower over time. When you buy a new PC and install Windows, it gives you programs that you do not explicitly install. Windows 10 also comes in with preloaded applications that are not always useful for the user. Again, the motive behind these programs is only profit.
List of some Bloatware
Not every bloatware is harmful, but you can't fully trust them, and why we are saying that, we will tell you later in this article. But first, we will see the various methods and software applications that will identify and remove such bloatware. They are not like malware but sometimes, with a third-party application or visiting a malicious website may auto-download these bloatwares which poses a threat to your security. Sometimes they hide behind other apps, running in the background but not showing in the feed.
Bloatware can be distinguished into three types:
Trialware
Utilities
Adware 
Trialware: 
You must be aware of this bloatware if you have bought a Windows PC at least once in your lifetime. Your Windows comes in with pre-installed proprietary software. This software gives you their service free of cost for a specific amount of time. This time can differ from 30 days to 6 months. After the trial period is over, you will get a notification every time you turn your pc on or try to open that particular application. This is called trialware. These can be annoying after the trial period is over as they pop up their notification of license purchasing here and there from time to time.
Utilities:
PCs also come up with various utilities from manufacturers and third parties. For example, the calculator is a utility that helps you in mathematical calculation. It is a useful utility, so it is not bloatware. However, sometimes you will find such utilities lurking around in your system without permission for no reason. They don't provide great functionality or can be found online to use on the go. So the useless or the utilities you use less can be troublesome for your computer.
Adware:
This type of bloatware is the most straightforward to delete. This doesn't come pre-installed in your PC. This type of bloatware comes from internet download or hides behind other applications like video players/editors or game centers. This doesn't include into virus type of category. They are not harmful but annoying. You don't want to see ads everywhere whenever you open your pc and web browser.
How to Remove Bloatware from Windows?
 Bloatware comes under the performance degrading factors list of a system. They should not be in the system. Their existence alone is threatening for the efficiency of the performance. There are different ways to remove them. We will see each of them one by one.
 Method 1: Without Third-Party Application Software
             The first and foremost way to get rid of those bloatware is to uninstall them manually at the user end by a user. This can be achieved by identifying the bloatware first. The apps you don't use more often or don't find any use for your day-to-day work come under this category. 
Just go to the control panel.

Navigate to programs and features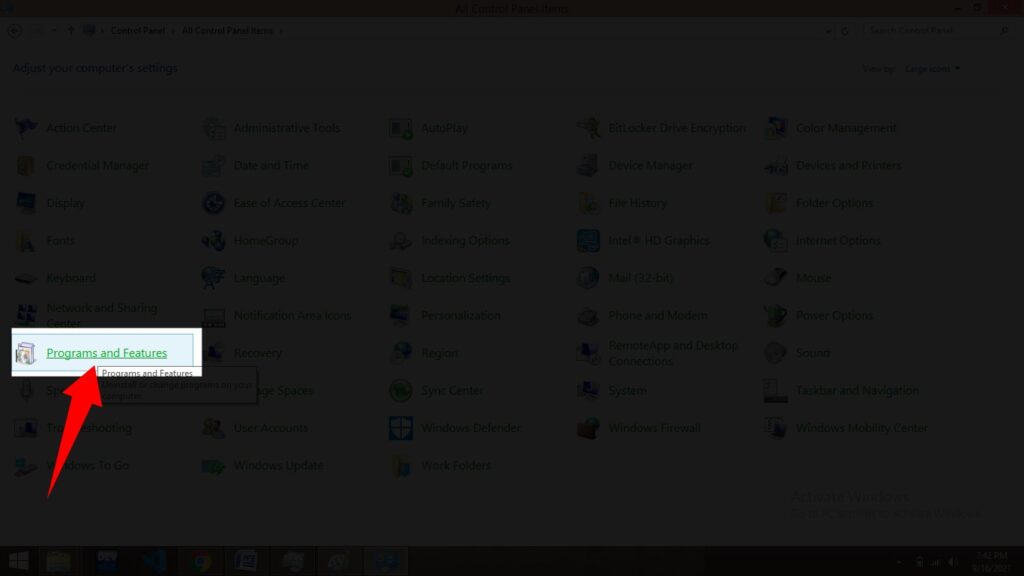 You will see a list of installed programs on your computer system. Just choose the ones you see aren't fit.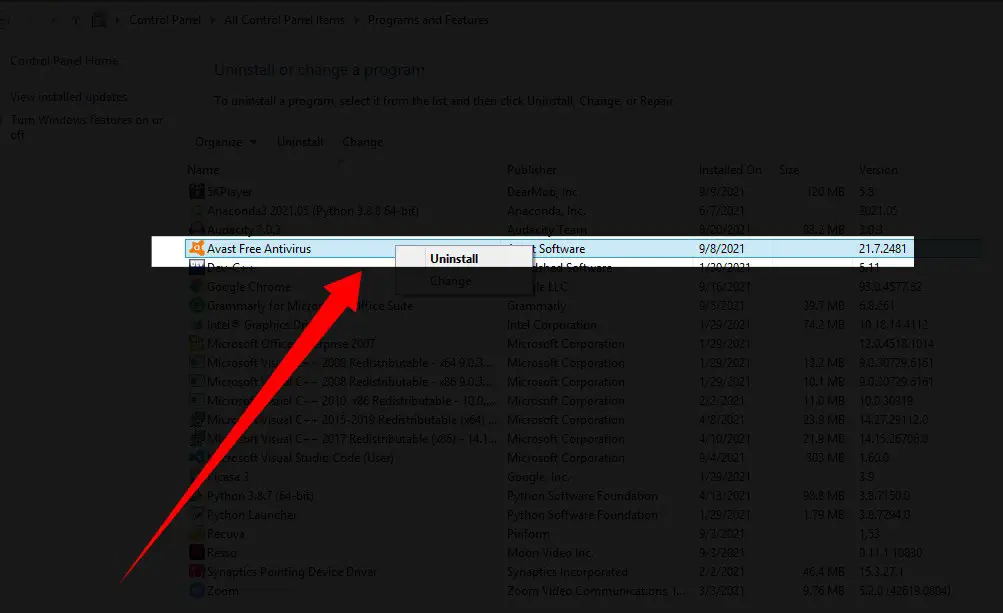 Click on it and uninstall. Just watch out for the programs that are important to you. Just be careful what you are uninstalling. There is a high chance of misunderstanding, and you might end up removing a useful program, so just be extra careful.
Method 2: Use Third-Party Application
           You can take the help of a third-party application to get the work done. The application will help you detect the bloatware programs and uninstall them.
Numerous applications used to kill bloatware from PCs are open source and can be downloaded for free from the internet. Some famous applications are PC Decrapifier, Should I Remove It?, and Slim Computer. The problem with utilizing these applications is that they do not give a specific resolution to your problem. It means they are not 100% reliable. Sometimes they don't also follow the typical search, locate and uninstall procedure to remove trash applications. So keep that in mind.
Method 3: Install Good Antivirus Software
           How to remove bloatware using antivirus? Antivirus software also provides the facility where you can detect and uninstall the unwanted applications which are consuming your resources. They also keep adware and malware checks and within their limit. You can easily identify which software applications are posing a threat by being useless yet resource-hungry applications. It is good practice to have a good antivirus and scan your PC once in a month for any malware, Trojans, viruses, and malicious web-visiting. Kaspersky Antivirus security solution is a better choice when it's come to antivirus software. Norton and BitDefender are also good options.
Method 4: Signature PC
           It should be the safest, cleanest, and easiest way to avoid bloatware problems. Windows has released bloatware-free computers in the past. They are called Signature PC's. The only disadvantage of buying a signature pc is they are not cost-efficient. You have to pay more compared to a general PC of the same specification. But you won't face the problem of bloating of computer due to unwanted applications. Lenovo has promised that its Windows 10 computers will be liberated from bloatware.
How to Remove Bloatware from Android?
           Android mobiles and tablets also come in with such bloatware. Here you get no choice of any third-party application to help you uninstall. You have to identify and uninstall it all by yourself. But the task is relatively easy compared to windows. You can find the apps in the app drawer for useless, space-consuming apps and just uninstall once you locate them. Some system apps which you don't want to use anymore or just don't want them on your mobile phone. However, you won't be able to do anything except force stop. Just go to settings, find the applications which are not uninstallable but burdening on your phone. Click on the app; in the options, click on force stop. If you want to uninstall, then you might consider the rooting option. But it comes with a cost, and the cost is losing your mobile guarantee.
Conclusion:
         Nobody wants to buy anything which comes with useless things attached to it. This also holds true for your PC and smartphone. Unwanted applications are always hideous when it comes to system efficiency or customizing your system. The thing is, either way, you just don't want them in your system anymore. But getting off of them might be a hideous task as well.
So, beware of such applications. While surfing over the internet, keep an eye for malicious pages; they might get you into trouble without noticing you. Also, choose your manufacturer wisely and consider buying a signature PC if you have extra cash and seriously want a bloatware-free computer. In this how-to-remove bloatware article, we gave you some tips to successfully satisfy your needs. We hope you liked it. For more such tips and information, keep visiting. If any queries or questions, please feel free to post in the comment section.