However, some various applications and services will consume this battery more or less than other apps. Some android mobiles, particularly Samsung, have complained or noted that gsiff_daemon is at the top when it comes to battery usage by application. So today we are going to see about what is this and how it is affecting the battery.
When our battery drains much faster than it should normally, you should check your phone settings. When you go to battery settings, there you can see which app is consuming what percentage of your battery. There you will find various systems and third-party applications with battery usage. On top of the list, you will find this gsiff_daemon application consuming most of the battery. Either this or the android system which again consists of the above service.  Users who complain about the battery draining issue will most probably encounter this problem. So what is this gsiff_daemon? Is it a virus or malware? Will it harm your mobile or steal your personal data? It is a system-generated application? We would see answers to these entire questions in this article.
When it comes to buying android, a lot of features are taken into consideration. Many will look for its processor capability. Considering the trends on social media getting more and more popular each day, some will look for the camera and the storage space it has to offer. Guys who are interested in gaming will go for the processor and RAM of the mobile. But the feature that will be thinking of by everyone is the battery power of the mobile. We all want a powerful battery that will keep our mobile phone powered for a longer period of time.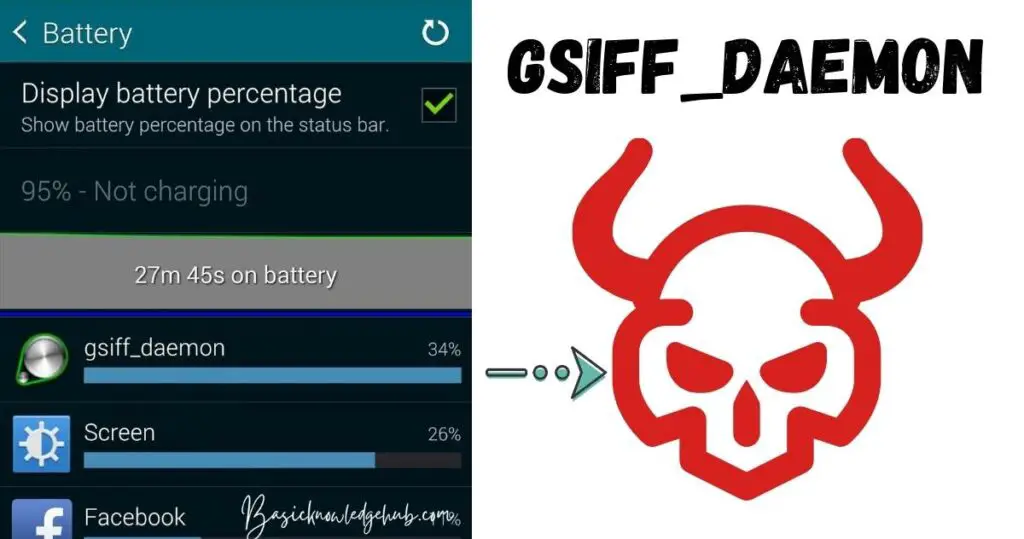 What is gsiff_daemon?
gsiff_daemon is related to the gyroscope. It is a GP Sensor that is not utilized properly. It is a useless process but remains on for the most part. As it is a part of the system, it can't be turned off completely or shut down forever. Many users have seen the draining of the battery. When they look for battery usage, this service always tops the list of the android system. This process draining system can be caused by hot booting the android.
How to stop gsiff_daemon?
We are providing two different method to do this:
Method 1: Rename File Name
            The perfect solution for this particular service draining your battery is to make some changes in your root folder. But to do these changes, you must have root access to your mobile. Once you rooted your mobile, download any file explorer like ES file explorer. Then open file manager, navigate to the system folder. Open the system folder and look for the bin folder inside it. In this folder, you will find the "gsiff____daemon" file. Rename this file to "gsiff____daemon.bak". Reboot your mobile and done. You will no longer see this service on top of your list of battery usage anymore.
Method 2: Rebooting of android
As we have said, it can be an effect of hot rebooting of android. Hot rebooting is done when you booting the mobile normally and completely may solve the problem.
Frequently Asked Questions:
What is Hot Reboot?
Ans: When the system only restarts the graphical User Interface (GUI) on reboot is called a Hot reboot.
Q: What is the difference between a hot reboot and a normal reboot?
Ans: Hot reboot is performed when you want to restart only UI files/services. It takes less time to reboot. A normal reboot will get started at the system loader gets loaded first at BIOS starts first. Then the operating system gets loaded. Hence, it takes more time to restart.
Conclusion:
There are some services and applications that we don't use generally but are there to help us if we needed. We as normal users don't need such functionality in many scenarios. But these applications running in the background make our mobile resources consumed and hold them sometimes. One such activity is gsiff_daemon which consumes the battery. There is not much on the internet related to t but we tried our best to give some information about it. Also, the possible way to get rid of such a power-consuming service is shown. We hope you like the article. Feel free to post queries in the comment section.