How to cancel subscriptions on iPhone?
The unwanted subscriptions you have on your iPhone might not seem like a big deal for some months, but they are going to cost you a lot over a long period. So you might just want to know How to cancel subscriptions on iPhone and save some money. Sometimes you just subscribe to some apps just by clicking some okay button to access their services, those bills are also added to your billings. So there is a way which could help you in reducing those bills.
One-stop solution ( How to cancel subscriptions on iPhone)
One of the most appreciable things about the iPhone is that they have all these subscriptions lined up in one place. We can just monitor and control all of them from one place. Some subscriptions we may or may not cancel from the settings, in that case, we need to go to the official websites to get it done. This is generally like a one-stop shopping kind of a thing. This place is buried inside the settings icon, so we need to find it and manage our subscriptions. All iTunes and App store subscriptions are available there, we can see the action as well as the past or expired subscriptions also. All we got to do is know their status and change them if we want to.
Let us learn How to cancel subscriptions on iPhone.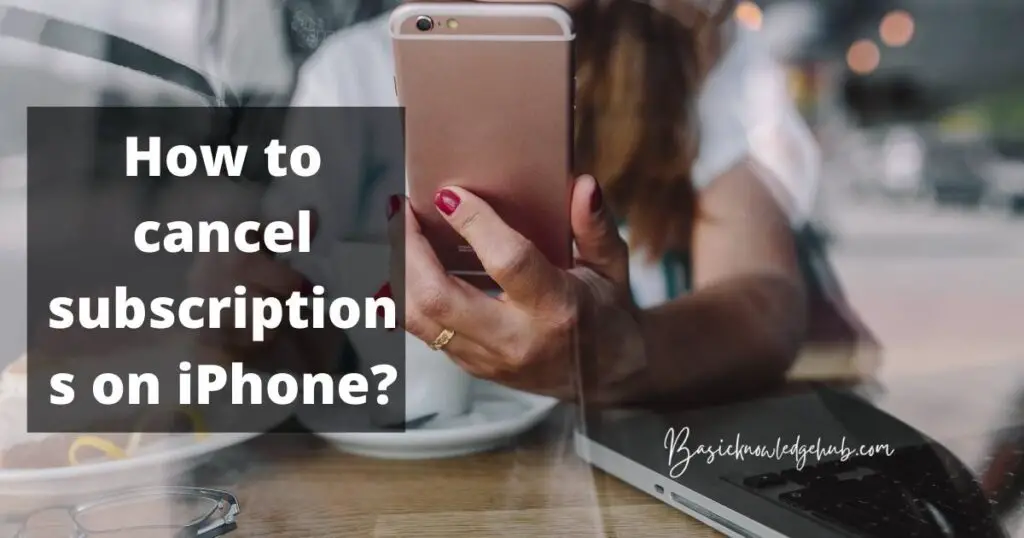 Opening the Subscriptions
All you need to do is some taps on the phone as I am going to mention below to know all the subscriptions that you are being billed for. There might be some unwanted subscriptions which you have to take unknowingly also.
Go to the settings and tap on "iTunes and App store."
You can find your Apple ID at the top.
Verify yourself by using a password or touch or face ID to log into your Apple account.
After logging in, tap on the "subscriptions."
Managing the Subscriptions
There are generally two types of subscriptions. One is active and the other is expired.
The active ones are the current subscriptions you are currently being billed for. These active subscriptions also include free trial subscriptions.
The expired ones include the subscriptions to which you have unsubscribed in the past.
We can review the details about our subscriptions on this page. Tap on the subscription to know more about it, if you want to cancel, tap cancel and confirm your choice.
If you are in the middle of a free trial, when you click on it, you will see a message saying "cancel Free Trial."
Billing Consequences ( How to cancel subscriptions on iPhone )
There is still a chance of billing if you have canceled your subscription in the middle of the current billing period. For example, if you are canceling the subscription on 10 June but the subscription is renewed on the first of every month, then probably you will be paying the bill for that month also.
Read Also: Hidden apps on iPhone
Resubscribing for a canceled subscription
If you want to resubscribe for something you have canceled, you can just visit the subscriptions by following the above method. In the expired subscriptions, you can find those canceled ones. Tap on the ones you want to resubscribe to and reactivate your service. That subscription will then reflect in your active ones.
So these methods you can follow to stop getting those unwanted reoccurring bills every month. There is a case where some subscriptions you cannot cancel from your subscriptions button in the settings, in that case, all you need to do is visit their app or website to know your status and make a call about canceling the subscription.