How to remove duplicate files from windows 10?
Have you ever encountered a situation where files you found are duplicate files? It happens with many of us. These Duplicate files decrease the memory and increase the chance of issues. If we see any duplicate audio and video file we can identify them. But for system files or the files which get copied from version to version of the software are hard to find. They also make space for nothing. So how to remove duplicate files from windows 10 is also an issue. There are many software and tools available to do this task. We will mention here some of them which are best in the business. Read the full list to know everything about these tools. Without further ado, let's get started.
How to remove duplicate files from windows 10?
          Before going further, let's discuss the possible reasons for the duplication of files in Windows 10. Some programs install their own support and copy files from version to version. This isn't necessary and they do match in terms of functionality and contents.  There may be a scenario where two different programs share the same file. Change in the file may result in a breakdown of two programs at the same time. So modern programs tend to own their separate copy of the same file so that changes occurred in the file don't affect the unintended files.
            Windows also does the copying of files for the sake of security. Suppose malware or software does a change in a crucial windows file then what will happen? There will be a massive failure in all OS operations. So if there is a duplicate file for the corrupted file then windows can restore itself to its previous working state with the help of the duplicate file. If you have updated windows from older to newer versions then also it may create new copies for the same processes and tasks. So previously created files may not be required for longer. In this scenario also you should take care of the duplicate files. Your deletion of duplicate files without knowing fully may land you in some serious trouble. You should know the full consequences of the actions you are about to perform because that can't be undone once done.
Once a wrong file is deleted there are two scenarios:
Best case scenario is only programs will get affected by the wrong file deletion.
Worst case scenario is you won't be able to boot your operating system anymore and you are doomed. So always think twice before deleting a duplicate file. Now you must be wondering how to identify and delete these files in this large file system of your computer. So there are various tools to identify and delete duplicate files.
CCleaner:
            It is such famous software that many operating systems come in with preloaded CCleaner. It is paid software with a trial version and a completely free version. The free version doesn't provide the pro feature but for this post, the required functionality is provided. This is all that matters, the free version will be enough for this problem. First, download and install the program.
Step 1:  Open the CCleaner. There will be a tools option in the left side vertical menu. Click on it.
Step 2: Select the duplicate finder (as shown in the image).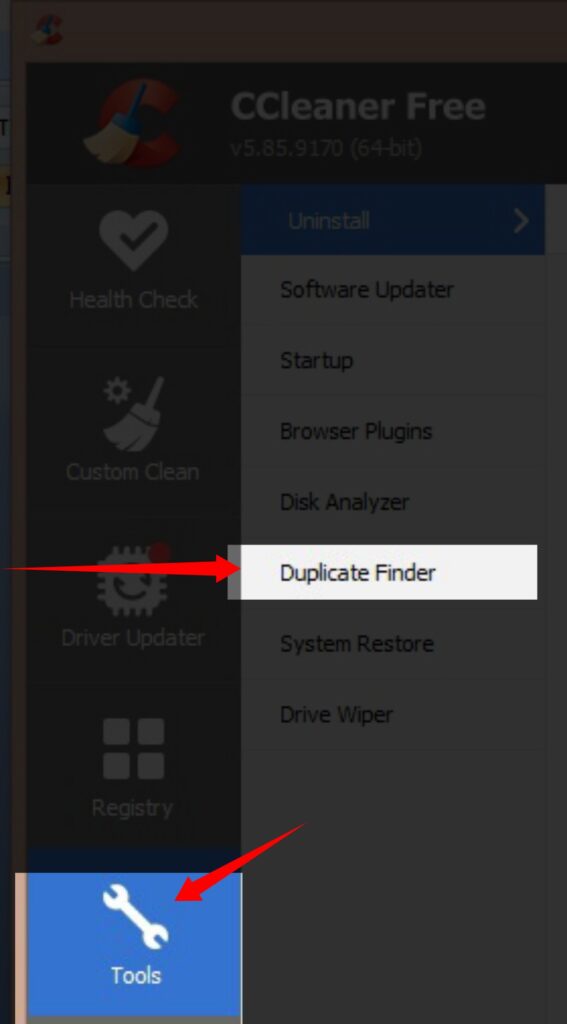 Step 3:  Now the new option will be presented to you. As shown in the image, select the drive you want to scan for duplicate files. Also, there are much more options to select from for your convenience, so that you can select according to your need and want.
Step 4: Now start the scan by clicking on the search button.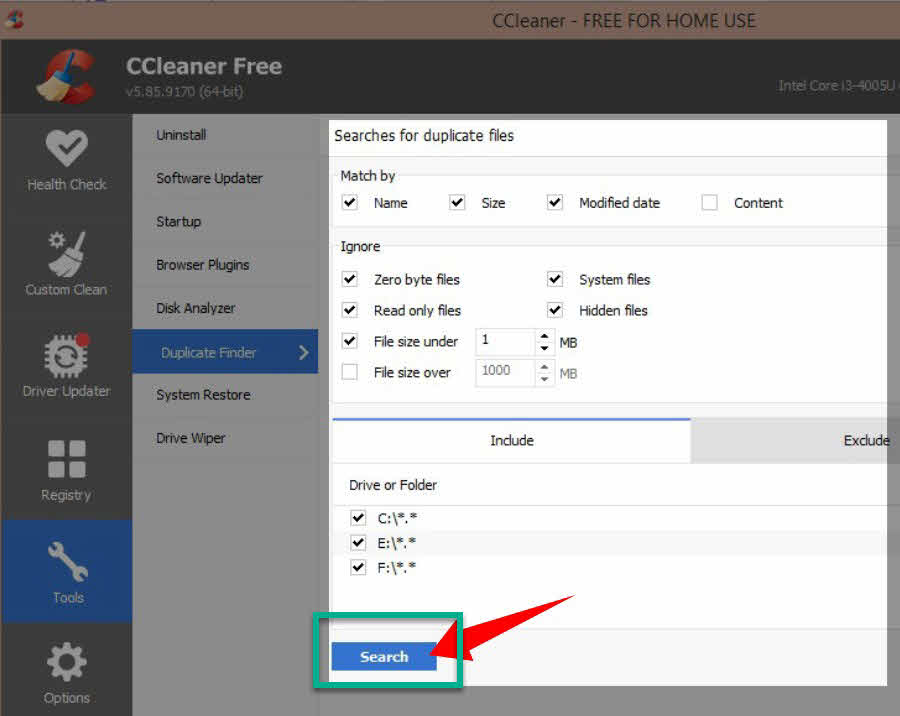 Step 5: It will take some time based on the size of the drive. Be very careful with what you are going to do next. After it is done its scanning, select the files you want to delete.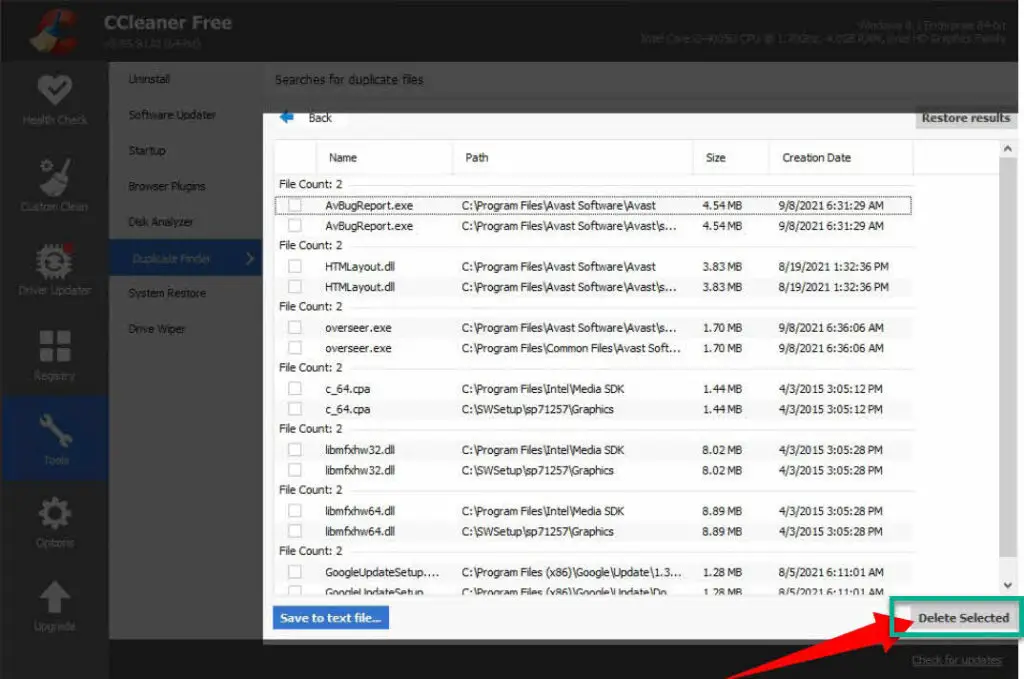 AllDup:
            Free yet powerful duplicate file finder and remover. It has one of the best algorithm designs to search for duplicate files on your PC. The speed for scanning files is relatively fast and can be performed on various types of files including audio and pictures. Its algorithm is capable enough to find out duplicates based on the combination of their name, date, file type, and file size which makes it so powerful. It is supported by all the versions of Windows. Also for increased safety, it doesn't permanently delete the files and folders. It just simply moves them to recycle bin.
Fast duplicate file finder:
            This is excellent software when it comes to removing similar files.  It also searches for duplicated files on the basis of the file name, file type, size, and date. It also lets you preview the images, audio, videos, and other text-based documents. The files we want to remove can be permanently deleted or placed into a different folder for future use or if any mishappening. This fast duplicate file finder is compatible with windows 7/8/10.
Clone spy:
            Clone is the best choice for finding and deleting duplicate files if you are looking in the network drives. This software has one of the best algorithm designs for searching redundant files across multiple devices, ranging from local hard drives to USB plugged mobiles.
SearchMyFiles:
            Search my file is a freeware utility to search and delete duplicate files. It is a standard alternative for windows "search for files and folders" functionality. The user interface is a little bit messy but it will do as it is super easy for handling. It is a very lightweight application compared to other applications listed. You can also single or multiple folders for duplicate files. It also lets you group and order them according to your needs and also abe to separate duplicate files.
Conclusion:
            Here we have discussed one of the most common problems found in Windows 10. We hope you liked the content provided for How to remove duplicate files from windows 10. CCleaner is the best open-source application out there to do this task. Always remember to think before deleting the duplicate files found on your computer. It's a good practice to scan your computer once in a while for duplicate files, especially after an update or file transfer from PC to PC or Mobile to PC. Thank you!