iPhone touch screen not working- How to fix it in 1 min?
One of the ultimate USPs of the iPhone is its body, Known for there exceptional exterior quality. The most important part is its touch screen, so it is useless if that does not work, which is failing to respond to touch. Then, how to fix the iPhone touch screen not working issue?
This might be a problem you want to solve as soon as possible. This problem might occur due to two reasons, one is due to a hardware issue and the other is due to a software problem. If it is a hardware one try visiting an apple customer service near you to get it fixed or replaced. If the unresponsiveness is due to some sort of software problem let us try some simple fixes to get it solved.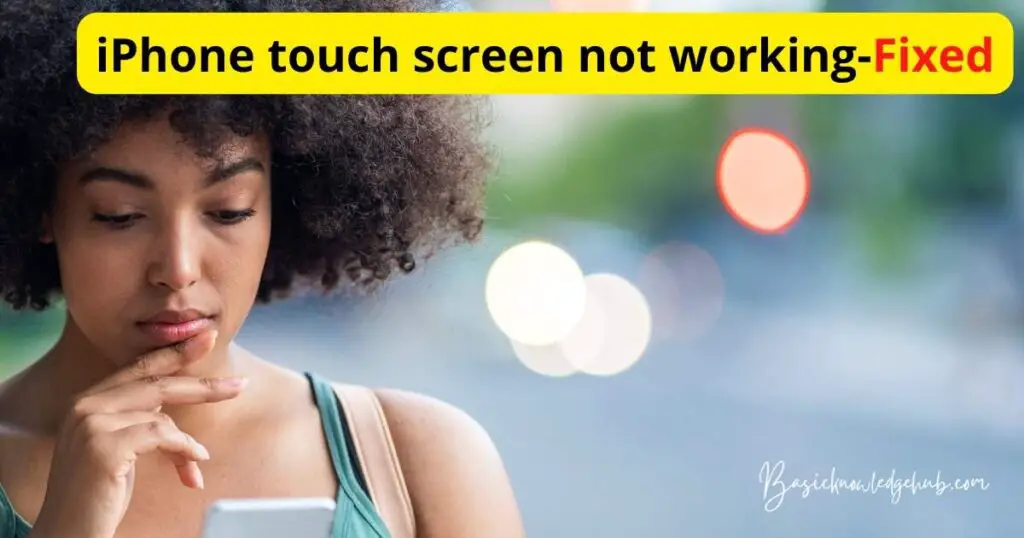 1. Force your iPhone to start
The first method is to force your iPhone to restart. Turn it off for a few minutes, and then power it on again. This might resolve some minor glitches in the system software, which can restore the touch on your iPhone. Since your touch is not working, you cannot power it off by going to the settings. So try to do it by long pressing the combination of power and volume buttons. If you are unsure about how to get those combinations, google about it based on the iPhone model you are using.
2. Cleaning and drying the screen
The display screens we are using for our mobile phones generally work on the touch screen technology. These are made of multiple layers of glass, plastic, and conductor materials. So when these conducting materials are in contact with another such component like our bare finger they form a complete circuit resulting in a touch event. That means one of the reasons for the touch screen not working properly is that circuit is not being formed when a finger is placed on it. This could be due to wet hands or some dirt on the phone screen, so try to clean and dry the phone's screen
3. Removing the screen guard
In some cases, the screen guard might cause this problem due to its thickness, making it hard to complete the circuit. Try removing the screen guard and use it or find a thin screen protector.
4. Using an external software without having to lose personal data
By using external software like Tenorshare reboot to update the software without losing your already installed apps and personal data.
To do this, we might have to follow some steps
step-1: Go to the Tenorshare ReiBoot browser and there will be a list of problems that can be solved with a software update.
step-2: To solve the frozen screen problem, download the application on your computer. Open the application and click on the fix now button. It will show some options to let you select the model of your iPhone.
step-3: After selecting the model of your iPhone, connect it to your computer with a USB cable and force your phone to restart, this lets your phone connect to the app. Once you get your iPhone into recovery mode click on the fix now.
step-4: The application will suggest the newest version of software suitable for your mobile. You can download the software either by directly downloading it from the app or by placing the link in the browser. Place the software in the browser and click on the repair now button to get started with repairing.
This might take a few minutes and after that, you are good to go. This entire process takes up about half an hour, so be patient. And this may fix the iPhone touch screen not working issue.
5. Factory reset
This might be the last option you want to try, Since doing this might delete your personal data from your iPhone. Factory reset will reset your mobile by deleting all the data, software updates, and installed apps that you have until now since you have bought the phone. If your personal data is saved up on the cloud that might not be a problem, since you can do the backup.
Instructions to get your mobile to factory reset iPhone
Get the latest version of iTunes downloaded on your computer
Connect your mobile to the computer and get it on recovery mode.
Once the iPhone is in recovery mode, a pop-up appears on your iTunes app.
Click on the restore and restore and update button in continuous succession.
This will start downloading the latest firmware for your iPhone, after completing the downloading process, long press the restore iPhone button by selecting the firmware. This process takes a few minutes to complete, wait patiently.
After completing the restoring process, your iPhone will restart and the problem will be fixed.
6. Apple customer support
Even after trying the above-mentioned fixes if your screen is still not working, there could be a problem with your system hardware. Try contacting Apple customer support to get the issue of the iPhone touch screen not working.
Hope your issue gets fixed by using one of the fixes mentioned above.