Mac Fails to Start up after macOS Update
As overwhelming as it gets when you notice a software update on your Mac, not you but almost everyone expects something different is coming up or to be more generic on the update idea, it can be said that users expect that bugs or issues will be fixed. However, after updating to the latest macOS, some of the users start seeing a white/black screen of death, a prohibitory symbol, or other scenarios that a Mac fails to start up.
Some users report that their MacBooks and other Macs will not start after macOS update from macOS Mojave, High Sierra, or older macOS Sierra. Your MacBook frozen and can't normally boot up. Although Apple is trying to bring changes and solve the issues in Mac, it hurts the users' experience to a great extent.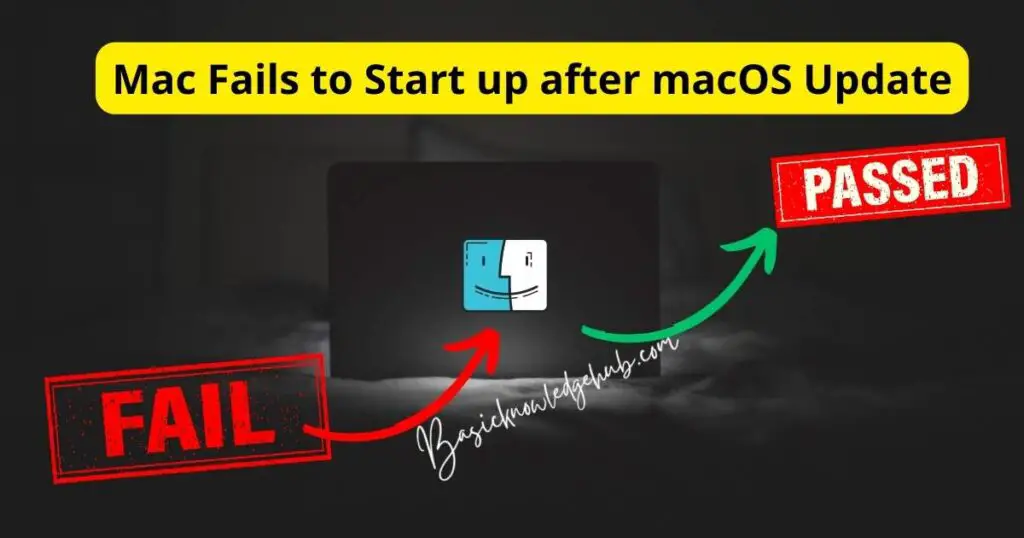 Mac Won't Turn on? 
If your Mac doesn't turn on, without doing anything that you are not sure about, at first you can try the following steps:
Connections
Check the connection between Macs and the cords. Are the power cord and the adapter have a reliable connection to your computer?
Sometimes it's the outlet that's misbehaving. You can verify that by plugging the outlet into something else and testing it.
If everything mentioned above is available, try another power cable or adapter and see if the cable causes the problem.
For MacBook, verify that you are using the correct power adapter that matches your laptop. Also, don't forget to check the information guide that comes with your MacBook charge.
Disconnect all connected peripherals, including the Apple mouse or external keyboard, and try turning your Mac on this time.
Reboot
You are suggested to press the power button and keep the hold for 10 seconds to see if the MacBook Air/Pro starts up.
If you are a MacBook owner, try to disconnect or even remove the battery (if it's removable), then plug in the charger again and see if it boots up as usual.
For removable battery Mac devices: remove the battery, press and hold power for 5 seconds, reinstall the battery, and power up to test.
For non-removable battery Mac devices: Navigate to the Apple Menu by clicking the Apple logo at the upper-left corner> click on the option Shut Down. Once the Mac shuts down, click on these 3 keys, shift + control + option located on the left side of your keyboard, then press and hold the power button while holding the 3 keys above. Keep the hold for 10 seconds before releasing all keys simultaneously. 
Display 
You can verify if the whole bootup failure is a display issue by disconnecting the external display (if there is) and pressing the power button. If you hear any sounds like a startup chime or see any LED indicators that show your Mac is running smoothly, the problem is likely to be your display.
If you are a MacBook owner, when turning on the MacBook, press the trackpad to see if it clicks, if so, then there is likely to be a display problem.
Software
If you newly upgraded your Mac's RAM, remove the new modules and replace them back with the actual ones if required, and try if the Mac starts up. 
Reset your Mac's SMC (System Management Controller) to have a fresh start.
If all the above methods do you no good, it's advised to contact Apple Support or a certified Apple Repair Center for better help. The logic board or other internal hardware might need fixing. 
Here is another option that you can follow. That is to start pressing and holding the power button for a few seconds until your computer turns off, then release the power button. After that, try rebooting the Mac. Now disconnect all USB and other devices, but not the Apple keyboard and mouse.
While you are doing the above-mentioned steps, don't ignore removing any third-party hardware upgrades too, like any non-Apple RAM and PCI cards. Once removed, attempt restarting your Mac.
If this process fixes the Mac won't boot issue, you may reconnect one device at a time to verify if there's any misbehaving device that places your Mac in danger to avoid future mistakes. 
iBoysoft Data Recovery to rescue your data
If you don't contain any backup while the failed macOS update prevents your Mac from booting up, you can get free iBoysoft Data Recovery for Mac and use it to get files off a Mac that fails to turn on normally. Among the various data recovery software available for Mac, the iBoysoft data recovery application is the best owing to its easy functionalities and reasonable price. Therefore, everyone can use it thoroughly.