Passwords protect your device and make it impossible for anyone to access it. Nowadays, passwords are required in all important apps as well as to secure your device. Passwords are of any type, including PIN and Password. It can happen that we forget our password, and it makes it difficult to access certain things. Even if your screen lock is forgotten, it will still be difficult to access your MAC.
You don't need to panic, as there are several ways you can reset your Forgot MAC Password in such situations. You can also write down your passwords in the future if they are difficult to remember. Let's learn more about how to reset passwords. To ensure that your password is secure, you should always create a strong password.
How to Reset forgot MAC Password
There are two ways to reset your Forgot MAC Password. You can either use recovery mode on MAC, or another account. Below is a detailed description of each method.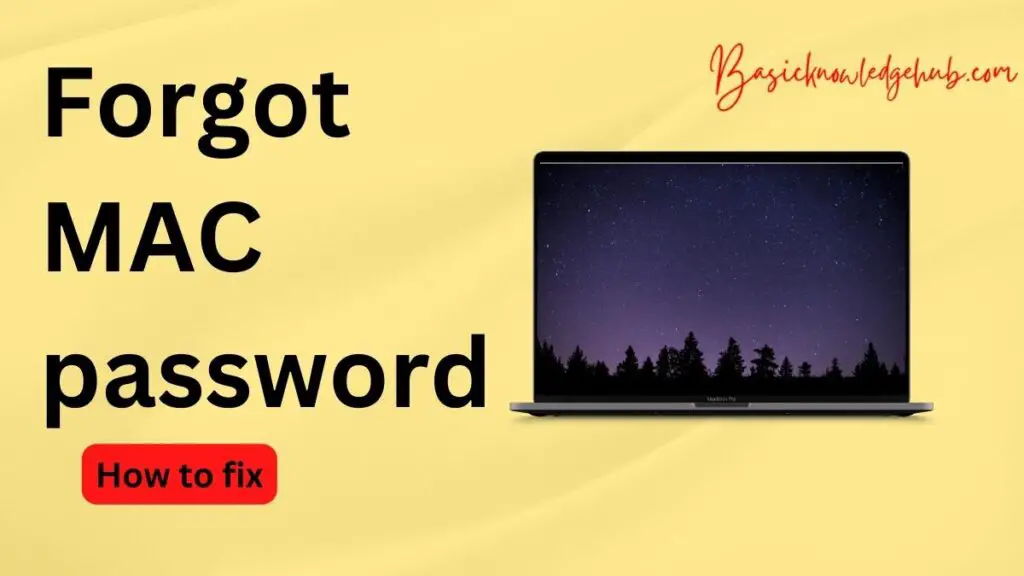 Using the Recovery Mode on MAC
Follow these steps if your Mac is Intel-based.
Your computer should be turned off.
Continue holding down the power button and R commands.
Next, wait for your screen to reopen and then reboot to recovery mode.
If the M1 MAC is used, the process may be modified.
Shut down your computer.
Continue pressing and holding down the power button.
Click on "Options" and then click on "Continue".
Follow these steps to reset your MAC's password using recovery mode.
Access utilities by going to the Apple menu.
Select Terminal from there.
Enter "reset password", then click on Return.
Navigate to your hard drive and choose your user account.
Forgot MAC password is not to be changed. However, you can create a hint question and click on save. You are now ready to change your password after restarting the MAC.
Reset your password with Apple ID.
You can also reset the password using your login window. Click on the question mark next to the password.
Select "Forgot Password?" and you will be able to reset your computer with Apple ID.
Use your Apple ID to reset the settings by clicking on the arrow icon.
Enter your Apple Id password and click Next.
You can reset your password using the instructions above. I hope you find the above instructions helpful and that you are able to reset your password easily.
Change password for another account
Here are some steps to follow:
Log in to an existing user account.
Click on System preferences > Users > Lock icon.
To unlock your account's password, type it here.
Select your account and click on 'Reset Password.
If you have forgotten your password, please create a hint.
After that logout
Enter your new credentials once more on the lock screen.
Store passwords using Secrets
Secrets is a strong password manager. You can use it to look up your password and make it a central reference. You can use industry-standard PGP encryption to ensure that no files from your device are ever revealed.
Steps to Install Secrets
Set app can install it.
Continue reading the Setup Guide.
Click on the plus symbol next to the search box and enter your information.
Is it safe to use Safari-generated passwords?
Safari-generated passwords can be accessed by anyone who has access to your computer. Safari cannot save your newly generated password. For your safety and convenience, you can save your iPhone iCloud password. Always customize your password to make it strong and difficult for anyone to guess. You should avoid saving passwords for sensitive websites that have auto-fill or are saved.
I need to recover my admin account from my MAC
Follow the steps below:
First, turn on single-user mode to reboot your MAC.
You can then restart your computer by holding down the command key and the S key, to open a Terminal Command prompt.
The file system will be in writable modes.
Now create the account.
Here's how to get your administrator account back on Mac. I hope you find the information useful and that it will help you to create your admin account.
How to get into locked MacBooks?
A simple procedure can allow you to unlock your locked MacBook. Turn on the power button on your MacBook. If the Mac is not already turned on, turn it on and restart the Mac. Next, press the command + R keys together. Once the computer starts up, you'll see an Apple logo. This will launch your Mac pro in Recovery mode.
If the MAC doesn't accept your passcode
Sometimes, even though the password is correct, the Mac won't accept it. If this happens, do not panic. Restart your Mac, and press the command +P + R Keys together. Release it after about 20 seconds. Your Mac will reboot and you will be able to enter the password again. You can close the computer and restart it again in an hour. Sometimes this method works.
MacBook Air M1 locked
Sometimes the password to your Mac account is forgotten. These are the steps to follow:
Select Apple menu > Shut Down.
Press and hold the power button down until you see loading start.
Click the options button and then click on Continue.
Select Toolbar > Utilities>
After that, enter "reset password" with no spaces.
Click on Return Key.
Then follow the prompts, and remember your New Password.
How can you factory reset your MacBook before you sell it?
If you want to sell your MacBook Pro, you must erase all content. This is the only way that everything can be erased. You don't have the need to erase each item one by one.
Open System Preferences for your MAC
Click System Preferences in The Menu Bar. After that, delete all contents and settings.
Follow the prompts to wipe your Mac.
It will completely wipe your Mac, just as iOS.
Then, you can delete your content and give it to anyone.
How can I create an Apple ID on Mac
An apple id allows you to access the iTunes Store, App Store, iCloud and other services. It is composed of your email address. You can create an Apple Id using your existing email id.
Follow these steps:
Open your MAC, and select the Apple menu.
Then, click System preferences and finally Sign in.
Now, create an Apple Id. Follow the instructions on your screen.
You will be able create an Apple ID by following these steps.
Conclusion
We have addressed the issue of password forgetting in this article. This issue can be easily solved by using a variety of other methods. You will learn how to reset Forgot MAC password after reading the entire article. If you forget your password, there are several options available. You don't need to panic. Follow the steps carefully and your password will be reset in just a matter of minutes. I hope you find this article useful.
FAQs
How can I change my MAC Password?
To open Users & Groups in System Preferences click at the bottom. For unlocking, enter your password.
Click on the 'Change Password' button.
A dialog box opens. In it, you will need to mention your old password. Next, enter your new password.
Follow these steps to easily change your password. You can then log in with a brand new password.
Tips for creating password-protected MACs.
The following steps are required to create a strong password.
You should choose a password of at least 8 characters, and it should include different types.
Use complex combinations of words that are easily guessed.
Passwords must have lowercase and uppercase letters as well as special characters.
You can also use suggested passwords by MAC.
I hope that you find it useful and easy.
How do I disable automatic password filling?
Follow these below mentioned steps to prevent the iPhone from automatically suggesting/generating passwords:
Go to the Settings section of your iPhone.
Then, click on Passwords.
Click on AutoFill Passwords.
The Autofill Passwords can be turned off/disabled.
The auto-filling passwords for your account will become invalid and will not suggest any passwords. In just a few simple steps you can do it.