Turned off by administrator encryption policy or credential storage
In the article, we will read about a security topic. What do you think about which security topic we are going to read, then? Let us give a small introduction to today's topic: Turned off by administrator encryption policy or credential storage. As if you want to keep your mobile secure. You make a pattern or password in your mobile phone, whose pattern knows you only, and when you want to open it, you can open it. Any other person can not open.
We are going to read about such a topic. We will learn all head points. What are administrator encryption policies and credential storage? Its need. What does it do? Everything for this topic, we will learn on this single page.
What problems occur in administrator encryption policy? How can you enable or disable it? And how do we remove credential storage from our device? These questions are a part of administration policy. Before using it, we have to learn about its features and all.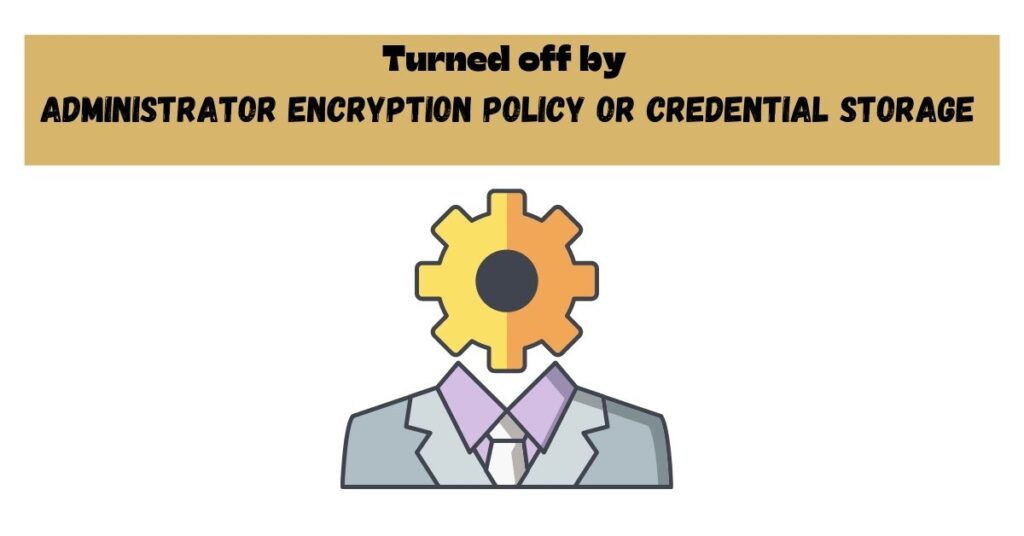 What is credential storage or administrator encryption policy issue?
It is a problem that occurs when there is something insecure in your android operating system. Screen lock is included in this issue because it uses third-party access and leaves the user voluntary.
How can I fix turned off by administrator encryption policy or credential storage
It can happen that some of you do not know about it. But many Android users face problems with their screen lock. They will face an alert for the administrator, encryption policy, or credential storage.
Let's move forward and fix the problems. We are here to tell you about some methods. that can help you to solve your issues in administrator encryption policy. You will be successful in changing your screen lock to the swipe option.
Solution 1: Check your phone and disabled unnecessary apps
Open setting of your device.
Look at the security option.
Open the device administration option on your device.
You will get a list of apps under the device administration option. These are administrator privileges access apps.
There you will see a checkmark for each app. Tick on all apps which you want to disable.
In the end, you will get a button to deactivate the app, which you are disabling. Click on the deactivate button.
Your selected apps will disable.
Solution 2:Clear credential storage from the setting of your phone
Open setting again.
Go to advanced or security settings.
You will get a credential storage option. Open it.
Tap on clear credential storage from your device.
After completing the steps, you can change your screen lock.
Why is your lock screen not enabled by the administrator?
  It is a problem that occurs on your android devices. The reason for this event is storage encrypted by the user. They put the encryption policy in place of it. By following the given instructions, your problem will be solved.
Let's discuss the methods to solve this problem.
Just disable all non-essential administration.
Remove all your device credentials.
Decrypt storage of your device.
Do not miss:
How can you remove credential storage?
To remove your credential storage, some tips are available here. Just do the practice of those instructions step by step.
Open the control panel on your system.
Go user account.
Tap on the credential manager on your system.
Select the windows credential option.
Look at the credential option.
Then tap to remove from the vault.
How can I unlock my credential storage password?
If you want to unlock your credential storage password, then you have to update your android version. It should be at least a 4.3 android version. Then you need to set a password to unlock your device.
Steps – 
Open the settings of your android phone.
Open location and security option.
Go to credential storage.
Set a password.
It will unlock Your credential storage password.
How can you disable the lock of your device administrator?
It seems very easy to disable administrator lock by given instructions.
Instructions –
Open the phone setting and go to security.
You will get a "device administrator" option. Tap on it. You will see a list that has administrator issues.
Click on the application whichever you need to delete. Click on the confirmation button.
You can go back to view all of your android apps. Check the app which you have disabled. Now you can control your app.
What do you understand about a screen lock service administrator?
It is a feature of device administrators and Google Play service applications. You will not succeed in disabling it. If you are trying to disable it, then it will not disable. Because it is a google play service app and it will again enable without your permission
What will happen if you clear your credential storage?
When any source is not trustable, and you want to remove them. If you remove all credentials, you will delete both types of certificates you have added and installed by your device.
How can you reset your VPN password?
Before moving to learn about the VPM password, let's understand what it is? 
So the full form of VPN is a virtual private network. It is a kind of extended private network which is similar to a public network. It allows its user to send and receive across a shared or public network.
Steps for find VPN password –
Login to any website.
Open the client area, where you will get a list of VPN passwords.
Tap on an account that you want to reset the password.
Tap on the reset link and reset your password.
What will you do if you clear untrusted credentials on your Android phone?
Suppose you do not trust any source or app. You want to remove that from your device. So it will delete both services, whichever you installed or added.
What do you understand about the encryption policy?
An encryption policy is a type of technology or method which is used to encrypt something.  Basically, an encryption policy is used to convert information into a secret code. It hides the true meaning of any information and shows a converter code. 
The method to encrypt and decrypt your information is called an encryption policy.
How do you unlock an administrator with a locked computer?
If your device is locked, press the given below short keys to unlock your administrator on your computer.
Ctrl + Alt + Del, then it will unlock your computer. 
Enter your account information to login your device and tap on the ok button.
Can you turn off your Samsung device administrator?
Yes, you can. Just follow the read the bullet points and do practically on your phone.
Bullet points –
Go to settings.
Open lock screen and security.
Go to another security option.
You will see a device administrator option.
You can turn it off now.
How can you find your device administration?
It is very simple with few steps to find device administration on your phone. 
Steps –
Open the security and privacy option under the settings of your device.
Look at the device administrator option and click on it.
You will see the list of applications that have the proper device administrator.
Screen lock security?
Screen lock security is a type of security feature, which includes pattern, password, or PIN. You can set anyone from these to secure your device.
But as you know that technology is regularly increasing. There is an advanced option also available on the latest devices. You can secure your phone or tablet using a fingerprint.
Can you remove the pattern lock without resetting it?
          Yes, if you forgot your pattern lock. Then you can remove it without resetting it. We have some options available to delete the pattern lock. We will check some of them.
Remove your screen pattern using a backup PIN.
Open android pattern lock
Draw 4-5 times wrong screen lock
It will give you an alert "try after 30 seconds."
Check to the bottom of your device to get a backup PIN option.
Click on it.
Type your backup PIN, then click on ok.
Remove screen patterns using your google account. It will help you when you don't know or forgot your device's password. Your device will be unlocked by using your google account.
Just you need to use your unlock pattern 4-5 times, then it will give you an alert(use after 30-40 minutes) when you use your unlock pattern the 6th time. 
Step 2: check on the bottom to "forgot pattern".
Step 3: Here, you need to use your Gmail account with the device. Then tap to the next button.
Step 4: it's completed now. You can create a new pattern lock or you can also generate a PIN to unlock your locked device.
Remove your mobile screen lock using the android device manager.
How do you remove your lock screen password?
Yes, you can remove the pattern lock without resetting your device. Just go through with these given instructions.
Open setting of your device.
Draw your screen lock.
Click on the disabled passcode and draw the screen lock again to make confirmation.
By the way, enabling the screen lock is best for making your device secure. So you should not disable the security lock from your device. 
If you have another reason due to which you want to disable your device then you can disable that through the given steps above.
Why do we use trusted credentials?
Trusted credentials are a type of application that allows you to access your mobile's encryption store. When you want to establish a VPN connection, it will be helpful for that.
Conclusion
Today's article was all about a security topic. We understand many technical points on turned off by administrator encryption policy or credential storage issues. We had a discussion on encryption and decryption. It may happen that before reading this whole content, you did not know about device administration. Some of you may not know about credential storage on your device.
We have covered all required points and instructions to solve the issue only in this document. Now you can remove your pattern lock using the above instructions. And do not worry. You wanted to unlock your administrator on your locked pc. We have found a short key for this and shared it with you also.