IMS Service: Unfortunately, IMS Service has stopped
Hello and welcome back to basic knowledge hub's new blog on IMS Service. Basicknowledgehub deals with the latest tech news and updates related to Android, iOS, and more. So today our topic is to discuss everything about the IMS Service. There are chances that you have a Samsung handset, hence you have reached this blog to know about the IMS service. It is also probable that the error "Unfortunately, IMS Service has stopped" has been annoying you for a long. This error, if encountered, is really aggravating as it keeps popping up every 30 seconds on your screen. That makes you unable to do any other tasks with your phone. You definitely want to get rid of this, so don't worry – basicknowledgehub has got your back. The "everything" in the discussion about IMS service includes what is IMS service, its purpose, and most importantly at the end, we are going to discuss how to fix the error "Unfortunately, IMS Service has stopped". So, let's get started.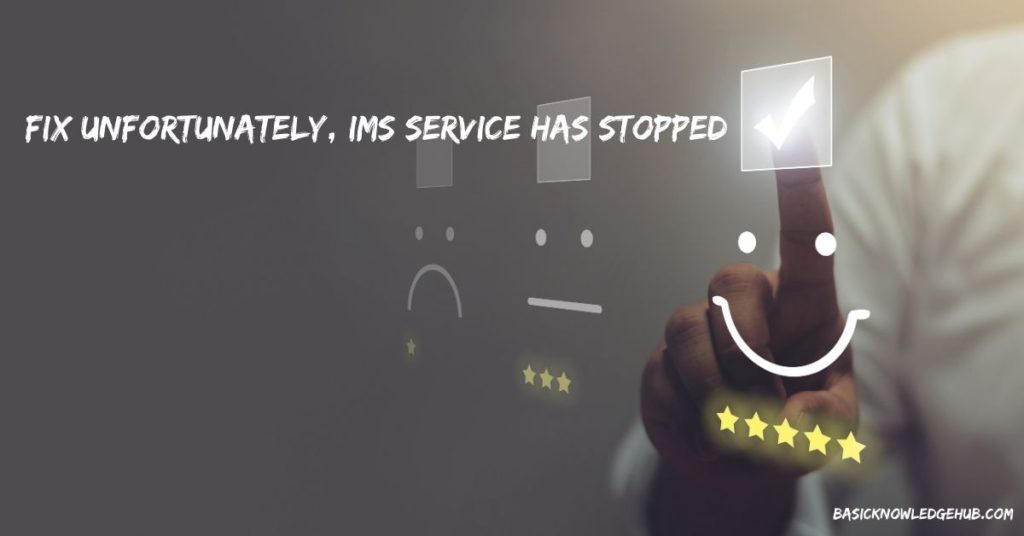 What is IMS Service?
To begin with, let's know what is IMS. So IMS stands for IP Multimedia Subsystem. The Samsung official community describes IMS to be a general-purpose open industry standard. IMS service serves for voice and multimedia communications over packet-based IP networks. Nowadays you are very familiar with kinds of stuff like VoLTE (Voice over LTE), Wi-Fi calling, VoIP, etc. IMS Service serves as the basic low-level foundation for such technologies. Some other technologies on the list are Push-To-Talk (PTT), Push-To-View, Video Calling, and so on.
It's reported that the IMS service has permission to record calls. So if you come across any warning that says that IMS service is accessing Phone or media, do not panic.
The IMS Service Error
This is the part that we will be giving the most important in this article. So you are getting the error popping up in your device every 30 seconds or so and your device is numb. Not only that, calls and multimedia services are also crashing. These are some basic scenarios when the IMS Service stops or throws some error. You're at the right place to solve this, though. Read along as we slowly unveil the cause of this error and then the ways of fixing it.
Cause of the Error
As you can guess, there can be multiple causes of this error. Let's have a look at some of them, so that you get a clear picture of why you encountered such an error.
Apps not updated: Some of your apps, when outdated, turn incompatible with the services. In other words, they are unable to perform at their designated efficiency. They throw a lot of errors. Also, updates bring some or many patches and bug fixes. An outdated application may contain a bug that is the root cause of the error. In such a situation, the apps cannot function smoothly and throw an error message.
Corrupt cache: Every application uses some cache memory to store some files. This is done to load stuffs faster when you open the app for the second time. However, many times the cache becomes corrupt. This causes a popping up of error when the app is opened and it crashes. A corrupt cache may be the cause of the IMS service error in your phone.
Default messaging app: Since the IMS service has to do with multimedia and messaging services, the error may be caused when the configuration settings of your phone interfere with some elements of your network provider and location. This causes the messaging app to behave improperly, and hence may be one of the causes of the IMS service error.
Some third-party applications: If you use a third-party application for messaging, maybe it is the one solely responsible for the error. However, this situation is not very likely. You can check if or not this is the case, by switching to the default messaging app or changing the third-party messaging app. Also, updating the third-party messaging app you're using can work.
How to fix the error – "Unfortunately, IMS Service has stopped"
We have already looked at some of the probable causes of LG IMS Keeps Stopping. Every cause of error requires a different tactic to handle it. If you want to stop the following error: "Unfortunately, IMS Service has stopped", here are some of the steps that you can follow.
Method 1: Boot your device in Safe Mode
Make sure you check out the article on Android safe mode. Safe mode basically boots your device in a mode where all the apps are frozen. Only the system apps are available for use. Hence, it's a lot easier to find out the cause of the error if it's caused by some third-party application. So if this is the case, booting it in safe mode is the fixing method as you can't do it in the normal mode. Follow these steps to do it:
Long press the power button of your device to make the "Power Off" prompt appear.
Then, press the "Power Off" option for a long time until the "Boot to safe mode?" option appears. To that, click OK. That's your objective, booting your device into safe mode.
After your device is booted up in safe mode, it's now time to investigate. All the third-party applications would be frozen, and you'll have usage access to only the system apps. You can easily investigate if some app was causing the error.
After you find the culprit app, uninstall it from your device.
Then, restart your phone (just long-press the power button > click on restart or reboot). Your phone will now be restarted into normal mode and you won't get the error anymore.
Method 2: Download Software updates, if available
If your OS is not running at the latest version, there may be compatibility issues that are causing this error. Keeping updates pending is a bad habit because new updates bring major bug fixes and patches. So, check for software updates on your phone. Follow the steps to do the same.
Proceed over the Settings of your smartphone. Then, scroll down and click on "About phone".
Locate Software Updates. Then, click on Check for Updates.
In case any update is available for download, you get the download option. Click on the Download Now option to do the same.
After it's downloaded, a confirmation message would appear to restart your device. Click Yes to restart, so that your phone boots up the next time with the updated OS.
If backdated OS was what was causing the error due to compatibility issues, then cheers; your problem is solved.
Method 3: Clear data and cache of Messaging app
Clearing the data and cache of the messaging app is important because the IMS service is linked to the messaging app. The IMS Service error may be caused due to corrupt cache of the messaging app. Follow these steps to clear the data and cache:
Go to Settings of your device.
Go to Apps, click it, and find Messaging app in the list.
Click on the Messaging app. Then, go to the Storage option that contains all information about the storage that the app consumes.
Locate the Clear cache option and click it. This clears the cache memory of the messaging app.
Click on Clear Data and confirm your action.
Finally, restart your phone to see if the IMS service error is fixed.
Method 4: Check for app updates
If you are using some third-party messaging service, make sure it is updated. Not only that though, sometimes a few un-updated apps conflict with the OS. They are solely responsible for other service to crash. Similarly, this may be the cause of the malfunction of the IMS service.
Open the Google Play Store on your device.
Tap on the Menu button (three horizontal bars at the top left of the screen). From there, go to the "My Apps & Games" section.
Click on "Updates". Then, click Refresh to refresh.
Tap on the Update All option. Since you are unaware about which app is specifically causing the error, updating all apps is the only option. If you are on mobile data having a small data cap, consider connecting to Wi-Fi before updating as the process is data-consuming.
After all your apps get updated, restart your device and check if the problem is fixed.
Method 5: Perform a Factory Data Reset
If the above four methods are not helping you to fix the IMS Service error, performing a factory reset is the only option. Go to Settings > Backup & Data > Factory Data Reset. The path may not be exactly the same, but the ultimate destination is Factory data reset. However, since resetting would delete all the data of your phone, you should take a backup of the important data before doing this.
Conclusion
Here we come to the end of this article. So we discussed in detail, everything about the IMS service. We started off by covering what is IMS service, as we gradually came to know that it's an industry standard service for voice and multimedia communications. Later, we focussed on various causes of the error "Unfortunately, IMS Service has stopped." Finally, we conclude by discussing 5 methods that help you to fix the IMS Service error. If you have some different observations, let us know by commenting below.