Perfectly Uninstall Bixby by Different Methods
In this article, we will be discussing how to perfectly uninstall Bixby by different methods, the voice assistant application by Samsung, and various methods to disable it from our devices. We will also be addressing some common concerns about Bixby and providing the right answers to those.
Chatbots and voice assistants are the new helpers for us. Progress in Natural Language Processing and Machine Learning have improved the quality of automatic interactors in a tremendous amount.
Still, there is a long way for the technology to go before introducing fully functional voice assistants and chatbots. The technical world is continuously working on the same and we have many examples of improvement recently.
Like Amazon's Alexa and Google's Google Assistant, Samsung also has its own voice assistant application. But, it is a widely disliked feature by many users due to various reasons.
What is Bixby?
Bixby is the intelligence assistant of Samsung. It was first launched on the Galaxy S8 and S8+ devices. it is programmed to carry out many functions on your phone. There are five major features of Bixby.
Bixby Voice: It is the voice assistant which can be activated by calling it or long-pressing the Bixby Button. If you want to use Bixby Voice, you need to have a proper internet connection and you must be signed in to your Samsung Account. Through this feature, you can control the activities of your device.
Bixby Vision: It is an Augmented Reality camera that can help you find images, shop, translate text, read QR codes, recognize landmarks and so much more.
Bixby Home: It is a widget list of gadgets that Bixby can interact with. For example, weather, fitness activity, etc…
Bixby Routines: It is a feature backed up by Machine Learning that can identify our routines using locations, time, activity, etc… It can then provide notifications reminding habitual or regular actions. 
Bixby Reminders: This feature is used for creating reminders. You need to give it a specific task for which you are to be reminded later like to check a text or visit a website, etc….
What happens if Bixby is uninstalled?
To answer the question, nothing happens. Bixby is not a necessary feature in your Samsung device. It actually hasn't caught that much attention as Amazon Alexa or Google Assistant. The reason for this is that Amazon Alexa can be integrated into various home appliances and devices in addition to smartphones. Also, Google Assistant is one of the most efficient voice assistant technologies that its popularity is skyrocketing. You can perfectly uninstall Bixby by different methods.
In this situation, every functionality of Bixby can be fulfilled by Amazon Alexa or Google Assistant. Hence, there is no fixed necessity to have Bixby on your device.
How to perfectly uninstall Bixby by different methods
Here comes the sad reality. You cannot uninstall Bixby from your device completely! But you can disable it to the point where the Bixby button can be assigned to do other tasks.
We will take a look at this step by step. There are two basic methods that you can use to disable Bixby from your Android device if it is a new version. Some specific methods will also be discussed later in this article.
Method 1
Step 1: Long press on your android home screen.
Step 2: Scroll to the left until you find the Bixby home option (In the newer versions, it is Samsung Daily/Free in the new versions).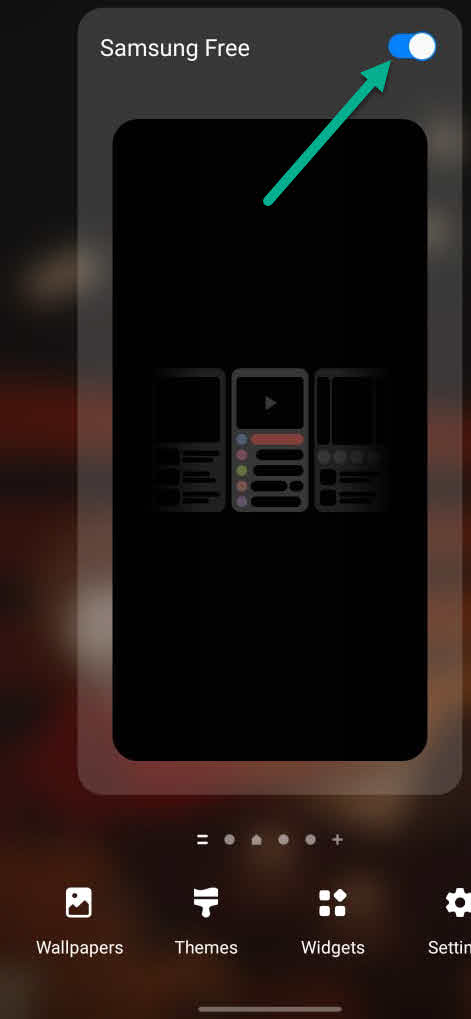 Step 3: When you find it, disable it by toggling the option.
Method 2
Step 1: Go to your phone Apps and find Bixby.
Step 2: Tap on the three horizontal lines situated on the top-left side.
Step 3: Choose the settings icon.
Step 4: Then disable the Voice Wakeup, Use while phone locked, Bixby dictation, and Marketing notification.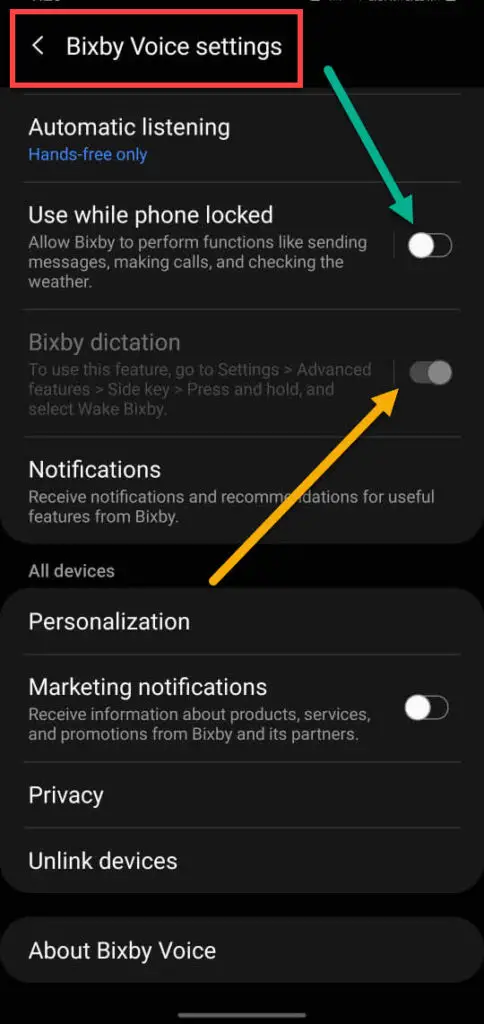 Your Bixby app can be fully uninstalled/disabled by this method.
Turn off Bixby on the Galaxy Note 10 and Galaxy S20
For Galaxy Note 10 and S20 users, the following steps can be used for disabling Bixby.
Step 1: Go to your system settings.
Step 2: Choose Advanced Features.
Step 3: Turn off Bixby Routines.
Step 4: Search for App info Bixby Voice from settings.
Step 5: Click on the settings icon and go to Bixby voice settings.
Step 6: Change automatic listening to Never.
Step 7: Turn off Wake With Hi, Bixby from the Voice Wake-Up.
Step 8: Also turn off Use while phone locked, Bixby dictation, and Marketing Notification.
Disable the Bixby button
Disabling the one press feature of Bixby is the next step in stopping Bixby from working on your phone if you can't disable it. Follow the given steps to relegate the Bixby button to the double press feature.
Step 1: Open your device settings.
Step 2: Click on Advanced Features.
Step 3: Choose the Side key option.
Step 3: Toggle on the Double press option.
Step 4: Choose the Power off menu in the press and hold section.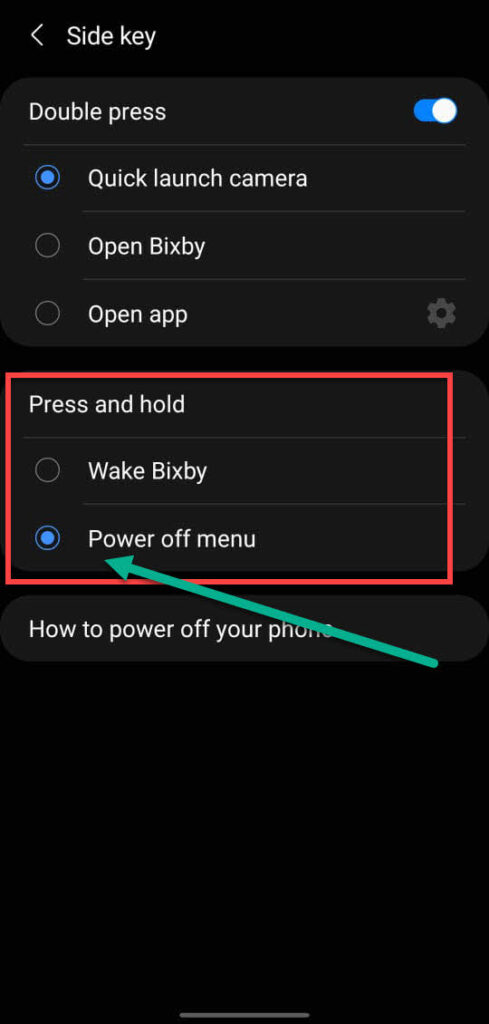 Disable Bixby on your Samsung TV
If shouting out commands and getting things done, then Bixby for TV is not your thing. It may be a little more difficult to find out how to disable Bixby on your Samsung TV. to turn off Bixby, follow the given steps:
Step 1: Click on the microphone button on your TV remote. It brings up the Explore Bixby page.
Step 2: Go to the Settings icon in the top right corner and click on it.
Step 3: Scroll down to find Voice Wake-Up option.
Step 4: Turn it off.
The voice command option is disabled for Bixby on your device. You can still access Bixby by pressing the microphone button in your remote for a few seconds.
Natively remap Bixby button
You can natively remap the Bixby button in Samsung Galaxy S8, S9, and S10 phones. By this process, you can use your Bixby button to open the app of your choice.
To remap the Bixby button to any desired app, follow the given steps:
Step 1: Open the Bixby Voice app.
Step 2: Click on the three vertical dots.
Step 3: Choose Settings.
Step 4: From there, go to the Bixby key option.
Step 5: Click on the option Double press to open Bixby.
Step 6: Under that, choose the Use a single press to open an app option.
Step 7: Choose the app that you wish to open from the list.
Now, if you single press the icon, you can get the selected app to open up, and if you double click, you can open Bixby.
Frequently Asked Questions
Here, we will discuss some common questions the users have on Bixby.
Is Bixby actually helpful?
Bixby is actually helpful in making our daily tasks easier as it is driven by Machine Learning technology and it watches all our actions to create the right schedule. But this can be a nuisance to people who hate prying eyes on their actions and unwanted notifications. For them, the other voice assistants do a much better job.
How can we remap Bixby to Google Assistant?
You cannot natively remap Bixby to Google Assistant. The alternate method involves the installation of an external application. The steps for doing that is as follows:
Download the Bixby Button Assistant Remapper app. It is available from XDA Developers.
Follow the same steps as remapping to any other device which is mentioned above.
During app selection, choose the Bixby Button Assistant Remapper app.
Click on the Bixby button and choose Google Assistant when the question is posed about choosing an assistant application.
Click the Always option.
Conclusion
Bixby is not a widely liked feature. There are many oppositions to the application regarding its functioning and user interface. We are not obliged to keep any application that is not useful or irritating to us on our devices. There is no way to perfectly uninstall Bixby by different methods.
Unlike Amazon Alexa or Google Assistant, the Bixby app failed to mark its point and is hence an unpopular choice. Disabling the app will not affect your device in any way. The major irritating factor about this service is that it triggers with the slightest touch and accidentally opens up interrupting anything that we do. Hence, the double press feature in the app icon can be really helpful in preventing this.
Bixby is also different when it comes to operation. Unlike other voice assistant services, this app does more job inside your device like changing settings, sending texts, etc… When Bixby came up first in Galaxy S8, the most common google search was "how to uninstall Bixby from Galaxy S8".
Even if the Bixby service is difficult to be completely uninstalled, we can definitely disable it to a better extent. Make sure that you follow the right steps and utilize the facility. Even though we cannot expect every technology to just vanish when people aren't happy about it, we can certainly believe that future changes will make Bixby better.