Google SMS Backup and Restore
Are you a new user on your smartphone? There is a great feature to create Google SMS backup and restore it on your phone or device.do you know about it? Do you use this feature to save your old data when you buy a new smartphone? Android gives you an option to back up your app data, call history, device setting, and text message to google drive.
Some of the new smartphone users don't know about this backup and restore feature, so they cannot use this feature. They add their old phone data into the new phone manually. But manually adding your data will take more time to process, and it can create confusion. So you have an innovative feature in your smartphones. 
It would help if you used it. It's not a time-consuming process. If new smartphone's users are reading this article, then they are thinking about the process. How can you backup your previous data and restore it? Google allows you to save your backup on google drive. So you can take a backup of your data from your old smartphone, and you can restore it on your new smartphone.
In contrast, making a backup of your data into google drive. You should check its limitations. And what kinds of issues are there to back up your data? What is the solution for them? What are the significant points which you should be aware of while making a backup? You'll know everything about backup and restore your data on this single article.
Don't Miss: Why does my phone say no sim?
Is this a free or paid feature to create a backup of your SMS?
Google provides you with a service for automatically backup your text. But you can not. We should thank Google for giving us a free backup service. Our message and data automatically get backed up in this service if you have to control your backup data, such as where you want to save it. So for this, you have to do some manual settings.
How to do Google SMS backup?
Google does automatic backup of your data, message, and SMS. And you can restore it when you want. If you are making a plan to buy a new phone, then It's an easy process to restore your data into your new phone. But there are some limitations of time to restore your backed data.
If you are trying to find your backup data in your google drive, you cannot find it. So please follow the given steps one by one. Then you will be able to check your backup SMS on your google drive.
Steps:
Click on the settings of your device.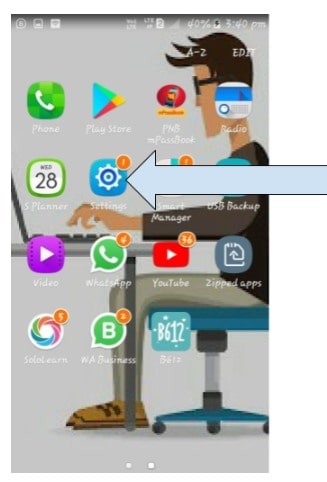 Scroll up to get the bottom page of the setting.
Click on google.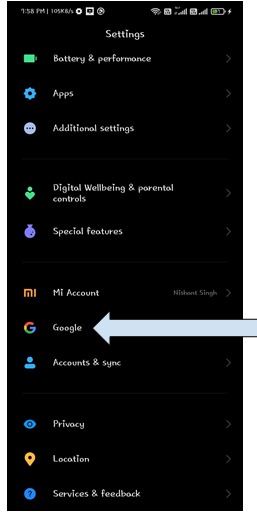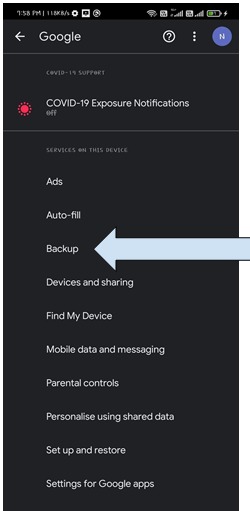 Click on the option of backup now.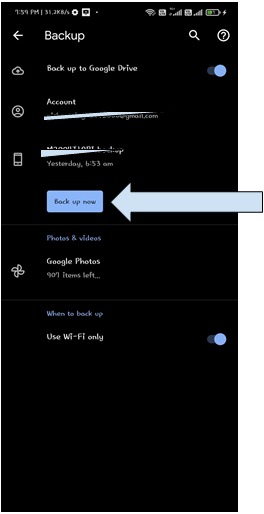 Now You can check your backup in the main menu of your google drive. 
What are the limitations to store your backup on your google drive?
There is no harm in it. It is an excellent service provided by Google. You can create a backup of your entire private and public phone data. Also, you can restore it when you need to put it in your new device; you can put your data quickly. But there are some limitations here. We have told you about google storage in our previous article. Let's know about it.
Problem – Google provides us only 15GB of free storage space. So we can store 15 GB of backup or less data because if you are trying to store your very high backup on google drive, it is not possible. 
Solution – you can purchase additional storage on your google service. There are many plans you can purchase for anyone. Then you can store your large backup on google drive.
Learn also: Message blocking is active
How can you backup and restore your SMS using a third-party app?
There are do countless apps available on the play store. But I am suggesting the best app. You can easily get this app on the google play store. Its interface is also easy. So You will have no problem using it.
The name of the best third-party app is SMS Backup and Restore. You can watch our video too:
Instructions to third-party setup app for SMS backup
Go on google play store and search SMS backup and restore the app.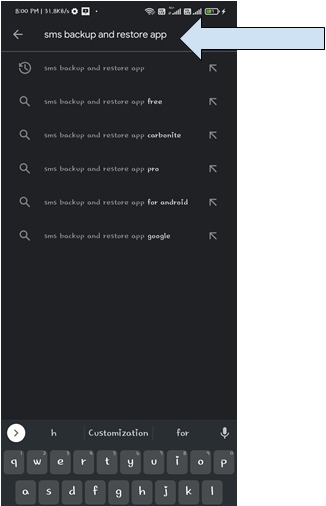 You will get SMS Backup & Restore via SyncTech Pty Ltd at top
Click on it.
Click on download and install it.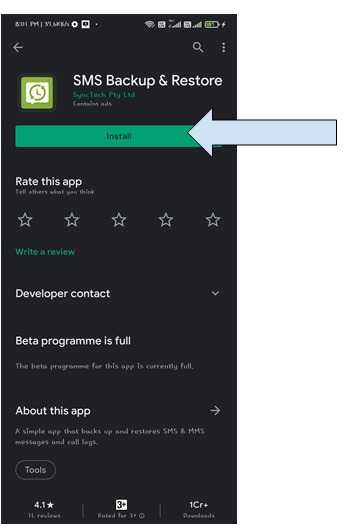 It will ask you for permission to access the contact, photos, media, sent SMS, phone calls.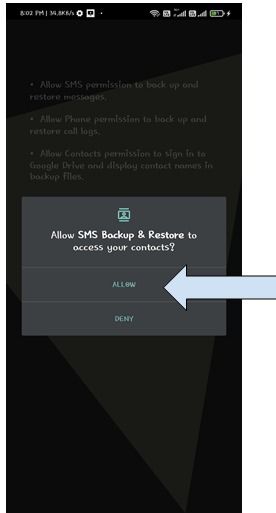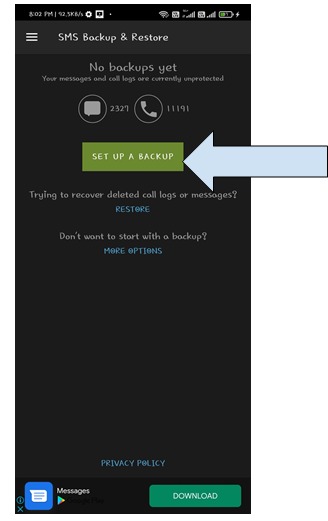 Note – Here, you will get some advanced options to backup anything, for example, your files, media and phone calls. But here we are discussing using this app for SMS backup and restore, so let's think about it only.
Select the option of the conversation which you want to backup.
Click on next.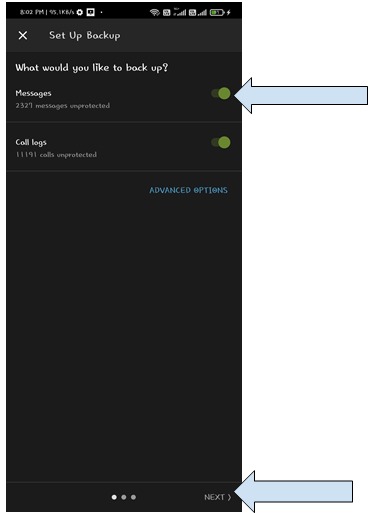 You will get three cloud services. You can choose anyone from Google Drive, Dropbox and OneDrive.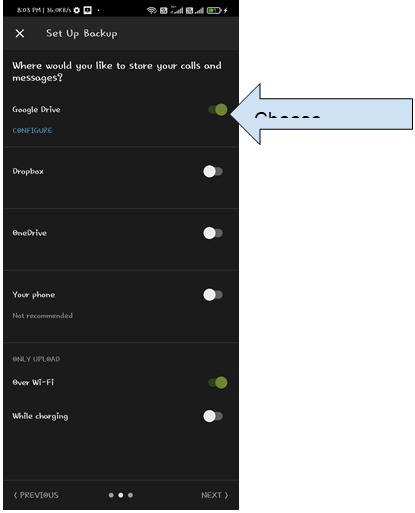 There will be an option to login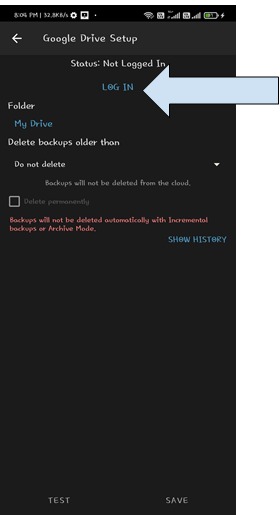 Click on login to connect your chosen cloud service to your backup data.
Note – you can also set that when you want to delete your older messages automatically. You can set some days.
Once you logged in, you can check that everything is working correctly or not.
Now you will get two options whether you want to backup your data over Wi-fi or while charging.
Choose one option and click on next.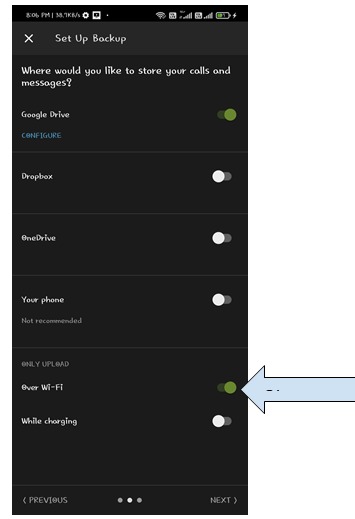 Now you will get three options for when you want to backup your messages.
Options – daily, weekly, or hourly.
Note – you will get an advance option to schedule when you want to backups of your messages
Your backup has been created. This is one of the best alternatives for Google SMS backup and restore. Also, you need to learn about ZTE Recovery Tool.
How can you restore your SMS messages with this SMS backup & restore app?
Once you have created your SMS backup, you can restore it on any other device, or when you are resetting your phone, you can get your backup data by restoring this, and now it is a point that What is the way to restore data. Let's discuss it.
Steps to restore your messages –
Go on the home screen of the app.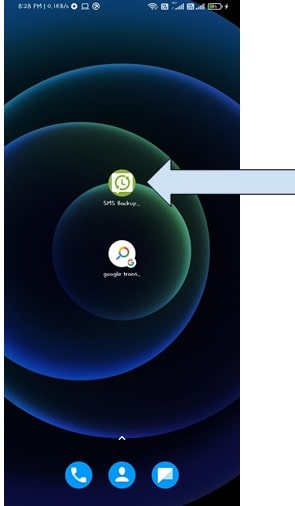 Launch SMS backups and restore.
Click on restore.
Click on the checkbox next.
Chose to Restore.
Click ok.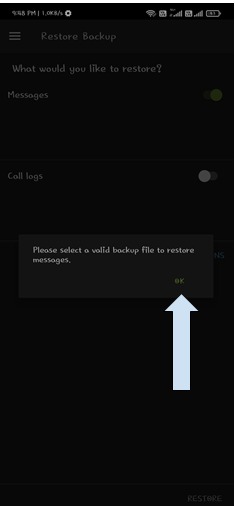 Click on YES.
Once your data is backed up completely.
Click on close.
In which format will our data be stored on google cloud?
Suppose you want to know about the format of your backup data. Then it's stored in an XML file. You can restore your data on any android phone. You can check too.
Right-click on the backup file.
Go to the file info.
You will get the answer.
How can you view your backup data on your computer/laptop?
There are several ways to view your backup messages on your computer. But I am telling you an effortless way, which everyone can use to view their backup messages on their computer.
Method to view backup messages using MS excel:
You can view your messages using MS excel. Here You can edit your messages too.
Here are some steps involved you can go through with these.
Open Excel on your computer.
Select XML files.
Choose the file from which you want to fetch a backup.
Click open.
Click ok.
You will get a notification to 'Please select how you would like to open this file.'
Note – In the notification, you will get three options.
An XML table
A read-only workbook
You can use the XML Source task pane.
      So select an XML table.
How to Perform Google SMS Restore?
You have now learned how to create the backup on your phone through the third Party app and then how you can restore it through this app.
When you buy a new phone, you want to bring your old phone data to your new phone. Whatever backup you want to restore, you can restore it in your new phone, then how will you do it?
We told you, backup store in your Google Account in your old phone, so you have to log in to the same Google Account on your new phone. You can restore your old backup on a new phone.
Follow the on-screen instructions to turn on your new phone for the first time.
Sign in using your previous phone's Google account.
Choose the option to select from which old phone you have to restore data and apps.
Select the apps and files which you want to restore.
Choose the phone name from which you want to restore your data.
You can restore all data or you can restore only once file.
Is backup and restore contact service available on your iOS devices?
Yes, the SMS backup and restore service is available in IOS devices too. You can create your backup on your iPhone and restore your data. To restore backup on your iPhone, use these instructions.
Instructions:
Open Settings on your iPhone.
Go to account & password.
Add your account.
Once you complete these steps, your contacts will automatically sync on your iPhone.
Can I use google drive to create a backup of your iPhone?
Suppose you do not know whether you can create a backup of your iPhone. Then it is an answer to your question. You can use google drive to create a backup of your IOS device. You can store anything like photos and all on your google drive.
Summary
Now you just got all of your answers. Because we have done our discussion on an excellent topic, google SMS backup and restore. You all should create a google backup so you can restore your data when you need it.
You all are using different os that means some of you are using android and some of your ios. Then mostly things are the same in both. In this context, we mainly talk about android os. But You can go with the same guidelines for iOS devices too.
The same facilities are there in both. Just the difference of some features. But the google backup feature is available on both. And at the end of this article, I want to suggest that you should create a backup because when you need your precious data, you can restore your data without facing any issues.