How to Restart Fitbit versa?
Nowadays, wearing a Fitbit watch is quite common. It is made by an American company mastering the fields of electronics and fitness. They make smartwatches with trackers, and a lot of features enabled that can help you count your heart rate, the number of steps you have walked, calories burnt, etc. We have found the resetting Fitbit versa becomes tough for a new user, So we are presenting some tips for how to restart Fitbit versa?
When the company succeeds, and the physical activities increased with the devices, Google decided to buy the company in January 2021. It has its headquarters in San Francisco, California. According to some reports, Fitbit is one of the most used smartwatch brands across the world, making a lot of watches like Fitbit Versa, Versa 3,2, lite or Sense, Charge 4, Fitbit Ace 2, etc. But these watches are causing trouble for the users. 
Fitbit Versa was introduced in India with a price of around 18000. It had an LCD rectangular display of approximately 1.32 inches. Fitbit Versa is waterproof with roughly 4 days of battery life. It has 2.5 GB internal memory with built-in light, gyro, and accelerometer sensors. Except for USB, it can be connected to any other medium like Bluetooth, Wireless Protocol. It is compatible with Android, iOS, and with windows as well. Now coming to the best features of the watch, it can measure your steps taken, heart rate, hours slept, calories burnt. It can also not down your active minutes as well as the sleep quality. It can notify you with features like alarm clock, reminders, real-time goal settings. 
Another essential point to remember is that a person must clear his/her data or factory reset the device before giving it, throwing it as the watch may have all the important and personal data which you had synced earlier. 
When your Fitbit versa is not responding, not syncing, or measuring steps when your watch is not setting reminders or showing alerts, before consulting the customer service, try and restart your Fitbit Versa.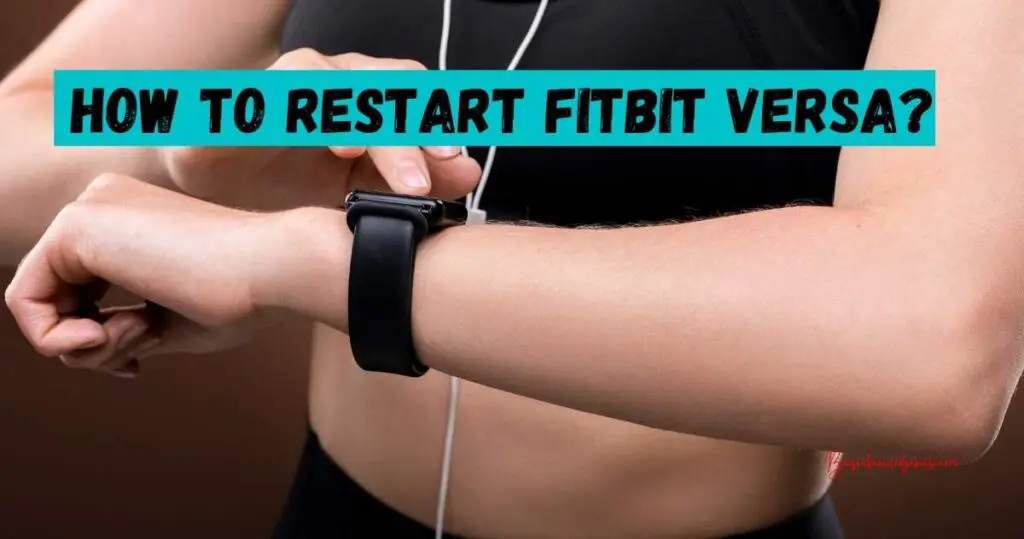 How to Restart Fitbit Versa?
The steps are the same for Fitbit Versa, Fitbit Versa2, or Fitbit Versa Lite. 
From Settings Method:
Open your Fitbit Versa.
It will open to the home screen.
Swipe through the applications till you find settings.
Roll Down to option "ABOUT."
Search for the shutdown option in "About."
Click on the option, and a confirmation option will pop up.
Click Yes, and your Fitbit Versa will shut down.
Wait for few minutes and turn it on.
Press the left button for some time, and the device will activate. 
Two-button method:
Another method to restart your watch is by using this method. 
Press the Back button and right-side button simultaneously.
You will see a Fitbit logo, and your watch will vibrate. 
Leave the buttons, and your watch will restart. 
Factory Reset Method
Sometimes, restarting your Fitbit Versa may not help you or resolve your problem completely. For that, you must reset your watch. Although all your data will be lost, there is a chance that your smartphone may work typically.
To reset your Fitbit Versa:
Open setting in your watch.
Roll down to the "About" option.
You will find a Factory reset option here.
Click on it and then press "yes" to confirm.
Wait for some time, and you will feel a long vibration. This indicates that your device has been reset, and all the data is lost.
Don't Miss:
Conclusion
Versa is one of the most used and popular Fitbit watches. It has an in-built altimeter sensor. An altimeter sensor helps to find the altitude of any substance. In this case, the watch will display your altitude while you are trekking, and thus it has an altimeter sensor which is a hole behind the watch. Please do not insert anything in that hole as it will damage the smartwatch.
If you cannot perform any of the above steps because your Fitbit is not responding, you need not worry. Just connect your watch to the charger using the USB port. Now try pressing the buttons again to switch it on (either you see the logo or you feel the vibration). If it is not charging, you should check for the chord and replace it immediately if damaged. Then try to restart your Fitbit Versa using the steps, and it will run successfully.