Have you heard about Roblox? If yes, then you might be familiar with the lots of error messages. One such message that the users receive is "error code 901". If you have not heard about it then, first let us know what Roblox is all about?
Roblox Corporation company developed a game creating system and an online platform for gaming known as Roblox. The users can play games or program games. Other people play the games programmed by the users in the community. It is free for playing games and for in-game buying, a virtual currency known as "Robux" has been introduced by Roblox. Users can purchase the game using this currency.
Millions of users gather together every day in Roblox to create and share the experience in a 3D world generated by the user. There are countless games in it and some limitless creators create new games. The community of members creates the games on the Roblox platform which is then played online by other people. The theme parks, car race driver, fashion show star, or a superhero is created by the players themselves. All modern mobile phones, tablets and laptops can download Roblox as it is a free application for downloading and playing all types of games.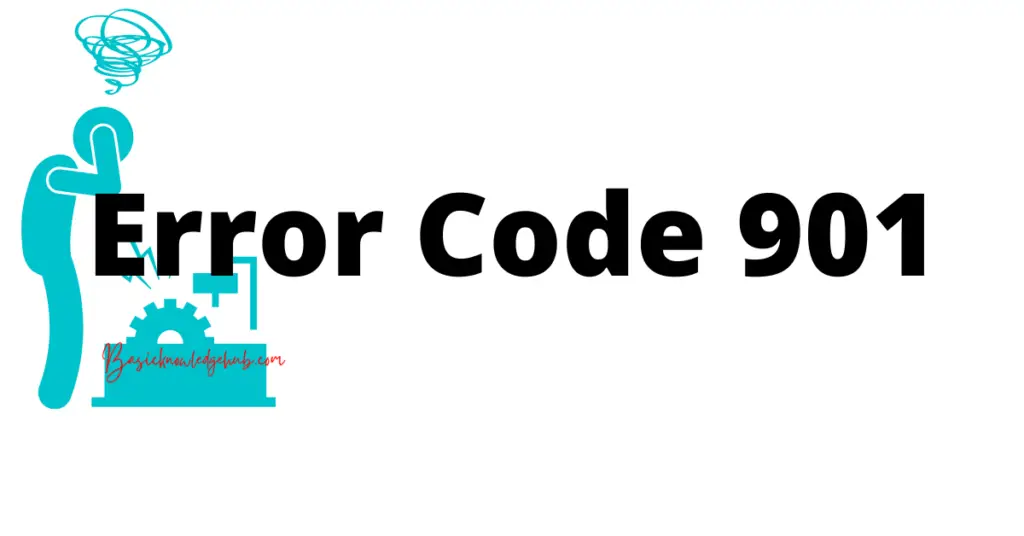 Do not miss: PS4 error code e-8210604a
What is Error Code 901?
We got to know what Roblox is all about. Now let us start with error code 901. What is it and why does it occur in our devices?
Roblox is an application used by millions of players and it might also have some errors and bugs related to gaming. Error Code 901 occurs when there is any available update for the Roblox application which has yet not been done by the user. The message that the users normally get is- "Application Error: Trouble Communicating with Roblox Servers. Please try again later. (Error Code:901)". This error message is a bug. It occurs in the Roblox application where there is a need for any update or any issue related to updating.
Another possible cause for the error message- Error code 901, can be that the Roblox account has expired. Until now, there is no official fix for this issue by Roblox. This error is generally referred to as an update error as it occurs when the game is not updated on time. This error can also happen when there is any recovery process in Roblox. Sometimes, there are situations where users face error code 901 even when they have already updated the Roblox application. Another common factor for this issue might be that it may be facing server issues.
Downtime of server or any issue related to the server can bring high chances of this error message in the user's device. When the Roblox is in maintenance, also chances of this error coming on the user's device is possible. The other reason why users face this issue can be that their account has been banned and they are not able to make use of the application.
Why does Error Code 901 occur?
 Error code 901 means an update issue in your system. Roblox shuts down its server when it is doing its maintenance or it updates the server. Usually, this error comes with the message "Error Code 901. We are undergoing maintenance". Users get this error message when there is any update in the Roblox application. There can be many reasons for this error to come like as mentioned above, server issue, not properly logging in to the game, the game crashes when it is opening or sudden closing during gameplay. The players have also experienced a black screen when they try to join a game. Another set of people complain that their game crashes after they have installed the latest Roblox update.
Another reason for this Error Code 901 can be some network related problem. This error might hint that the user is not in proper contact with the game server. To check if it is true or not the user can troubleshoot this error by using a VPN before opening the launcher of the game. If the user cannot connect using a VPN, then he can contact customer care service for any help. One of the main reasons for this error code is that the application has failed to run or crashed while it was running. This does not mean that there was some corrupt code in the application but means failure in runtime.
The user gets annoyed with these error messages until they are properly corrected. Glitches are prone to occur in runtime when certain errors are not addressed during testing. This error can also occur when there is a memory problem. User having a bad graphic card, infected with the virus can also lead to Error Code 901. This problem must be solved with immediate effect to avoid any issue in future. Error code is a value assigned to an error so that the users can have context on the type of error that occurred.
Symptoms of Error Code 901
There is no warning for runtime errors in applications. Whenever a user is using the application or playing games in it, any error message can pop up on the screen. If not addressed properly the error message comes again and again. A user can accidentally delete some files which might also lead to these error codes. Again, virus infection can be considered as a symptom of this error as it leads to one runtime error problems.
Another symptom can be slow internet speed but the user has to keep in mind that this is not always the symptom. Error Code 901 on Xbox: Roblox users sometimes, experience error code 901 on their Xbox platform. Millions of players who are from various parts of the world face this issue because of some errors and bugs in the game. As this issue generally happens if the users have not updated their game, so Roblox has yet not released any official fix for this issue.
How to fix Error Code 901?
There are two things that the user needs to take care of to fix Error Code 901. The first thing is to update the Roblox software and check for any further updates as updating is the main issue for this error. The second thing to do is to reset the console of the application. This is important to delete all the cache memory of the error in the application. The other ways to fix the error code 901 are:
Method 1: Update Roblox
The main reason for error code 901 is that the Roblox software is out of date or it is in maintenance. The user has to update the game to successfully, play any game in it. The user needs to check for updates and download them. The updates are to be installed in the system for fixing this error code. To update the app on a mobile phone (android), open your phone and go to the Google Play Store. In the search tab, write the name of the application, tap on it and open it. There are two options, one for update and the other for uninstall. The users must hit on the update option. The updates will start downloading and installing on the user's mobile phone.
Method 2: Reset Console
Sometimes we have to reset the console to fix this error code. For resetting, open your computer and go to the Xbox button. Select settings and click on all settings. Then choose the system and then console information and updates. Now click on the Reset Console option. The user must check that he has the same email id and password as the console before resetting. Now, click on the delete option and delete everything. Reconfigure the operating system again and the user can start playing.
Method 3: Uninstall and Install Roblox again on your device
Open your computer and go to the home option. Then search for My games and apps in the search tab. Tap on it. Now, head towards the menu. Select uninstall and uninstall the Roblox app. Again, install it from the app store.
Method 4: Delete Data
The error code can also come because of any corrupt data in Roblox. The user has to delete this corrupt data to fix this error. User can turn off the Xbox. He has to press the button for 10 seconds. When it is off, it has to be removed from the outlet for three minutes. The corrupt data will flush out and all the cache that does not work will be deleted.
Method 5: Rename username as random letters or numbers
Roblox might introduce a new policy regarding usernames. If a user wants to create a username, then Roblox might prompt the user with error code 901. This can happen when the username is in use already or any policy regarding usernames has been updated by Roblox. In such situations, the user can create a username with random letters and numbers to fix the issue.
Method 6: Create a new account
If the user is not able to log in to their Roblox account because of the error code 901 then one possible solution for it is to create a new account. The user can create a new account and check if there are any further error messages. If the new account does not show the error message, then the user can continue using it. If the new account shows the error code again, then the user can try to use any other method to fix the issue.
Method 7: Customer Helpdesk
If no methods mentioned above work then, the user should head straight to customer support. The customer helpdesk will help the user with some steps to fix the error code 901.
Conclusion:
Roblox is a corporate company that provides an online platform for creating and playing games. It is a free application and can be downloaded on all types of devices. Error code 901 appears in a user device when there is any updating issue in the Roblox. The account expiry can be another reason for its occurrence. Several other reasons including server issues, network problems, glitches in runtime, and bad graphic card be the reasons for this error code. Symptoms like runtime error or logging error show indication towards this error code. There are few methods mentioned above that can help the user to solve this error.