"com.wssyncmldm"- All About it
Why is this website written backward? Sure looks like it. Doesn't it? But, don't try to type this and expect a page to open. It won't. How do I know? Cos' I tried! If you are reading this and not a Samsung user. Then let me give you a heads up and tell you that, it's pointless reading this article unless you own a Samsung device. However, if you are still on pins and needles and want to know what exactly is this. Then you are more than welcome to read com.wssyncmldm. 
Every phone requires an update. Every application requires an update. Without updates, there is no growth. There is no progress. We live in a world, where we need something new every second. We are bound to get bored when anything in our life is repeated several times. Then it is impossible to expect our device to stay the same without any development or change. This particular article will talk about the exact same thing, but only in the case of a Samsung. This is because the error "com.wssyncmldm" occurs only in Samsung devices.
Samsung is a South Korean multinational company, which specializes in the production of numerous instruments and devices. Samsung has also moved onto areas such as food processing, textile industry, retail, securities, and insurance. Nevertheless, it still has a well-known reputation in the electronics industry for its work. As a matter of fact, Samsung plays a very crucial role in the control of South Korea's economic development, politics, media, etc. Also, most parts of a phone are manufactured by Samsung. Almost every electronic device you have ever used has had Samsung's influence in one way or the other.       
Then this brings us to the main question.
What is com.wssyncmldm?
"com.wssyncmldm" is not a virus or something that will infect your phone.  This is just a minor update of the motor app. Now you must wonder what on earth is that now? Well, this means that its function is to monitor and track the update status of the device.
If you own a Samsung phone, chances are you have already met our lovely friend in question(i.e, com.wssyncmldm, in case you didn't get the reference).
This a pre-installed app, which had arrived with the Samsung phone you purchased. The main function of this is to monitor the status of the system for a software update. Yes, that's right! It is nothing more than just keeping track of the update status of Samsung Android OS.
Do not Miss: com.android.carrierconfig
Is "com.wssyncmldm" an Application?
That would be difficult to pronounce now, wouldn't it? Some people even wonder and ask whether this is spyware. Well, No. com.wssyncmldm is definitely not spyware. This is an app package which is known as "Bloatware". It is pretty much an app that runs continuously in the background to keep an eye on the OS update status. There is always some app that runs in the background regardless of which phone you use. Furthermore, even the great "Google" constantly runs in the background of our phones. How do you think you can so easily access Google Assistant? Not to spook you or anything of that sort. But, because these apps run in the background, thus they can be used swiftly without any buffer. And not to worry, this is not a method for the government to keep tabs on you!
Should you disable com.wssyncmldm??
This might make you wonder. If this is an app, then can it be uninstalled? Or maybe even removed? Yes, it is possible to terminate this from our device. However, it takes root access to remove "com.wssyncmldm" from our Samsung phones.
I would highly recommend you, not to remove/disable "com.wssyncmldm". Why? Because this is merely a tool to keep you informed and posted about all the new security patches and updates, that have rolled out on your device. Doing so will result in your device not being able to detect the automatic updates, and thus leaving this on you to manually check for updates. Also, rooting your phone can result in many risks, a few of them being:
If the rooting goes sideways, your phone could become a useless metal brick.
There are chances you could void your warranty.
This leaves your phone vulnerable to malware and hacking.
You might lose access to some high-security apps.
Although, if this app does end up causing you a lot of issues then you will find the next section of this article very delightful.
FAQ
What is Software Update "com.wssyncmldm" android?
Let us start from square one. What is a "Software Update"? I mean who doesn't like updating their devices, their applications, or anything. It is human tendency to jump like a monkey when we hear the term update. But what truly does a Software Update mean?
The software update is a method of polishing or refining a product for software developers. By fixing any error made or removing bugs or making either small or huge software improvements.
Software updates come in the format of a free download on your device. Which mainly provides device stability and helps keep the phone in check. It is more or less like a daily check-up for the mobile, since there isn't a doctor for phones. These updates are usually run in the background and are very vital for the programs on the phone to run smoothly.
Also, it helps in maintaining the security of the device. The older the software, the weaker the security of the phone. Thus, making it easier to hack into the device or virus to corrupt the files. Also, no matter how good a software developer you are, there are always bugs in the software. The software update detects these newly-found bugs and fixes them. In simpler terms, we could say that software updates fix and modify the current software program into a better version of itself.  
What is com.wssyncmldm used for?
Well, as mentioned earlier this not an application that can be downloaded or used on every device. It is pre-installed on Samsung devices and also pretty complicated to uninstall. If you read the above article you will understand the importance and also its uses. It is an application that helps monitor the update status of the device. com.wssyncmldm constantly runs in the background and gives a pop-up notification, when an update has arrived. It helps you keep well informed about the system update required for your phone. This takes place only on Samsung devices. Other devices have this kind of feature as well, to help you know the update status of your phone. But the error showed above "com.wssyncmldm" is something that occurs on Samsung devices. To about it in detail read the above article.
In today's world, privacy is the most essential part of our life. Either from our parents or our creepy friends. Thanks to that, many android devices have features that help you in hiding them. This also helps in playing a prank on your friend.
When it comes to Samsung, well, it's really not that difficult to hide apps. However, the trick question here is: How to find these hidden apps?
Here are some steps, to help us find these hidden apps.
First, go to the home page and open the Apps screen, where all the apps appear.
Then, click on the three vertical dots present at the top-right screen, beside the search bar.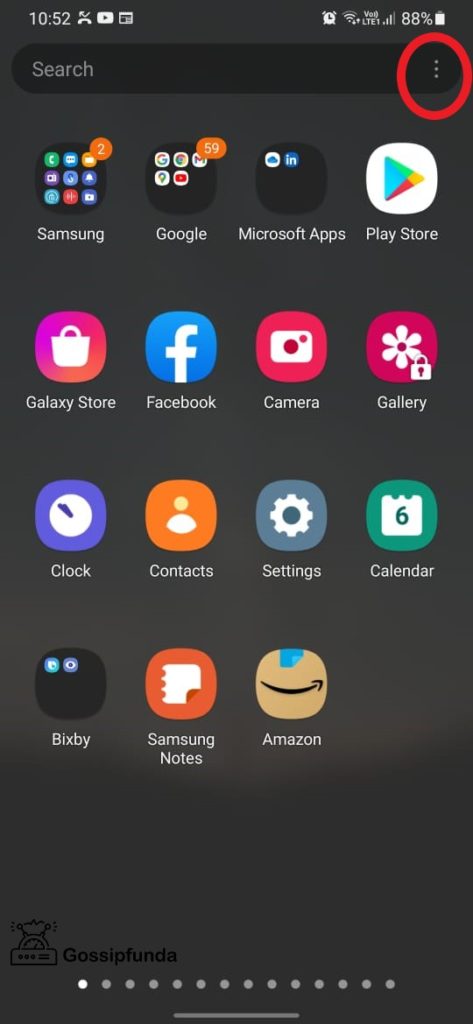 A small pop-up window will appear at the top right. Out of all the options, click on settings.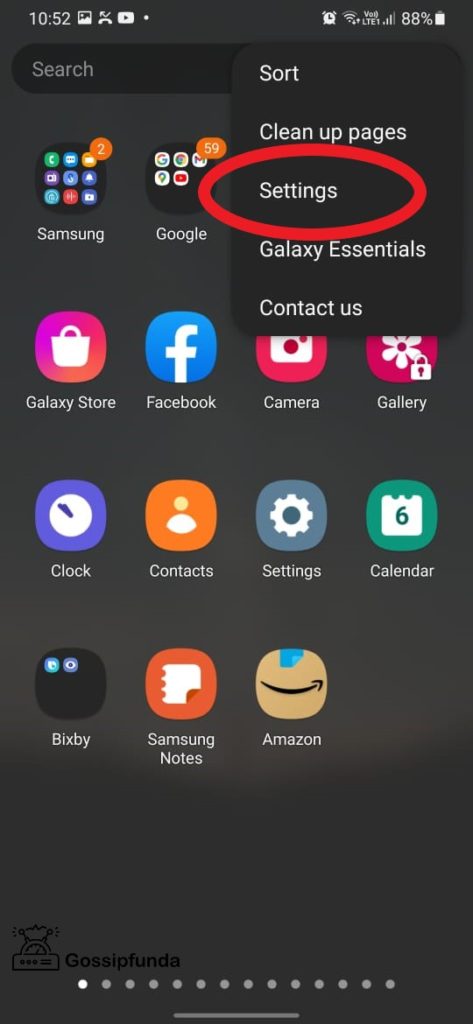 Once you scroll, you will see a category by the name of "Hide Apps". Select that option.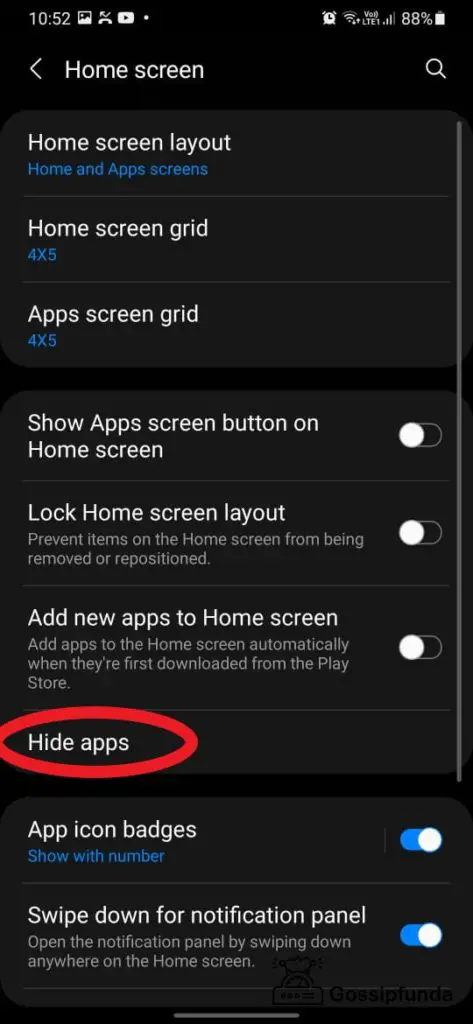 Once pressed, you can select the apps you want to hide, and also the hidden apps will appear on the top of the screen.