Updating is a necessity in the fast-moving world. The technology needs to adapt itself to the changing circumstances by suiting to the user's needs. Android is one of the greatest developments of Google that powers most of our phones with amazing features and a user-friendly atmosphere. The latest version of Android, which is its 18th version and 11th major release, reached the markets on 8th September 2020. Now, almost 12.44% of Android phones run on Android 11. However, some users facing Android 11 issues. Let's fix it.
Don't miss: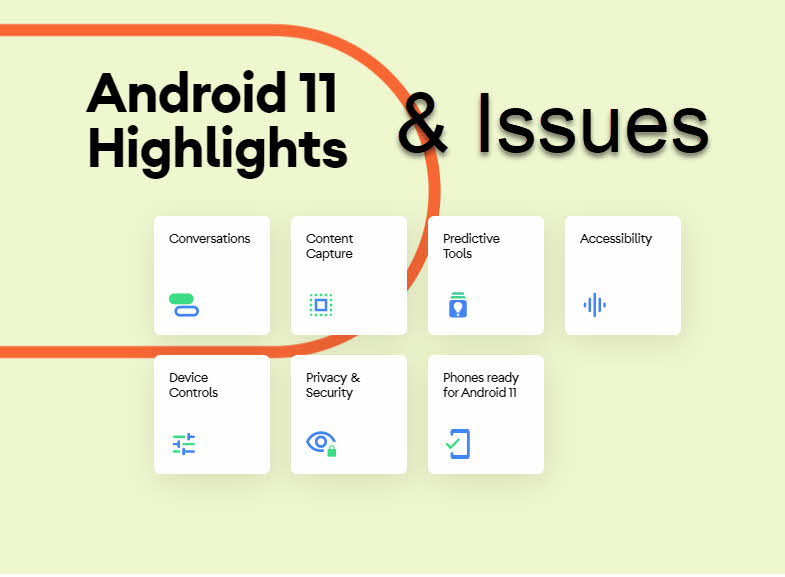 Android 11 issues
In the months that the new version has been released, there are numerous complaints from users about bugs and performance problems. A total of 58 updates have been done in the Android 11 and each one fixes one issue and causes some other issue. In this article, we will take a look at the issues still prevailing in the Android 11 version and some ways to fix them.
Pixel Android 11 issues 
For Pixel users, Android 11 is causing many issues starting from the installation process. After installing Android 11, there were cases of data being lost. Also, there are issues with third and first-party applications for pixel users.
Android 11 caused battery drain, voice problems, multitasking issues, unusual battery drain, and many more problems. Breaking in the support for gaming controllers was also reported. Google hasn't found a solution for this till now.
The list of issues caused by Android 11 for the Pixel users extends to problems with multitasking, connectivity issues, UI lag, and media control problems. The problems are predicted to increase as more users download the new version. 
Samsung Android 11 issues
Samsung users faced a lot of problems over the update of Android 11. Unable to sync calendar or contact even though the auto-sync is on is a major problem reported by users.
The phone is reported to lag while picking up a call. Other problems include inefficient camera night mode, weak network connection, lagging of phone while switching between applications, quick draining of the battery and so much more.
OnePlus Android 11 Problems
The problems faced by OnePlus 7 and 7T series users are several after the stable Android 11 update. The most common issues are draining off the battery, excessive heating, dropping of frame rates, UI lags, and many more.
Many users reported a bad gaming experience due to frame rate drops. Lengthy app load times are also a major issue. The other issues in the list include trouble in connecting to mobile data, lag in scrolling, delayed notifications, and crashing of apps.
The recently introduced Oxygen OS 11.0.1.1 version of the Android 11 update caused a little relief to the OnePlus users with many bugs fixed. But that is not enough to get the device up and running with all smoothness.
Motorola Edge Android 11 issues
There are various problems caused by the Android 11 update for Motorola users.
Unable to resize split-screen windows: As per the user's report, the split-screen windows couldn't be resized anymore as the ratio is locked at 50:50. This causes major difficulty in multitasking.
Flickering of the screen while tapping split-screen adjustment bar: While tapping the adjustment bar or mid-bar, the split-screen flickers.
Animation lag on the home screen: This is one of the most widely reported bugs by Motorola users after updating to Android 11.
App launch delayed or disappearance of app icon: As per reports, clicking on the app icon sometimes causes its disappearance for a second. Also, the launching of the app is delayed.
Fingerprint scanner icon remains in the lock screen and peeks display: The issue of the fingerprint scanner persisting in the lock screen and peek display is being reported.
Auto-shutdown not working: The scheduled power-off feature not working is another bug caused by the Android 11 update. The automatic brightness variation is also a complaint by Motorola users.
Nokia Android 11 problems
There are only two Android 11 updates done in Nokia. As per the latest developments, the bugs reported are as follows:
Gmail app issues with auto-sync.
Unable to cut calls.    
NFC read error.
WiFi/network issues.
Slow charging speed.
Crashing of internal storage.
The delay in providing updates to the users has been said as a flaw on Nokia's part. As of now, the recent update is available only for Nokia 8.3 5G.
How to fix Android 11 update issues
There are some ways to reduce the impact of Android 11 disturbances. Even though we can't get the bugs fixed until Google decides, we can modify our phones to a bearable level.
Prepare for the update
Preparing yourself and your device before leaping into the Android update is a good move, to begin with. The software's effect on your device is unpredictable. There are chances that some of you might see a boost in performance and the others might experience serious bug issues.
So, it is better to be prepared. Here are some pre-installation techniques that you can choose.
Backup the files
Make sure to backup all your important files before downloading an update. The chances of data loss are actually rare in these updates but it is necessary to stay cautious.
Turning on auto-backup for your important data is a good step. If not, create a backup before updating.
Be familiar with Android 11
Being aware of the changes that might come to your phones is an important way to make sure that you are prepared. Read about the changes and ensure that your phone is ready for them.
Collect your login information
Having your login information to various websites or applications is necessary before allowing an update. This is because of a slight chance that the update may log you out of all logged-in places. It will save you time and energy if you forget any passwords or user id.
Check out the Android 11 feedback
If you are using an older model phone, it is important to look into the Android 11 feedback before installing it. Older devices are more prone to problems with the new software.
You can use any online review website or social media to gather feedback. Make sure to understand what the new update has been for your fellow mates with the same phone. This will help you be prepared for any issues coming your way.
Free the storage
The Android 11 update takes up a little space, so make sure that you have enough space on your phone. You can delete some unused files or transfer them to a system. This will also help enhance your device's performance.
Find fixes for potential problems
Identifying the problems that people usually face after the update and research for possible solutions. Identify the solutions that you can implement easily in your device.
Check with IT
Checking with the IT department of your phone manufacturers is a good idea to understand the possible changes and their solutions.
Check app reviews
Make sure to check out the app reviews and available updates for essential apps. If auto-update is not turned on, check for any updates and do them. As the latest version of apps will be more compatible with new updated software, it is a good idea to keep them on track.
Be familiar with downgrading
Familiarize yourself with the process of downgrading Android 11 to Android 10 as if anything goes wrong, you can go back to Android 10.
If Android 11 is not agreeing with your device and no solutions are working, you can always go back to Android 10. The entire steps on how to degrade Android 11 to Android 10 are given below.
How to degrade Android 11 to Android 10?
When your phone is completely disagreeing with the new Android 11 update, the good thing to do is to go back to Android 10. Back up all your files before doing this. Here are the steps to do that:
Step 1: Download Samsung Android 10 downgrade firmware.
Step 2: Extract the firmware to a convenient location on your personal computer.
Step 3: Install the Odin tool and extract it.
Step 4: Boot your Android device to download mode.
Step 5: Install Samsung Android 10 downgrade firmware to your Android device via the Odin tool.
To do that, follow the given steps:
Connect your Android device to your personal computer via USB cable.
Launch the Odin tool on your computer.
Load the BL, AP, CP, and CSC files to Odin by clicking each of them and uploading them.
After loading all the files, go to options and click Auto Reboot and F.Reset Time.
Click on the start button and you will get a PASS message after the installation is complete.
Conclusion
Android OS is one of the most important tools in the world. It has developed itself to suit the needs of modern technology. Updating the software before the users have a chance to upgrade their device hardware is the major flaw behind the issues surfacing after an upgrade.
It is important to make the users aware of all the changes that are bound to happen after an update. In most cases, a simple rebooting or memory clearing can solve many update issues.
The developers also need to take care of the user's complaints and address them. If the device they have for a long time is not available for their comfortable use, that technology will be a failure. It is hence important to address the issues and resolve them.
We must not hesitate to ask for help. If the software is not suiting your needs, contact the customer service and enquire about the situation. Analyze their responses and do what is right for your device and what fits your personal use.